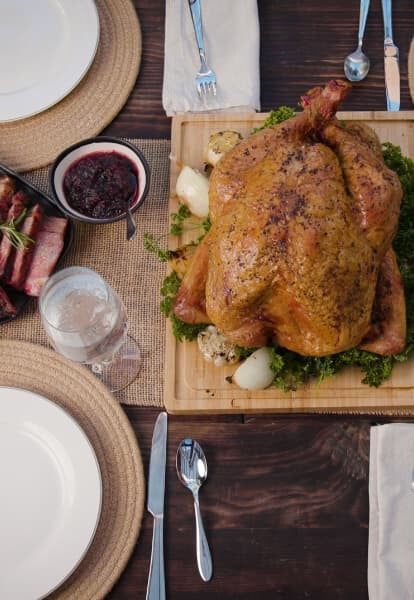 Thanksgiving can be intimating. It can be overwhelming if you plan on cooking it all your self. Let us simplify things for you. Here are three options of each part of dinner that can help you concur the day. Ranging from the turkey to the dessert we have you covered. Look into the recipes and see what you want to make. Don't make this such a stressful holiday you can't enjoy it. Thanksgiving is about spending time with friends and family. It's about reflecting on what you are grateful for. Our goal at Camp Chef is to ensure you can do just that. Leave the stress of picking recipes to us. We can get you tried and trued recipes that take the load off your back. We can also offer products that you can trust so when it is time to make things happen you aren't left stranded and contemplating ordering to pick-up from a restaurant.
Turkey or Ham
There are no set rules as to what you eat for Thanksgiving. Some people eat turkey, some eat ham, some eat pizza, and heck you can even have cold cereal. The stereo typical dinner has turkey as the end all be all. However, ham rivals turkey for popularity when it comes to Thanksgiving dinner in some regions. This year we selected three recipes between turkey and ham. These recipes are to simply help you pick what to cook. If you would like to learn the ins and out of making the best turkey possible check out the BBQ Bible and go to the Book of Turkey for an in depth lesson on everything turkey. We didn't stop there. There is also a Book of Ham if you decide to make a ham for Thanksgiving. These "books" have everything you need to know about cooking, preparing, and even serving.
First off Smoked Turkey. Smoked turkey is delicious because of the natural layer of flavor that is added by cooking it over a wood fire. Often times Smoked turkey taste better because it has had extra care like a wet or dry brine. A dry brine makes the smoked turkey have a crispier skin ultimately creating a better turkey. If you want a quick read on maximizing your flavor through a brine check out our How To article on brining and cooking turkey. Deep frying a turkey is great because it is a relatively quick cook and creates an incredible crispy skin. If you choose to deep fry a turkey please make sure to take all safety precautions. The warning section in the recipe is not to be taken lightly. Lastly, a classic Honey Glazed Ham. The sweetness of the honey added to the pork flavor of a smoked ham creates a dish that will be the talk of dinner every time. In fact many of us at Camp Chef have learned a well executed ham is often better than turkey for our holiday dinners.
Choosing the right bread
You have to have bread in the arsenal of Thanksgiving dishes. Although it is easy to pick up some frozen roles and bake them we picked a few recipes that might stretch your skills and comfort level. Don't let the unique recipes scare you away. For instance the Irish Soda Bread actually doesn't need time to rise and does not require yeast. The pull apart bread is easy and simple yet most people have never had anything like it which is an easy way to impress every one. Naan bread is fast to make and without being a puffy thick loaf it doesn't need time to rise. These are just a few things to look forward to if you chose to go with our recommended recipes.
We love our Irish Soda Bread recipe because it does not require yeast. This recipe will actually save you time. With a total time to prep and bake under 45 minutes what do you have to lose?. We also picked Reuben Pull Apart Bread because it is more than just a loaf of bread. It adds in some meat and cheese making it a great starter, side dish, or a way to soak up the extra gravy off your plate. Lastly we selected a Naan Bread recipe because of the uniqueness it provides. If you have not tried Naan Bread you are missing out. It is definitely not a traditional bread for Thanksgiving in the United States but it is well worth adding to the buffet line.
SIDE DISH OPTIONS
We all know Thanksgiving dinner is far more than cooking one thing. There are starters, meat, bread, side dishes, and desserts. Side dishes are a huge part of the dinner because it adds depth to the dinner plate. With well executed side dishes you can relax on other aspects if you are new to smoking a turkey or it was your first time baking roles. Side dishes will fill every ones bellies which can also put your mind at ease when you are wondering if you had enough to offer.
Our top three side dishes start with a Homemade Green Bean Casserole. Our recipe adds crunchy onions to soft flavorful green beans. This casserole only takes up to 1 hour to make so you don't have to worry about an all day affair for one dish. Next is the Sweet Potatoes with Candied Bacon. This side dish is sweet and savory. Relatively cheap with the bulk of it being sweet potatoes this shouldn't cost an arm and a leg. Here at Camp Chef sweet potatoes has always been a staple in our Thanksgiving dinner and we recommend adding it to yours. Lastly we selected our classic Dutch Oven Drunken Potatoes. Don't worry, these can't actually get you drunk. The bacon, potatoes, onions, jalapeños, and some beer mesh perfectly in 45 minutes of cooking in a Dutch oven.
MUST HAVE DESSERTS
Now we are getting to the end of dinner. Every one has a full stomach. Smiles on their faces. Waiting for the cherry on top that will put them in a food coma. Dessert. The food that can't be turned down. There is always room for a plate of desserts. Our top three consist of peach cobbler, marionberry pie, and chocolate pumpkin pie.
Our Peach Cobbler recipe should take about an hour and a half. Lucky for you we will give you instructions on a whipping cream spread along with the cobbler itself. A perk of this recipe is we give tips for cooking it in a pellet grill. Why would you do this? because many other recipes require 350°F to bake. Fill your pellet grill to the brim because convenience is that name of the game when you are making a Thanksgiving dinner. You might find your self needing two ovens because of the difference in temperatures. Pellet grills can act like an oven when the smoke setting is at the lowest level. Second, Marionberry Pie. You eat with your eyes. At least until the food touches your tongue. This pie checks all the boxes. The beautiful crust, purple berry filing, and the scent when it comes out of the oven. Baking this pie should take less than 2 hours and will be gone in minutes. Lastly we present to you a Chocolate Pumpkin Pie. What say Thanksgiving more than a pumpkin pie? Spice it up by adding a chocolate crust that encases a tasty pumpkin filling. If this doesn't induce the food coma nothing will.
HOW TO HANDLE LEFTOVERS
Now that you have fed all your friends and family what do you do with the left overs? You did cook enough to have left overs right? We intentionally over estimate how much food we need because of our love for leftover Thanksgiving food. You went through all the work to make the perfect dinner why not make extra to enjoy it through the weekend too. We have selected three very different recipes that can help you use those Thanksgiving leftovers.
The first recipe is our favorite of the three. Turkey Pot Pie. Homemade turkey pot pie is so good you could never tell it was full of leftovers. Surprisingly easy for how delicious it is you will find yourself making chicken or turkey just to make pot pie. Next is Turkey Burger. Don't hate it just yet. There is a lot of controversy over a beef patty and the imposters like chicken and turkey burgers. If you have the means to grind your left over turkey, do it. The controversy stems from those who have not had home made patties. No its not a beef burger nor was it intended to pretend to be one. They have completely different flavors and rightfully so. If you are burnt out on Thanksgiving dinner, change directions and turn your left overs into a burger that will mix up what you are used to. Lastly, Turkey Gravy Gnocchi. This is an Italian dish that features potato dumplings, and that amazing leftover turkey and gravy. It is a way to put an American spin on Italian cuisine.
HELPFUL VIDEOS