WHAT IS A STOVE SYSTEM?
ANY COMBINATION OF A STOVE + SET TOP ACCESSORY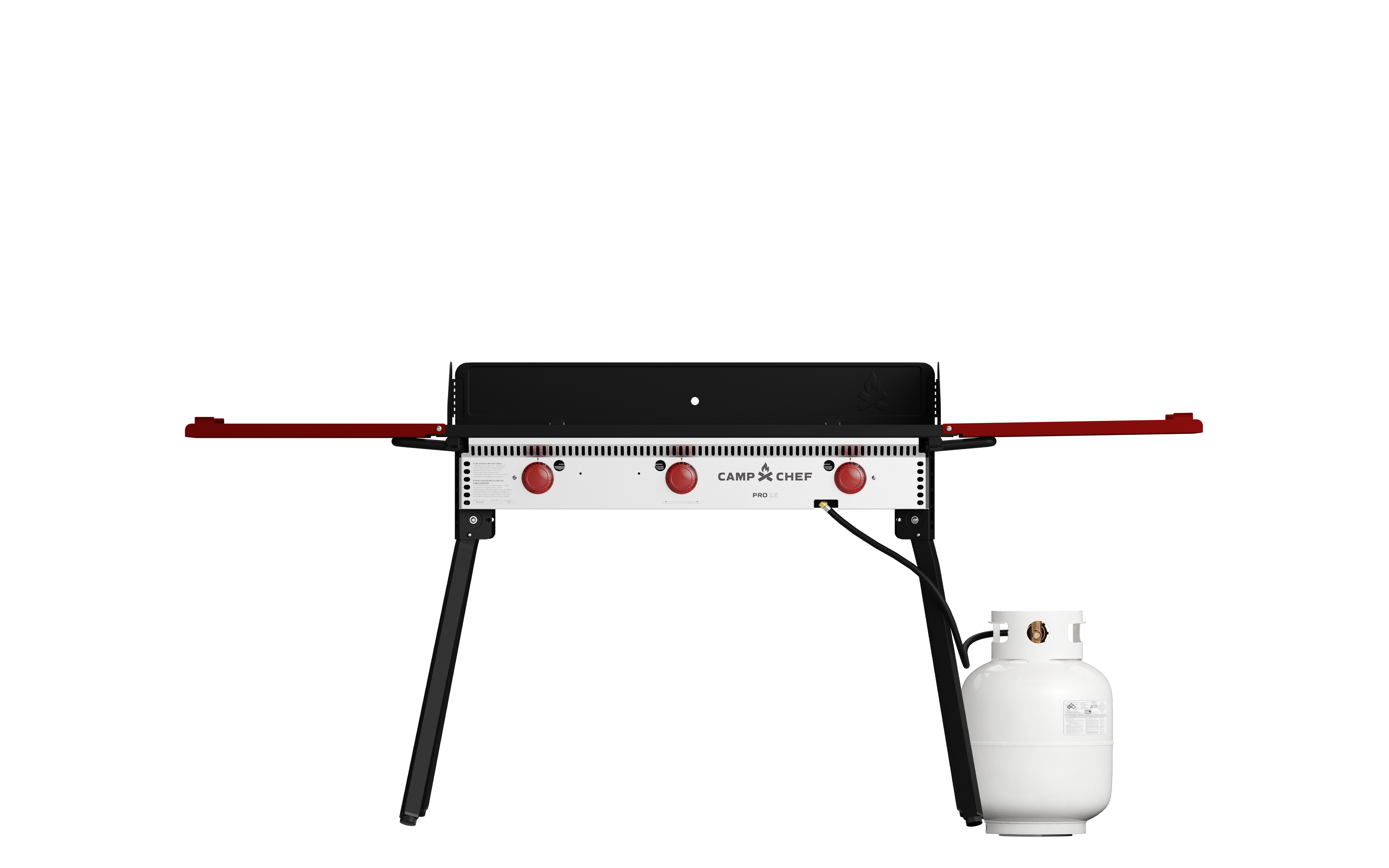 Explore The System Using The Arrows Below
reliable portability matters
The Pro Series camping stoves are our latest most versatile and easiest way to cook outdoors. With set top accessories like pizza ovens, griddles, BBQ boxes, Dutch ovens, and bakeware there is nothing you can not cook. Don't settle on dinner because of limitations. Enjoying dinner with family and friends in mind we wanted to make a stove that would do the job better than anything else.
STOVE FEATURES
LEG LEVELERS
FOLDING SHELVES
FOLDING LEGS
WINDSCREEN
30K BTU BURNERS
ACCESSORY COMPATIBLE
MATCHLESS IGNITION
3 BURNERS
Frequently asked questions
What is a Camping Stove?
A camping stove is a portable cooking appliance designed for outdoor use, typically while camping, hiking, or backpacking. They are designed to burn fuel, such as propane, butane, or white gas, to generate heat for cooking. Camping stoves can range from simple, single-burner models to multi-burner, high-end models with several features like wind protection, temperature control, and lightweight design. Camp Chef was built on outdoor stoves. Finding ways to share food outside away from the busy world is what got us started and keeps us going. We offer many varieties and accessories that set on top of each stove making you the champion of every meal.
What Stove is Right for me?
How do I choose the right stove? There are many things you can consider when buying a new stove. Depending on how deep you want to go into features and specifications we can talk about exact weight, size, BTU/HR, cooking area, shelve strength, hose length, cooking time and more. If that is too much look for fit and function. Does the stove or system fit in the area you have to transport it? Can you carry it to your camp kitchen area? Does it accomplish what you need it to. Going back to more detail and things to consider when choosing a camping stove, consider the following factors:
Fuel type: Camping stoves can run on different fuel sources, such as propane, butane, gasoline, or alcohol. Choose the fuel type that is most readily available and convenient for you.
Burner design: Look for a stove with stable, adjustable burners that can simmer, boil, and sear. The more burners a stove has, the more cooking options you will have.
Size and weight: Consider the size and weight of the stove, especially if you plan on backpacking. A compact and lightweight stove is easier to carry and pack.
Stability: Look for a stove with sturdy legs and a stable base to prevent tipping and ensure safe cooking. Wind protection: Look for a stove with wind screens or wind guards to protect the flame and increase efficiency.
Boiling time: Look for a stove with a fast boiling time, as this will help you save time and fuel.
Compatibility: If you plan on using a camping stove with a camping pot or pan, make sure that the stove fits the pot or pan you have, or that the pot or pan is compatible with the stove.
Price: Camping stoves range in price from budget-friendly to premium models. Consider your budget and the features you need when choosing a stove.
By taking these factors into consideration, you can choose a camping stove that fits your needs and provides a safe and convenient way to cook while camping. No matter who you are buying from keep these things in mind so that you are happy with your purchase and can focus on cooking the meal not fighting the gear you are using. Camp Chef develops products with the customer in mind. Using real experience and cooking on the gear we offer to you we can assure you trust our stoves to get the job done.
Why should I buy a camping stove?
This is a common question people have when they are looking at cooking outdoors. How bit of a stove do you need? Do you need a stove? What to look for when buying a stove? Let us help you answer these questions with some more information about camping and cooking away from home. There are several reasons why someone might choose to buy a camping stove:
Convenience: A camping stove allows you to cook your own food while camping, eliminating the need to bring pre-made food or eat out.
Cost-effective: Cooking your own meals while camping can save you money compared to eating out or buying expensive pre-made food.
Flexibility: With a camping stove, you can cook a variety of meals and dishes, giving you more options for food than if you were relying solely on campfire cooking.
Portability: Camping stoves are designed to be lightweight and compact, making them easy to pack and carry with you on camping trips.
Versatility: Some camping stoves can run on different fuel sources, making them suitable for a variety of camping conditions and environments.
Safety: Camping stoves offer a controlled cooking surface that is less prone to starting a fire than an open campfire.
Overall, a camping stove is a valuable addition to any camping gear, providing convenience, flexibility, and versatility in meal preparation while camping. Stop worrying about how you are going to cook and start thinking about the memories you are going to make.
Are there benefits to a propane stove?
There are many benefits to using a propane stove. We offer mainly propane fueled stoves however there are also offer natural gas conversion kits for select stoves. Pertaining to our larger line of propane stoves the benefits include:
Convenient and Portable: Propane stoves are lightweight, compact, and easy to carry, making them ideal for outdoor adventures such as camping, hiking, and backpacking.
Reliable: Propane is a readily available fuel source that can be found at most outdoor supply stores, ensuring you will have access to heat when you need it.
High Heat Output: Propane stoves have a high heat output and can boil water quickly, making them ideal for cooking a variety of meals while camping.
Adjustable Burner: Most propane stoves have adjustable burners, allowing you to control the heat level and cook your food at the right temperature.
Clean-burning: Propane is a clean-burning fuel source, which means it does not produce harmful emissions and will not contaminate the environment.
Efficient: Propane stoves are more efficient than traditional campfires and can conserve fuel, helping you to save money and reduce waste.
WHAT ARE BTU'S AND HOW MANY DO I NEED?
A British Thermal Unit (BTU) is used to measure energy output. One BTU is equivalent to the energy release of one burning match. For a very basic cooking need we recommend finding a cooking system that outputs 10,000 BTU/hr. Most Camp Chef cooking systems feature a 30,000 BTU/hr. output.