HIGH OUTPUT BOILER STOVES
Introducing the ultimate High Output Boiler Stove for unmatched seafood boils! Elevate your culinary experience with our state-of-the-art stove designed to bring the ocean's bounty to your table. With unparalleled heating power (110,000 BTU) and precision control, this stove effortlessly delivers rapid boiling, ensuring your seafood feasts are perfectly cooked every time. Dive into a new era of seafood boils with our high output stove – where flavor, efficiency, and performance meet in a single sizzling package
FEATURES
30 QT / 60 QT / 80 QT / 100 QT POTS
HANDS-FREE DRAINING
ELECTRIC START
BUILT-IN LID REST
STURDY, STEEL CONSTRUCTION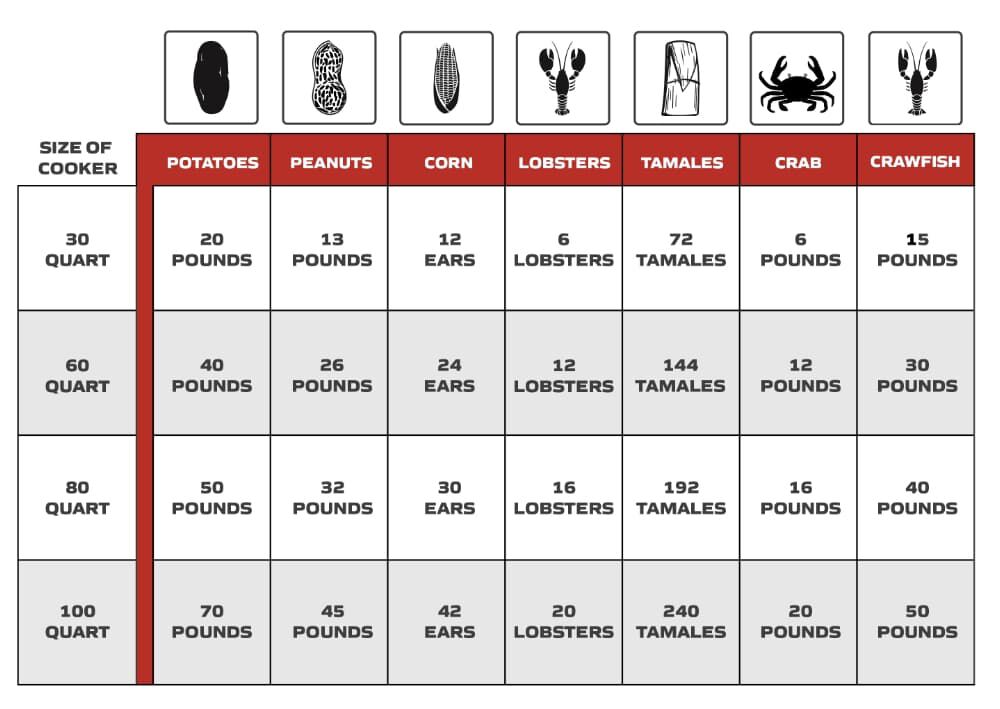 Frequently Asked questions
CAN I USE INDOORS?
No. All of our products have been safety tested and approved to outdoor use only.
Can I fry a turkey?
The only unit that has been safety tested for deep frying a turkey is the 30 QT Turkey Fryer (SHP30TF).
HOW LONG DO I BOIL CRAWFISH?
It only take 5 minutes to cook crawfish. So, it's very easy to over cook crawfish. Any easy way you can tell if they are done is if the shells turn bright red.
How long does it take to fry a turkey?
When using the 30 QT Turkey Fryer, the only boiler able to fry turkeys, it takes approximately 3.5 minutes per pound of turkey. So a 18 LBS turkey will take around 63 minutes.
Can I use my cooking system with pressure canners?
We do not recommended using our units with pressure canners due to the high BTU's. If you are not careful it can be dangerous. On high the BTU's are 30K, and can be adjusted down to about 10K.
Why does the gas shut off after 15 minutes?
Your safety is our number one priority. The timer included on the front of this appliance is a safety feature. This timer will automatically shut off gas to the burner after 15 minutes. To cook for a longer period, reset your timer by turning clockwise every few minutes. You will need to reset the timer throughout the cook. Remember to watch the temperature of the oil to ensure your oil doesn't overheat.
Why won't the flame get bigger?
Try turning the regulator knob clockwise to allow more gas flow. • Your appliance may be in low flow. Try the following: 1. Turn off the regulator knob and tank valve. 2. Disconnect the regulator and wait 1 minute. 3. Reconnect the regulator to the tank and slowly open the valve on the propane tank. 4. Now relight and it should be out of low flow.
Boiler Recipes
View All
Recipes