Burgers are an easy, tasty meal option to cook on your outdoor grill or smoker. While they're available virtually any time of the year, their incognizant sense of summer nostalgia is what makes them so enjoyable during BBQ season. Fresh bun and refreshing condiments followed by, what can only be described as grilled, juicy perfection will have you craving burgers all week long.
ANATOMY + PATTY OPTIONS
BEEF Patties
The majority of the general population thinks of beef patties when referencing burgers. Burger patties are made from ground chuck which comes from the shoulder of the cow. Typically, when buying ground beef you want to look for an 80/20 ratio-80% meat, 20% fat. That being said, you'll want to avoid 95/5 ground meat options. Leaner options tend to be difficult when forming patty's and often lack that traditional burger flavor that we all crave. Don't forget about other beef cuts. Grinding Brisket and Sirloin beef cuts also make great options for burgers.
VEGGIE / OTHER Patties
Burgers aren't just for carnivores. Vegetarians can enjoy burgers just the same. Substitute the beef patties for a black bean burger or portobello mushroom burger. We haven't tested out any good veggie burger recipes yet-so if you've got one handy, email us and let us know! Beef and veggie burgers not quite your pace? No problem! Over the last few years, turkey, chicken, salmon, and bison burgers has been gaining in popularity.
PREPARING
Prepping for burgers seems trivial for some, especially if you're accustomed to buying frozen pre-made patties (something we highly advise against.) When possible, freshly grind your burger meat. While we know that frozen can be convenient, it's worth forming your own patties using fresh ground meat. Outside of it being sanitary, when forming your own patties it's best practice to wet your hands. This will help avoid hand to meat stickiness. When making a patty, don't over-handle the meat. Delicately form each ground beef chunk to a dense, tough burger patty. After your patties are shaped and ready, keep them cool until it's time to cook, this will keep those juicy, fatty flavors in. While you may be prone to salting and seasoning right away - DON'T! Doing so could jeopardize your end result. Instead, wait until you're ready to throw them on the grill. This will keep the burger juicy and tender.
Before your cook, make sure you've got a quality spatula and other top-notch cooking utensils. It's amazing how something as simple as 'tools of the trade' can make or break a cook.

COOKING METHODS
GRILL IT on a BBQ GRILL BOX
Probably the most common and well-known way to cook your burger is grilling. Many users love the convenience and ready-start ease that propane grills have to offer. With propane grills, grill boxes, and Sidekick Sear accessories, grill masters are able to create distinct grill marks. If you follow our recipe blog you'll notice we don't like to list specific "cook times." That being said, the amount of time your burgers will cook will depend on many factors including burger thickness, grill temp, etc. Don't forget that practice makes perfect, you'll begin to learn your grill and time out your preferred burger cook times. If you are new to the game and are cooking burgers on a traditional propane grill start with lower heat and work your way up. Grease fires can ruin the party and most easily occur while using traditional propane grills. A flat top grill is far better for burgers because it eliminates the grease fire and allows your burgers to cook in their own fatty flavor.
SMOKE IT on a PELLET GRILL
Rising through the grilling ranks is smoking. Smoking burgers is a delicious way to add flavor. Achieve an enchantingly smoky flavor by cooking over a wood fire. Instead of a propane tank your pellet grill/pellet smoker is fueled by the burning of premium hardwood pellets. This method typically takes longer than other methods but yields a uniquely different taste. Simply, set your temperature to high smoke or around 225°F.
You can also Reverse Sear your burger. While it's popular with other beef cuts like steak-it works just as well on burgers. Bring your pellet grill to temperature, put your patties in, and smoke your burgers until they are 10-15 degrees from your desired cook temperature (This would be 160°F for ground beef). Turn your Sidekick on to High Heat (preheat for 10 minutes) then place your patties on for the finishing touch. 45 seconds on each side should do the trick!
FLAME BROILED with SLIDE & GRILL PELLET GRILLS
One of our favorite methods over the last few years of its patented Camp Chef birth is cooking burgers directly over a wood-fire flame. On our product line, this can only be found in our Slide and Grill enabled pellet grills. (To find out if your Camp Chef pellet grill is slide and grill friendly, check the side of your grill chamber for a black knob with the words "Grill Knob" denoted in orange. By pulling this knob, the heat deflector plate slides away revealing direct flames.) Using the flame broil method on your Camp Chef pellet grill grants your burgers access to a deliciously, crispy taste of charbroiled flare. Keep in mind that flame broiled burgers aren't only found on pellet grills. The same fire kissed cooking style can be achieved on propane and charcoal grills-even over a campfire. All you need is a controlled fire source, a grill grate, and your burgers.
GRILLED ON A FLAT TOP GRILL
Last year you might have seen our Smash Burger video on Buzzfeed's Tasty channel. The recipe video included a Pro90X cook system featuring a griddle. Many burger fanatics claim that cooking a burger on a griddle-top surface is hands-down the best way. The even cook surface is able to give your burger that well-sought-out delicious outer crust-all the while still capturing that juicy inside. Griddle cooking your burgers is a popular method because, like a regular grill, it cooks hot and fast due to the propane-fueled method. Obtaining the perfect Smash Burger is easy on our variety of griddle-top products including griddle accessories, the Sidekick, VersaTop Grill line, and Flat Top Grill line. Just set your temperature knob between medium and high heat.

WOOD
Different woods burn differently and not just any variety hardwood will do for burgers. If you're looking for a classic bold flavor we recommend a Mesquite or Oak pellet base. If you're looking for something on the sweeter side try a Cherry or Apple. And if you're unsure about which hardwood pellets to commit to, the Competition Blend is a safe route.
In our Pro series pellet grills and smokers you can use hardwood chips or chunks. The Woodwind Pro and XXL Pro have our new technology which give significantly more smoke flavor rivaling that of an offset stick smoker. The chips and chunks burn slightly "dirtier". This is where the majority of the flavor comes from. Pellet grills are amazing at flavor and convenience but critics will say they don't provide enough smoke flavor. If you are considering what wood to use and have the capability of picking up a Pro series pellet grill or vertical smoker, the wood you put in the smoke box will determine the ending flavor.
SEASONINGS + SAUCES
The basics to seasoning a burger
Seasoning a burger is pretty simple. Just don't skip this step! Use a simple salt and pepper sprinkle before your place them on the grill or griddle or customize it to your go-to seasonings. Crowd favorites at Camp Chef are smoked paprika, brown sugar, garlic powder, All-Purpose Seasoning, onion powder, and cayenne pepper.

SAUCES + OTHER BURGER INSPORATION
Get creative with your burgers! There are so many great-tasting pairings, sauces, etc. out there. Feel free to try some of our suggested add-ons or make your own concoction.
The regulars: pickles, ketchup, mustard, bacon, grilled or caramelized onions.
Drizzle with Fry Sauce: ketchup + mayo. (Add our Mango Chipotle seasoning for an extra kick)
Gimme that crunch! Potato chips give burgers and other sandwiches a surprisingly tasty crunch.
Got a sweet tooth? Peanut butter + jelly for a non-traditional, PB&J burger
The perfect pair? BBQ sauce + beer battered onion rings + bacon
Double meat, please! Add pastrami, smoked brisket, or even pulled ham.
How about something gooey? Try cheese-stuffed patties. (American and Blue Cheese are popular choices.) Simply place cheese between two hamburger patties and pinch the edges to seal off the outside.
Get your hula on: pineapple + ham + teriyaki.
TIME + TEMP
Unlike ribs, brisket, and other high maintenance grilling foods, there isn't a lot of spraying and tending involved in cooking burgers. If you're cooking a Smash Burger on a griddle surface (griddle-top, Sidekick, Flat Top Grill, VersaTop Grill, etc.) you need only flip your burger once. However, when using a traditional grill, flame broil, or other cooking methods it's okay to flip them more than once. We suggest with any meat to use a thermometer to accurately keep track of your internal temperature. According to the USDA, to safely cook a burger it must be brought up to 160°F (unless ground personally.)
RESTING
Unlike other cuts of meat, your burger doesn't necessarily NEED time to rest. However, if we're giving out expert tips then we recommend a short, 5-minute (tinfoil tented) rest time. Some might argue that by the time the burger gets from plate, to table, to mouth-you've already reached a generous rest time. Whatever works for you and your current situation.
The Bun
It's easy to put all your eggs in one basket by solely focusing on the meat of the burger. We're here to remind you to not overlook the bun. While the summer sales may coerce you into buying an 8 pack of flimsy, sad buns for $1.50-don't do it-be strong. The bun is an imperative addition to the overall appearance and taste of your final dish. Purchasing a quality bun cooked fresh from the bakery will compliment all the hard work you put into your patties.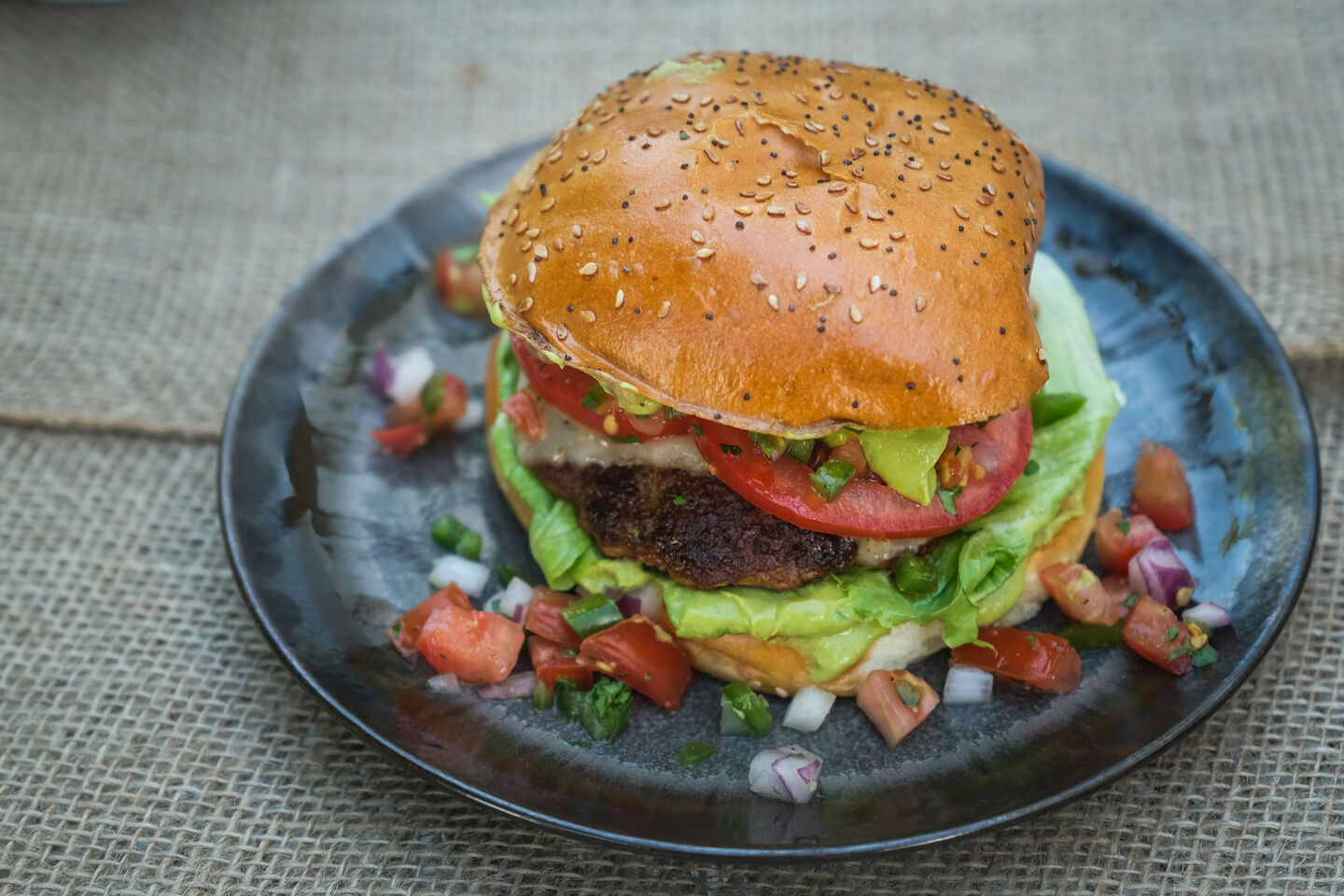 Here's a list of a few bun options to try:
Brioche bun
Sesame seed bun
Potato bun
Pretzel bun
Texas toast
Glazed doughnut (if you're feeling sassy)

THE CHEESE
I don't know who needs to hear this today, but here it is-melt the cheese. We'll say it a little louder for the people in the back. Melt. The. Cheese. One of the biggest complaints from burger critics is that fact that outdoor cookouts and even some restaurants don't take the time to let the cheese melt. And, likewise, with the bun, don't settle for less than quality cheese. You can certainly play it safe with a classic American, Cheddar, or Swiss cheese slice. Try experimenting with other flavors like blue cheese, goat cheese, Monterey Jack, or Pepper Jack! We think you'll be pleasantly surprised by how a new cheese layer can change the whole burger dynamic.

Serving Left Over Burgers
Cooked burgers can be stored in the refrigerator between 3-4 days. Close that microwave! To reheat, set your oven temperature to 400F. Place your burger patty on a baking sheet and bake for about three minutes. Carefully remove the baking sheet and flip the burger to the opposing side. Place the cookie sheet back in the oven to bake for an additional three minutes. (Don't forget what you learned! Toast the bun in the oven while your patties safely reheat.
Left over burger patties can be concocted into a number of things! Try Ground Beef Stroganoff or ground beef chili!
A CAMP CHEF BURGER
Camp Chef has a variety of products that help make burger cooking seamless. Pick up the 26-inch Bamboo Cutting Board for a large surface great for forming, seasoning, and slicing toppings. All of our pellet grills have the capacity to smoke 20+ burgers, even the Pursuit!
A Camp Chef-style burger means more than just using our products-it also provides a sense of community. If you're on Facebook and have a Camp Chef pellet grill, join this customer-ran pellet grill group called Camp Chef Smoker Smokers.
HELPFUL VIDEOS