Keep your pellet grill and smoker fired up with Camp Chef's Premium Hardwood Pellets. Our Hardwood Pellets offer better flavor and a more efficient burn. Why? Unlike most pellets available, Camp Chef pellets are not a byproduct but rather 100% pure virgin hardwoods. No oils, chemicals or binders added. The kiln dried process creates low moisture content for a very dry, hot burning pellet. This means it burns less to maintain your desired temperature, giving you more pellets for your next barbecue and less ash to clean. These pure virgin hardwood pellets will give you consistent results bag after bag. Our Competition Blend is a tasty mix of maple, hickory, and cherry woods, so it's appropriate for every meal. Try it today with your favorite meat, bread, or veggie.
Camp Chef Premium Hardwood Pellets offer several flavor profiles for high grade beef, chicken, pork and fish. Also great with vegetables or baked goods.
For a better tasting, consistent burning pellet, use Camp Chef Premium Hardwood Pellets.
Click here for some things you'll want to consider when choosing your wood pellets.
Multimedia
Features
Proprietary blend of 100% hardwoods for each unique flavor profile
No oils, chemicals or binders added
Kiln-dried, low moisture content for quick ignition
Safe in all Pellet Grills, Smokers and Barbecues
Burns more efficiently and completely with less clean up
Renewable fuel source for cooking
Made in USA
Fitment
Try our other flavors:
Specifications
REVIEWS
Competition Blend BBQ Pellets
is rated out of
5
by
32
.
Rated

5

out of

5
by
Buddymc
from
It's awesome!
I've owned my grill about a month, I've smoked salmon, sausage fatties, pork loin etc. and all were amazing. The best thing I've cooked on it is reverse seared ribeye steak. Reverse seared steaks are the only steaks I'll have from now on! The Camp Chef pellet smoker/grill is so easy to use and it works perfectly. I love it!
Date published: 2018-01-26
Rated

5

out of

5
by
Al
from
Best mix around
I use the competiton blend for everything. It have a wonderful flavor, and makes it nice so I don't have to have all diffrent kinds of pellets on hand.
Date published: 2016-07-27
Rated

5

out of

5
by
Spencer
from
Awesome!
I smoked a brisket recently and used these pellets. It turned out awesome and the flavor was amazing! I will definitely be buying these again.
Date published: 2018-01-29
Rated

5

out of

5
by
Anonymous
from
delicious
I have used this blend for smoked salmon, bbq chicken, ribs, and brisket and they all have a delicious flavor from the smoke.
Date published: 2017-07-06
Rated

5

out of

5
by
EdE1911
from
Nice Blend
Nice blend of hardwoods. Good all around for any type of smoking.
Date published: 2018-02-02
Rated

5

out of

5
by
honkus054
from
Outstanding Aroma and Subtle Smoke Flavoring
These pellets not only impart a wonderful subtle smoke flavor to all kinds of meats, fish, veggies and potatoes, they also emit a very enjoyable smoke aroma to the air while I'm grilling. I find myself making excuses to do outdoor chores while I've got food smoking. They are not only great alone but really enhance the foods smell and flavor when combined with the Cherry or Apple pellets rather than using those alone.
Date published: 2019-02-13
Rated

5

out of

5
by
Mindi M
from
Sweet Smoky Flavor
Bought these to use in my BBQ grill box to give things that hint of smoke. They do the trick - I was not sure how well the flavor would come through but it almost turns my Camp Chef Grill Box into a mini smoker. Have tried this with chicken and pork and looking forward to using it on other items. This is a big bag so should last a long while using it only with the grill box.
Date published: 2019-07-01
Rated

5

out of

5
by
Doug Ofner
from
The perfect blend
I bought this product about six or seven times in the past 10 months. It's consistently excellent. Camp chef is a fantastic company. I couldn't be happier with their smoker that has the 900° your station on the side
Date published: 2018-05-01
RELATED BLOG POSTS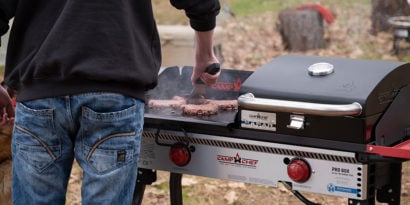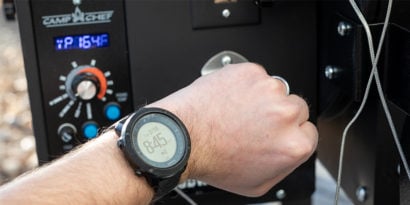 (2 Comments)