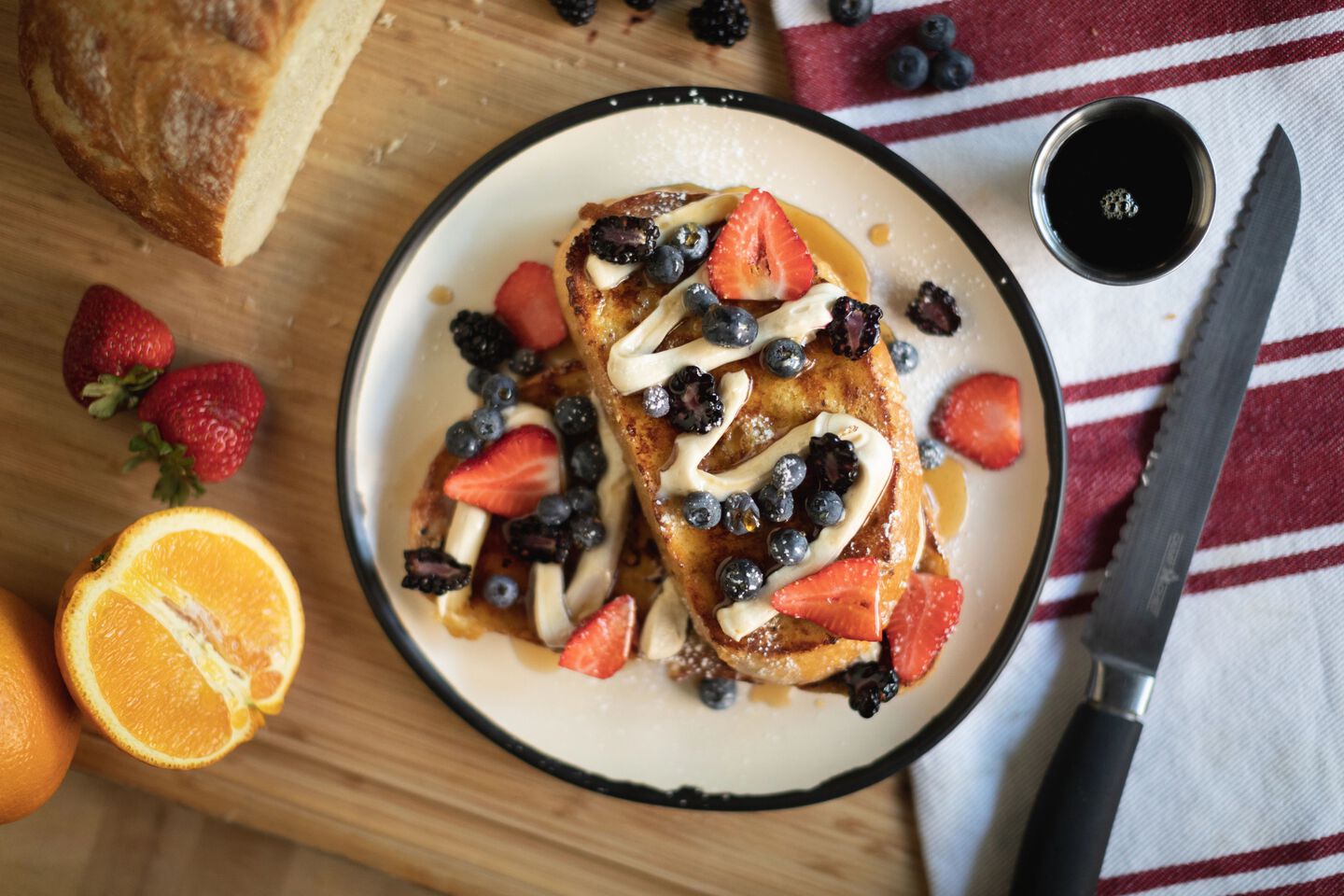 Ingredients
Cream Cheese Spread
4 ounces cream cheese, room temperature
1 tablespoon maple syrup
4 drops maple extract
1 tablespoon sugar
Batter
1 loaf crusty bread of choice
4 eggs
1 cup heavy cream
Zest and juice of half an orange
¼ teaspoon vanilla
¼ teaspoon nutmeg
¼ teaspoon cinnamon
2 tablespoons dark brown sugar
Pinch of salt
All Ingredients
1 loaf crusty bread of choice
4 eggs
1 cup heavy cream
Zest and juice of half an orange
¼ teaspoon vanilla
¼ teaspoon nutmeg
¼ teaspoon cinnamon
2 tablespoons dark brown sugar
Pinch of salt
4 ounces cream cheese, room temperature
1 tablespoon maple syrup
4 drops maple extract
1 tablespoon sugar
Instructions
Batter
Step 1
To prepare the batter, add everything into a bowl and whisk together until incorporated.
Step 2
Slice your crusty bread between ½ inch thick to ¾ of an inch thick, and soak the bread in the batter for a minute or two, before placing on a well-buttered cast iron pan to cook.
Step 3
Monitor while cooking, cook for a few minutes, flipping mid way through.
Step 4
When plating the French Toast try spreading the cream cheese mixture onto the top, cover it with fresh berries and drizzle it with maple syrup. You can hit it with some powdered sugar or whipped cream if you'd like a more dessert feel.
Cream Cheese Spread
Step 1
Set your cream cheese out long enough to ensure it is room temperature, so it will be easier to mix.
Step 2
Add it to a bowl along with the syrup, extract and sugar. Mix well with a fork.