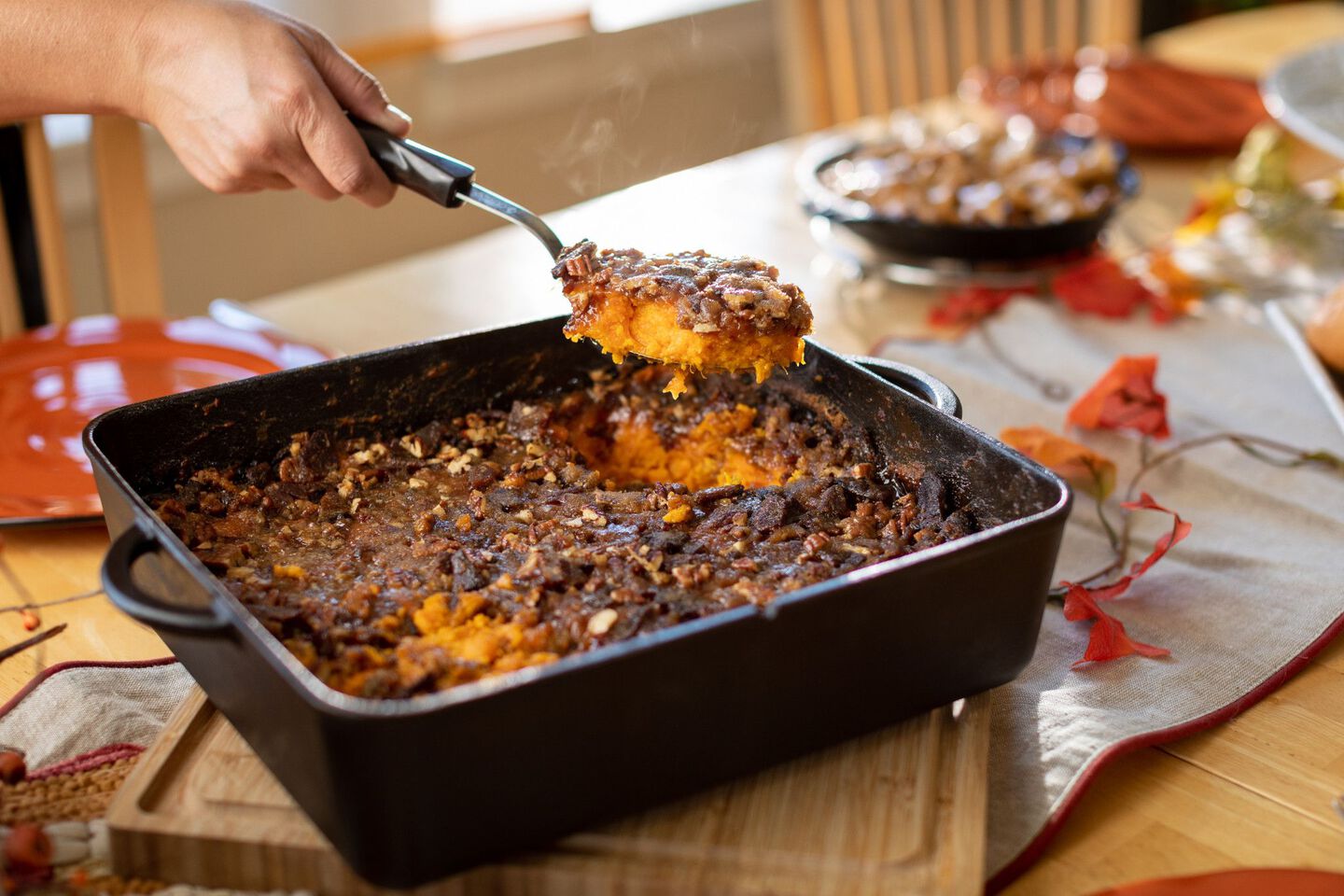 Ingredients
sweet potatoes
8 large yams, peeled and cubed
1 cup sugar
1 cup heavy cream
1 cup butter, melted
2 eggs
1 teaspoon vanilla
candied bacon
1 cup light brown sugar
1/3 cup melted butter
1/3 cup flour
1 cup pecans, coarsely chopped
All Ingredients
8 large yams, peeled and cubed
1 cup sugar
1 cup heavy cream
1 cup butter, melted
2 eggs
1 teaspoon vanilla
1 cup light brown sugar
1/3 cup melted butter
1/3 cup flour
1 cup pecans, coarsely chopped
Instructions
Candied Bacon
step 1
Mix brown sugar and maple syrup until incorporated. Rub mixture on both sides of bacon. Cook the bacon on a pan or directly on the grill grates for 20-25 minutes, watching closely towards the end.
Sweet Potatoes
step 1
Preheat pellet grill to 350 °F.
step 2
Place the sweet potatoes in a large pot, cover with water, and boil until tender, about 20-30 minutes, or until fork tender. Drain and return to the pot.
step 3
Add sugar, cream, melted butter, eggs and vanilla to the potatoes and mash until smooth. Use a hand mixer, if desired, to make them extra smooth. Taste the potatoes and add additional seasonings, if desired.
step 4
Transfer the sweet potato mixture to a greased cast iron pan and top with candied bacon topping.
step 5
Bake in pellet grill for 45 minutes.
step 6
Remove from heat, fluff rice and serve with toasted nuts and parsley.
Recipes you might be interested in