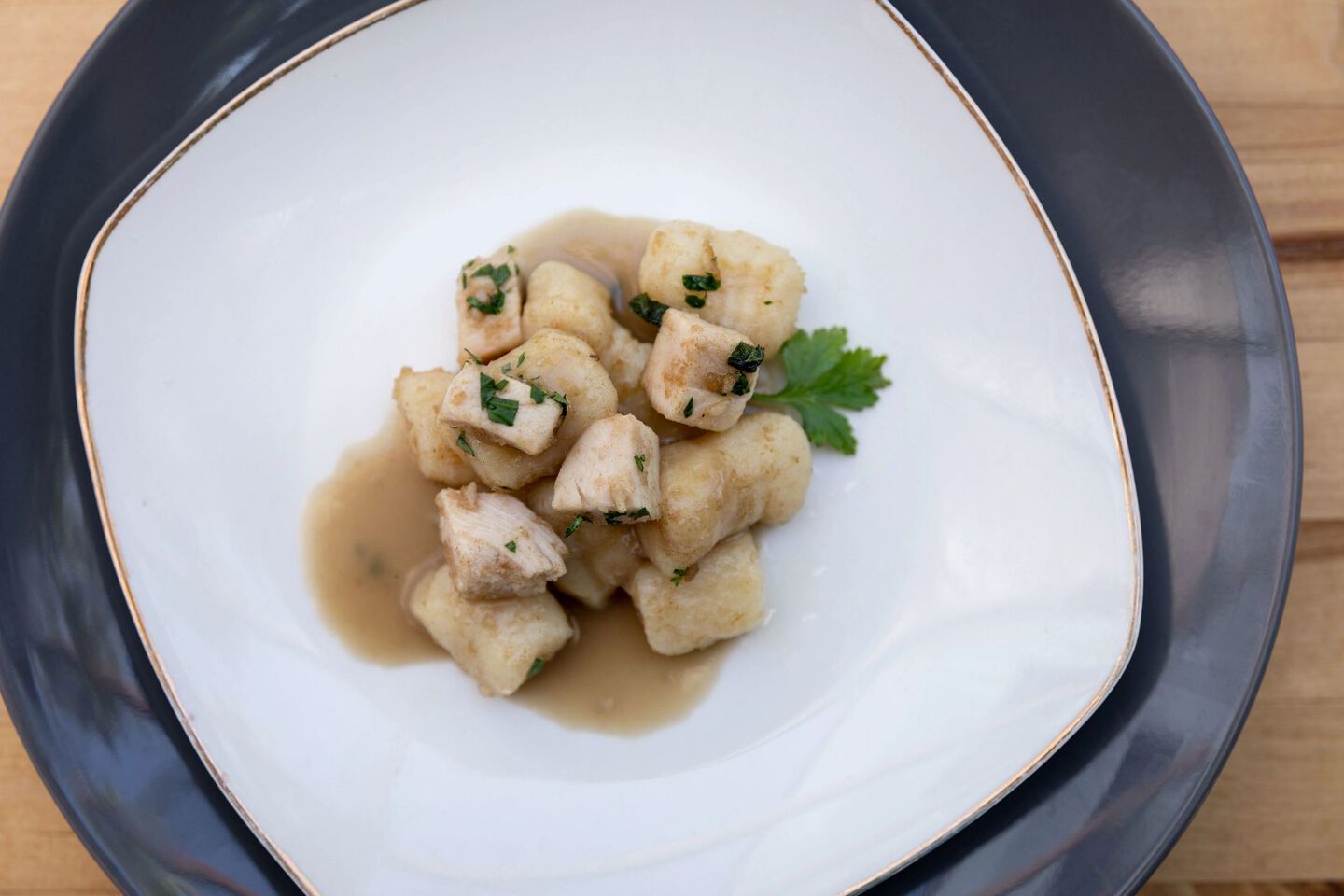 Ingredients
Turkey Gravy
1 Tablespoon butter
1 Tablespoon flour
Fresh sage
Fresh parsley
1/2 cup cooked turkey, cubed
1 cup chicken stock(plus more for desired consistency)
Salt and pepper to taste
Gnocchi
3 large Russet potatoes (about 2 pounds)
1 large egg, slightly beaten
1 cup flour plus more as needed
Salt to taste
All Ingredients
3 large Russet potatoes (about 2 pounds)
1 large egg, slightly beaten
1 cup flour plus more as needed
Salt to taste
1 Tablespoon butter
1 Tablespoon flour
Fresh sage
Fresh parsley
1/2 cup cooked turkey, cubed
1 cup chicken stock(plus more for desired consistency)
Salt and pepper to taste
Instructions
Gnocchi
Step 1
Boil potatoes with the skins on for about 30-40 minutes or until soft.
Step 2
Peel and mash the potatoes. Salt to taste.
Step 3
Once they have cooled, add the egg to the potatoes and slowly add flour to create a dough.
Step 4
Once the dough is formed, separate into 4 sections and roll the dough into a long skinny rope about an inch thick. Cut the rope into one inch pieces. Additionally you can roll these on a fork or gnocchi roller to get the classic grooved design.
Step 5
Once all the dumplings are formed, add them to a pot of salted boiling water. The gnocchi is done when they start to float to the top.
Turkey Gravy
Step 1
In a cast iron skillet, melt 1 Tablespoon butter. Once the butter has started to brown, add 5 or 6 whole sage leaves.
Step 2
When the sage has started to sizzle, add 1 Tablespoon all purpose flour and mix into the butter. Allow this to cook until the raw flour has been cooked out, about 2 minutes.
Step 3
Add chicken stock and stir to incorporate with the flour mixture. Add turkey, and heat through.
Step 4
Salt and pepper to taste.
Step 5
Add gnocchi to the sauce pan to coat. Garnish with fresh parsley.