Are you going a little stir crazy hunkering down at home? The days are running together…you've made all the puzzles in the house…the garage couldn't BE more organized–we hear yah' loud and clear. If you need a few more productive ways to beat the boredom, listen up! They even include your grill!
1. Experiment with new recipes
Sometimes we get stuck in the mundane. It's not always a bad thing…but your grill does cook more than burgers and steaks. You've got a TON of time on your hands, let's try experimenting with some new recipes! Our culinary team works tirelessly to create seasonal, timeless, and sometimes exotic recipes for you to try. Use the ingredient search to riddle through some pantry staples or browse our featured categories for some grill-spiration. Last summer we even cooked 50 recipes from 50 states on one grill. If we can do it, so can you!
2. Clean your grill
If you're looking for a sign–this is it. Yes, friend, you need to clean your grill. Opting to not clean your grill can result in grease fires and unfavorable cooks. In fact, outside of emptying your ash cup between cooks, you should deep clean your pellet grill after about 50 hours of cooking. Follow this blog, How to Clean Your Pellet Grill, to learn about interior and exterior cleaning and special benchmark cleanings. While it might not be the "fun" we promised in curving the boredom, you'll be glad you did.
3. Share your wealth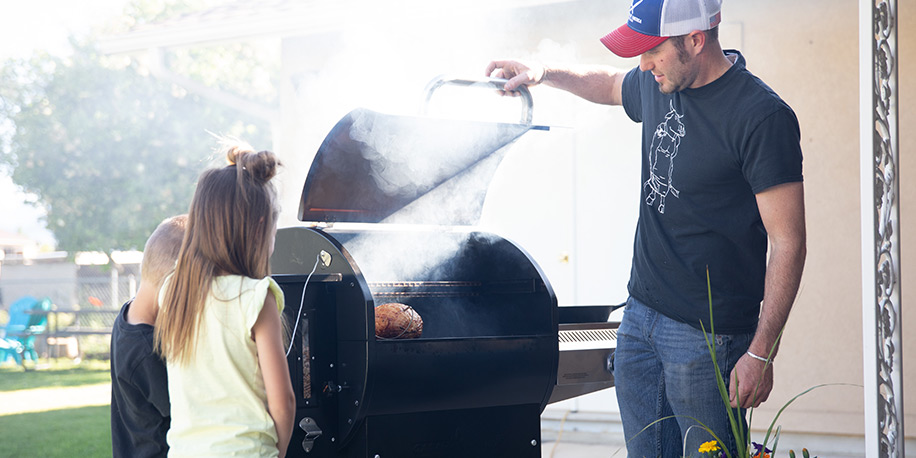 We know that pellet grills can be a learning curve to say the least. So, what better time than now to share your BBQ knowledge? Set aside an afternoon and get the youngin's excited about cooking. Don't forget to incorporate some grill safety in there as well. Heck, give your spouse a mini Pellet Grill 101 class (I'm sure they're dying to see what all the fuss is about.) Psst! Try starting with some recipes you know they'll enjoy like baking cookies (yes, you can smoke cookies), or tacos, etc. Once they get the hang of it, you'll be fighting them for the grill this summer.
4. Try your hand at smoked jerky or a brisket
One of our personal favorites–smoked homemade jerky. It's a tricky task, but once made and sealed properly jerky can last months! And, let's be real it–you've got the time, remember? With the help of our jerky racks you'll be able to whip up 2 lbs. of beef (or wild game) like it's nothing. Find our Homemade Jerky recipe, here.
Tackling a brisket is tough work–especially if it's your first time. They generally call for long smokes (10+ hours) and can come with an abundance of uncertainty. Use our Book of Brisket to help fortify your starting point. Among other notes, you'll find buying, cooking, resting, slicing, and serving tips. It's the perfect piece of meat to conquer–especially if you're going to be home all day anyways. Don't worry, we're right there with you.
How are you using your Camp Chef products to pass the time this spring? Let us know in the comments below!