Your pellet grill is big, but sometimes you're fighting for more space. We get it. That's why we're bringing you almost quadruple the cooking surface area with our SmokePro Jerky Racks. With three removable racks at your disposal, you'll be able to tackle any smoking job, from jerky to fish, wings to ribs. All without breaking a sweat.
Features
Three removable jerky racks
Frame simply sits inside smoke chamber
Nearly quadruple the cooking space (429 sq in. to 1584 sq in.)
Fitment
Fits models PG24LS, PG24, PG24DLX, PG24SE
REVIEWS
24" Pellet Grill Jerky Rack
is rated out of
5
by
3
.
Rated

5

out of

5
by
Teaysguy
from
Adds so much cooking space!!!!
This is a must, don't let the "Jerky Rack" name sell it short. Very solid build. Can use it to smoke even more on. Ribs, Steaks, Pizzas, and so on and so on. Use just 1 rack and you can add more pans to smoke in also. Adjust as many pans as you'd like for your use. These things are probably the first accessory I'd buy. Easy to install also.
Date published: 2018-02-05
Rated

5

out of

5
by
Stevie
from
Great rack
I just got my jerky rack and I love it! I've already made jerky twice with this rack on my new Woodwind, which I also love! I think I'll also be trying this rack for chicken wings!
Date published: 2018-03-02
Rated

5

out of

5
by
donald m
from
must have for jerky
this is great fit 10lb of jerky on it and easy to clean
Date published: 2018-01-08
QUESTIONS
What are the dimensions of the smoker rack for the 24" Camp Chef grill. Would it fit a Traeger 22" grill
I would say no fit. The shelf sup ports lock into stock grill rack. No hardware. Then shelves slide in. It is very specific to camp chef.
Date published: 2018-03-15
Will these rack support 2 8 pound pork butts on 1 rack?
I don't know. All I have done is jerky so far. I will tell you, the racks seem sturdy. I would consider using top and bottom rack with one pork butt on each rack. I think there would be clearance for them.
Date published: 2018-03-15
will the jerky rack fit on the LS model pellet grill
Hello, Thank you for your email, yes these Jerky Rack's would fit on your LS. If you have any other questions let us know.
Date published: 2018-03-15
Do you have an ETA for the PGJERKY?
They are now in stock ;-}
Date published: 2018-03-15
when will jerky rack be available and what is the shipping time on the Woodwind?
The jerky racks are back in stock now and the delivery time on the woodwind depends on where you live. There is a 24-72 hour turn around time in the warehouse and then 1-5 days delivery depending on where you live via FedEx
Date published: 2018-03-15
Will this jerky rack fit in the woodwind ?
Yes the PGJERKY fits all 24" pellet grills
Date published: 2018-03-15
When will the jerky rack be available again? 
We just received our shipment of the Jerky Racks, they are back in stock.
Date published: 2018-02-06
Will this work inside the LUX?
No, you will want the ones for the 36" grill. The model number is PGJR36 and here is a link to it on our site: https://www.campchef.com/pellet-grill-and-smoker-jerky-rack-3406.html
Date published: 2018-02-06
RELATED BLOG POSTS
(1 Comment)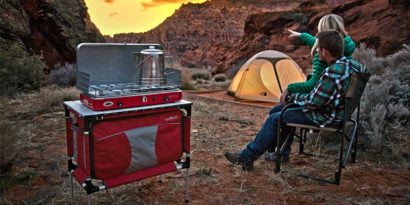 (6 Comments)