June 17th marks National Eat Your Veggies Day. While you might be wondering how a hearty company like Camp Chef can support such a holiday, we want to take this opportunity to really show customers just how versatile our brand is. Some people will celebrate on the extreme end by only eating vegetables–you won't find us that percentile–while others celebrate by simply eating more consciously. That being said, Camp Chef supports a well-balanced diet and vegetables are a great way to stay fit, fueled, and full. Veggies add color to your plate and rich flavors to your palate. They're a good source of vitamins and minerals and can aid in lowering blood pressure and reducing the risk of heart disease.
Almost all of our products are great for cooking vegetables, but sometimes we only show the meaty stuff. Camp Chef produces a number of products that perfectly sautee, bake, and smoke your decedent veggies platters. We hope to give you some added inspiration to incorporate vegetables in your next outdoor meal.
With our Outdoor Ovens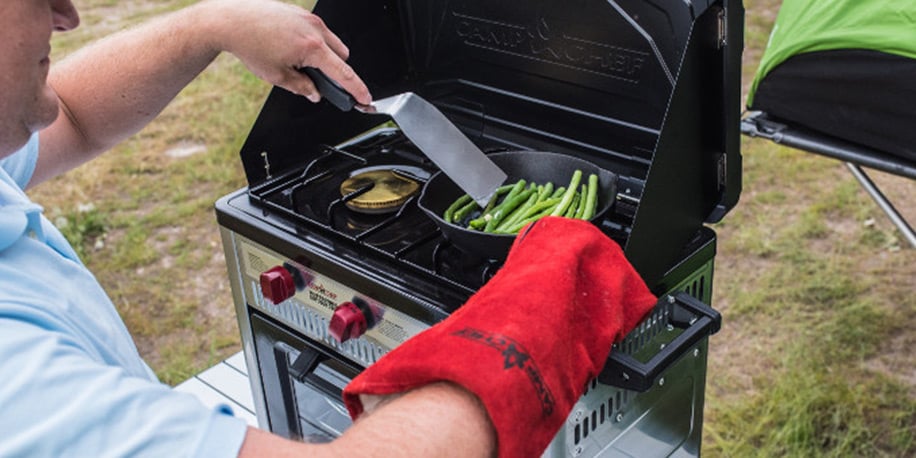 Our Outdoor Camp Ovens offer two separate cooking spaces allowing you to cook multiple dishes at the same time. Easily bake stuffed peppers in the enclosed oven beneath while our Green Beans with Mushrooms recipe sizzle away on the stove top. All the convenience of an at-home kitchen can be taken and enjoyed anywhere with our Outdoor Oven options.
On the Pellet Grill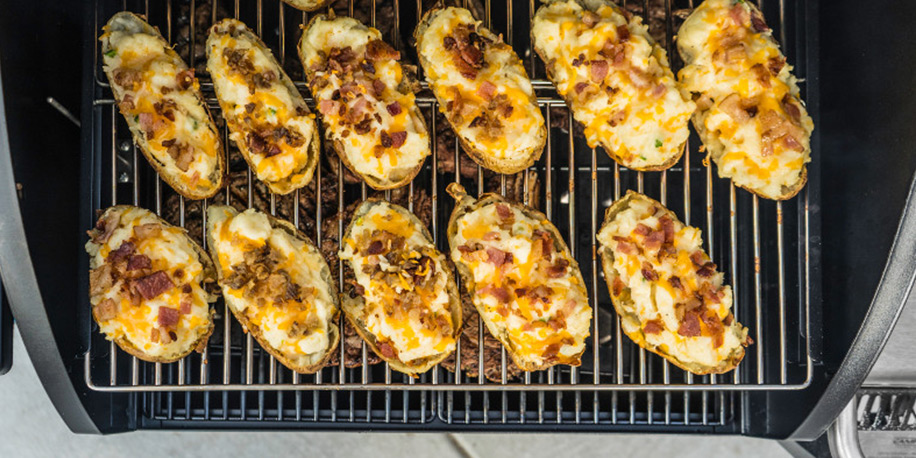 The pellet grill is a great way to cook your vegetables. Toss your vegetable side dish of choice in a cast iron piece and let the grill do the heavy lifting. Try our famous 7 Layer Potatoes or even our Twice Baked! I think you'll be pleasantly surprised at how much you enjoy just a hint of the smoked taste. Use the pellet grill like an oven and stack in those side dishes, just be sure to account for extra time on those tough root vegetables.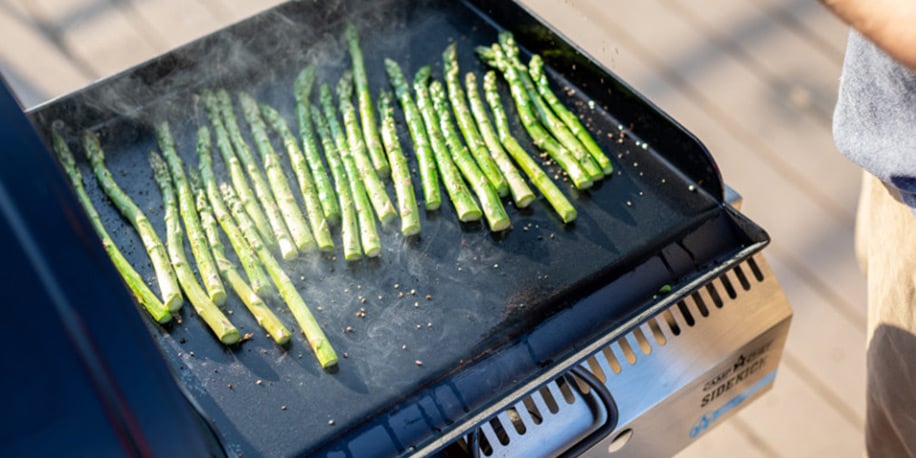 Got the pellet grill filled with meat? No problem, cue the Sidekick. Use the included steel griddle top to carmelize onions, sear asparagus, or sautee mushrooms. How about gorgeous grill marks on your summer zucchini? Remove the griddle and replace with our BBQ Grill box. Craving some good ole' deep-fried comfort food? Try taking off the BBQ Grill Box and replacing with our fry pot to make homemade Fried Pickles. Pull 'em out, let them dry out, and serve warm with your favorite dipping sauces.
In Cast Iron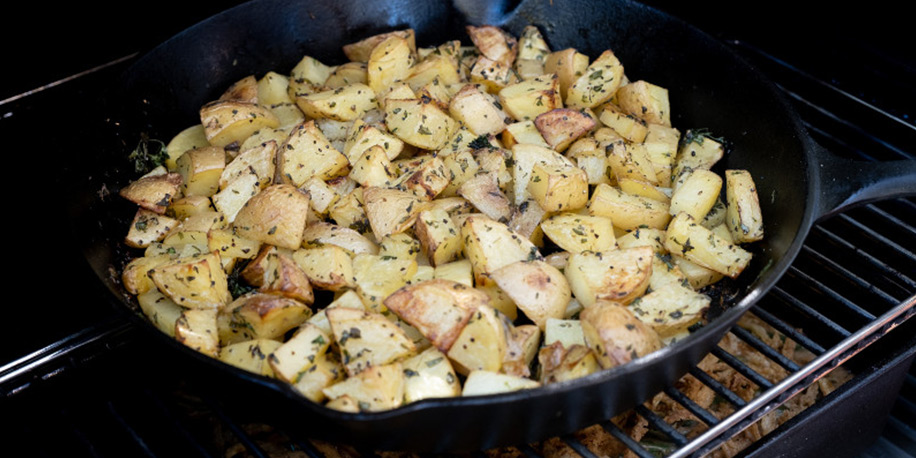 If you haven't caught on, we love cooking vegetables in our cast iron cookware. You'll notice that a good majority of our vegetable-based recipes are 'suggested' in cast iron. Our line is both durable enough for your outdoor adventures and large enough to house your veggies/side dishes. It holds heat extremely well and with a little bit of cast iron conditioner, it stands up to even the most acidic vegetables. Needless to say, there's just something about the taste of cooking with cast iron. Try this Herb Roasted Potatoes recipe–no pellet grill needed.
On our Stove System Accessories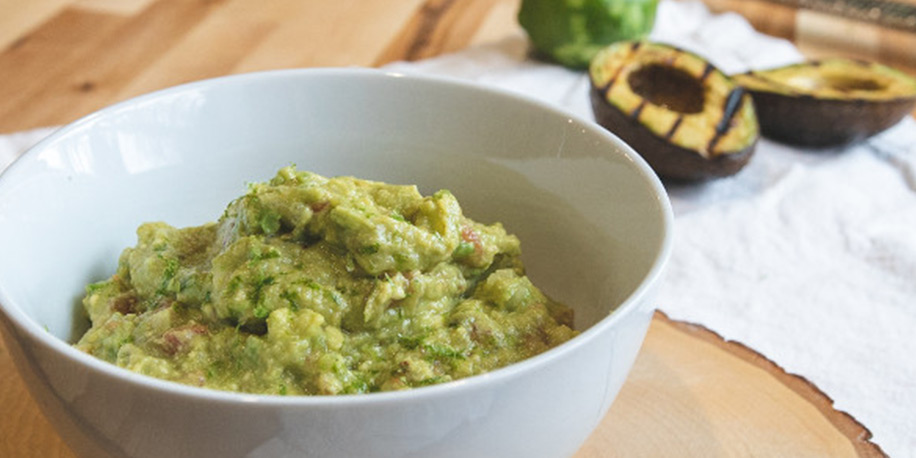 All of our cooking systems, including our stove systems require the use of some sort of accessory. Griddle cook vegetables for the entire campground on a variety of different griddle sizes. Add a pizza oven accessory to dome bake your cast iron vegetable dish (just like your traditional oven at home.) Aching for those gram-worthy grill marks again? Our BBQ Grill Boxes will give you the look you're shooting for. Try this Grilled Guacamole recipe on your stove system by using a grill box attachment.
With our Flat Top Grills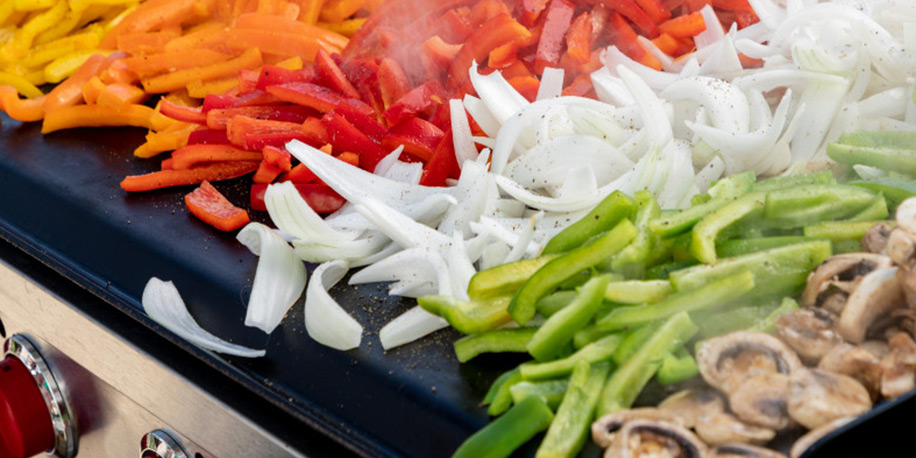 Our Flat Top Grill line was build for this. Sure you can make tasty grilled cheese, burgers, and tacos on the griddle top surface, but what better way to utilize the massive cook space than with peppers, onions, and chicken for a veggie-packed fajita night out of this world. Place one burner on medium to sautee the onions and peppers, another for the chicken/protein of choice, and the end burner on low to warm the tortilla shells. Fajitas are a deliciously easy meal to check all the nutrition boxes.
How will you be celebrating the holiday? What's your favorite vegetable dish to make on your Camp Chef products? Let us know in the comment section below!