When it comes to choosing a camp stove for your outdoor cooking needs, you've got plenty of options. So many options, in fact, that you might be wondering where to start with choosing between sizes, materials, BTU outputs, and features. Do you want a compact camping stove you can take with you everywhere, or a powerful three-burner for your back patio? That's where this guide comes in. You can start narrowing your list by answering a few questions: How many hungry mouths do you have to feed? What kinds of adventures do you have planned for your stove? And finally, how much hardcore cooking power do you need? Check out our stove buying guide to figure out which is right for you.
How Big Is Your Group?
First, you should think about how many people you're going to cook for on a regular basis. Just you and a couple friends or a whole troop of scouts? There's a big difference.
1-4 People
If you only expect to cook for yourself and a few others on the go, you should browse our compact camping stoves. The
Mountain Series
stoves are perfect for small group cooking on the go. You can whip up a warm meal at the campsite without all the fuss of packing lots of gear. Our top picks in this category are the
Everest 2x
and the
Ranger II
.
4-7 People
We get it-you want enough space to cook for the whole family, but you don't need the Goliath of stoves. One of our trusty
two-burner stoves
should be just what you need. With two powerful burners, you have room to customize your cooking experience with two different
stove accessories
or one large accessory.
7 or More People
Are you inviting the whole neighborhood for your backyard barbecue? You need all the cooking space you can get. We recommend a three-burner stove like the
Pro 90X
(especially if you want something mobile), or a grill like the
Flat Top Grill
for the back patio. The Pro 90X comes with folding side shelves for a little extra prep space with all your food, while the Somerset IV gives you four full burners of cooking area. But for serious cooking space, the Flat Top Grill takes the cake. A single professional griddle and built-in grill grates let you cook for everyone and their dog.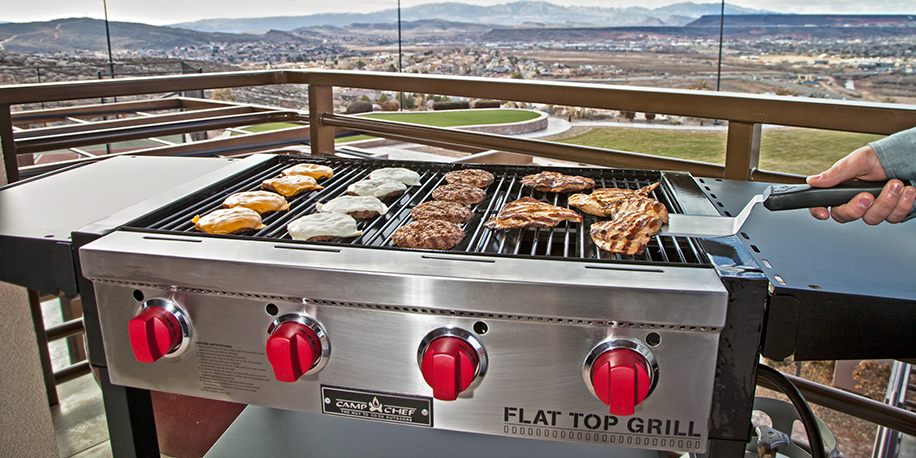 Where Are You Cooking?
Now for the fun part: where you plan to use the stove. Is this a centerpiece on your patio that you'll occasionally move from one side to the other? Or is this stove going to taste wild mountain air every weekend?
On the Patio
If you want your stove to be the centerpiece of your backyard kitchen, you should check out the Somerset IV and the Flat Top Grill. As mentioned above, both are champs at cooking for large groups and look great with their stainless steel designs. Their heavy-duty construction and large size make them perfect as stationary patio cookers. You can also invest in one of our 14-inch or 16-inch
stove systems
to spruce up your back patio. With the right combination of accessories, like Dutch oven, griddle, and more, you could build a complete outdoor kitchen on one stove. Going this route also leaves you the option of packing everything up and cooking on the go when you need to.
At the Campsite
Are you looking for a true camping stove? There are two categories you can look at:
car camping stoves
and
compact camping stoves
. For a casual weekend at a maintained campground, you can easily pack a two-burner stove in and out of your car, along with all your favorite accessories. Just get a few carry bags, and you'll be set.On the other hand, camping at a more remote site where you don't have immediate access to your vehicle will require a different kind of stove. Our stoves from the Mountain Series, like the Everest, are better equipped for adventures like that.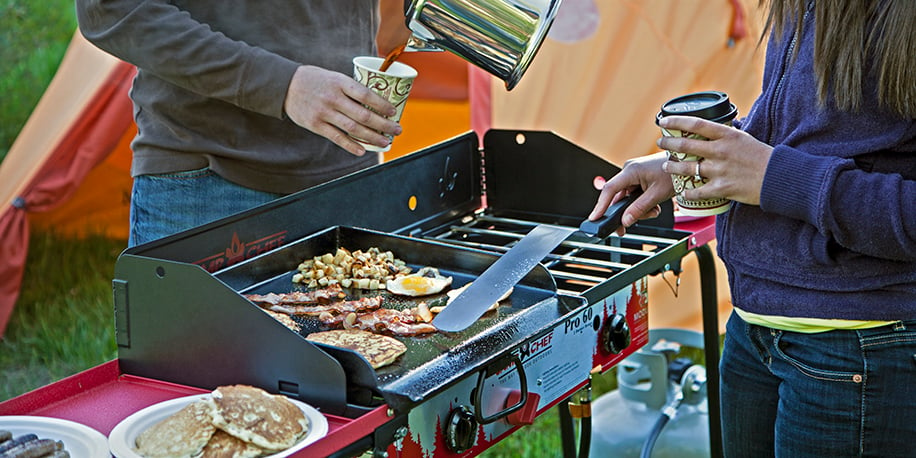 On the Trail
Extreme activities like backpacking, skiing, and hiking call for a stove that will hold its own without weighing you down. Look no further than the
Stryker
. Perfect for boiling water for soup, hot drinks, or dried meals, you'll be able to enjoy warm meals in the wild. Plus, the stove weighs just over one pound-you'll hardly notice it's in your pack. Other outdoor adventures like mountain biking, ATV riding, and snowmobiling may allow for a little more packing room. Bring along a stove like the Rainier or Everest to cook up a tasty lunch while you're taking a break.
At the Tailgate Party
Be the MVP of tailgate parties this season with the
Pro 60X
or
Pro 90X
and an awesome spread of accessories, from pizza ovens to grill boxes. These stoves can handle slanted or rocky ground in the parking lot with their built-in leg levelers. You also get some extra food prep space with folding side shelves. When you're ready to pack it up for the game, all you have to do is fold down the shelves and legs, and you're ready to go.
On the Coast
If you live in a humid climate or near the coast, you know rust is the enemy to your favorite outdoor cooking gear. Exposure to constant moisture in the air may rust or corrode even the toughest stoves. That's why we came up with our
stainless steel Explorer cook system
. The materials resist rust and corrosion, so you can cook with confidence no matter where you live.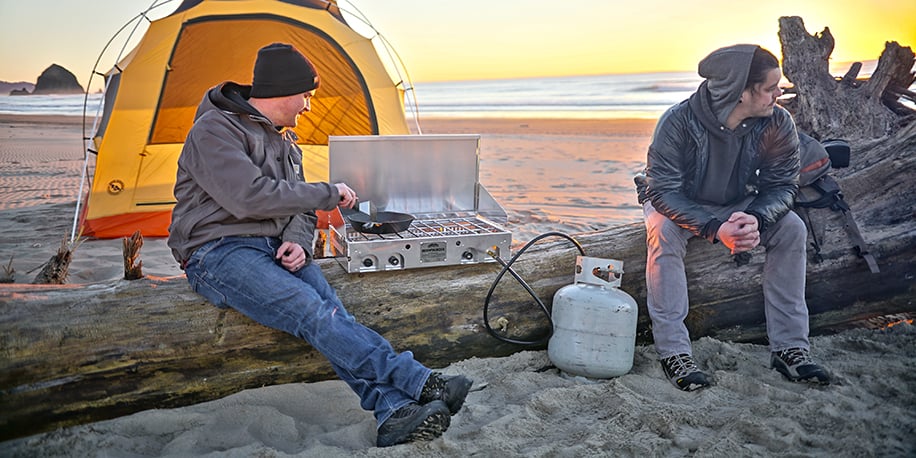 How Much Power Do You Need?
Lastly, think about what type of cooking jobs you'll be throwing at your trusty stove. Pancakes and eggs? Home brewing? Deep fried shrimp? You need different levels of
heat output
depending on what you want to cook.
10,000 BTU
Our lowest BTU output, at 10,000 BTUs, will be able to handle light cooking jobs in temperate weather. Most of our compact stoves are at this heat level because of their lightweight construction. Of course, even with 10,000 BTU you're still looking at a fair amount of cooking power. Your kitchen stove, for example, offers 8,000-12,000 BTU. That's still plenty of heat to cook most of what you want.
20,000-30,000 BTU
Most often, outdoor cooking requires a little more power. Your stove will probably have to face up to wind, rain, cold temperatures, and more at some point. Our 20,000-30,000 BTU burners should be able to handle the challenge. The vast majority of our two-burner and three-burners stoves fall in this category. You'll have more than enough power to boil water with ease and cook in inclement weather. At the same time, you have the capability to bring the heat down for toasting hamburger buns and more. For the widest range of cooking power, these are the stoves you want.
60,000 BTU
When we promise big cooking power, we deliver. Our
high pressure stoves
pack up to 60,000 BTU-more than triple what you'll find with your kitchen stove. Because of their high heat capacity, these stoves aren't meant for day-to-day cooking jobs. They are specialty stoves that are perfect for home brewing, deep frying, and water bath canning. Basically, if you need to boil large amounts of liquid quickly, this is your stove of choice.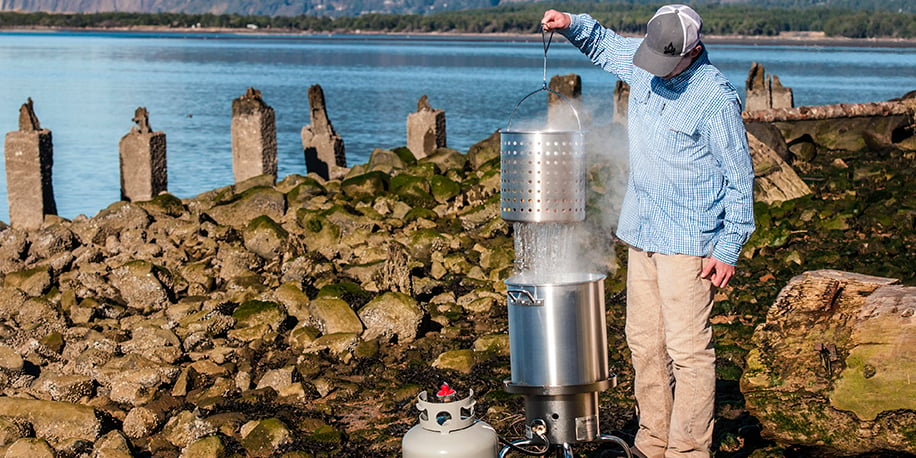 Time to Get Cooking
Family barbecue or individual cookout, backcountry or back patio, low pressure or high pressure, we've got the ideal stove for your outdoor kitchen. Ask yourself the questions listed above, and
start exploring
our selection of stoves today. Your new best adventure buddy is waiting.