Flat Top Grill
The Flat Top Grill is good at one thing above all else: feeding people fast. The large 600-sq. inch surface area lets you crank out food for 50-100 people every hour, so your party will never go hungry. Many propane grills have hot spots, but this grill heats food evenly with its large griddle and a heat dispersing grill design. The thing our customers love most about the Flat Top Grill is the fact that it can be used as a griddle, grill or water pot heat source. Use the griddle for pancakes, bacon, hash browns, sausage, veggies, and even boiling water. Remove the griddle, and you'll find a massive grill underneath to make hamburgers, chicken, steaks, shish kabobs and more. Think of it: breakfast, lunch, and dinner all cooked on the same unit.
Multimedia
Features
Includes huge interchangeable flat top griddle
True Seasoned finish, ready to cook
Four 12,000 BTU stainless steel burners
Matchless ignition system
Two large folding side shelves
Grease management system for easy clean up
Grease tray, catch bucket, and micro adjust griddle levelers
Roller wheels for transport
Propane tank holder
Adjustable leg levelers
Specifications
Griddle cooking surface: 604 sq. in
Grilling cooking surface: 501 sq. in
Overall unit dimensions: 62.5" 37" x 22"
Downloads

FTG600 Instruction Manual
REVIEWS
Flat Top Grill 600
is rated out of
5
by
33
.
Rated

5

out of

5
by
ocfishguy
from
Excellent Value and Quality!!!!
I received my well packed and protected Flat Top/Grill yesterday and immediately opened the (2) boxes and read the manuals. Then I set forth to put the grill together. No worries on assembly, however, they are heavy. All you need are a Flat/ Philips screw drivers and may need a light mallet to align the bottom and top shelf to start the screws. The instructions are well illustrated...... perfect! I love it!! It's heavy duty with a lot of porcelain protected construction!!Thanks for being out there!!! Great item!!! Thank you!! Semper Fi! Godspeed!!
Date published: 2016-07-27
Rated

5

out of

5
by
Scouting Dad
from
Great flat top value
Used this for the first time feeding the adults at a Scout outing. This thing is awesome! The griddle heats very evenly from edge to edge (varied about 20еЎ across the entire surface, outdoors with a breeze). The grease catcher is very useful. Clean-up is easy. Have not used it as a grille as the clean-up looks scary. It's small and light enough to be fairly portable. Made a plywood top so I could transport it upside down as the legs are not very sturdy. I think the next addition will be a base with casters to make mobility a little easier.
Date published: 2016-09-20
Rated

5

out of

5
by
SmokinOil
from
Finally - A griddle that works
For years I have tried various griddle options for grills and stoves only to end up disappointed in the results. I was looking to replace my aging disgracefully propane grill and decided to take a chance on the FT600 since you can remove the Griddle and use it as a grill. I don't think I've used my stove since I got this thing, it's made great breakfasts, stir frys, burgers, cheese steaks and even pork griot. I find I can cook faster with this than my old grill ever did.
Date published: 2018-03-07
Rated

5

out of

5
by
Spider
from
Flat top grill
Arrived in great condition put together in an hr. Weather been cold here in Northeastern Wi. Sunday im using for the first time. Cooking for 8 people, cant wait to use it.
Date published: 2018-03-09
Rated

5

out of

5
by
BKinWI
from
Sweet griddle!
Great build quality and all the right features. Has performed flawlessly so far.
Date published: 2018-03-27
Rated

5

out of

5
by
MillieChaps
from
Great Grill!
I bought this grill about 3 weeks ago and finally used it this Sunday for the first time. I loved it! I was able to cook an entire meal all at once for my family of 6. I am till getting used to the temperatures and levels but overall I am so happy I bought it. Best feature for me is I can turn it on w/o having to use a match or lighter. Very easy to use.
Date published: 2018-04-18
Rated

5

out of

5
by
Anonymous
from
Awesome!
My family got me the four burner flat top grill for my birthday. I've used it four times so far and I'm loving how everything has turned out. I've done: pancakes, sausage, bacon, hash browns, o'brien potatoes, steak and chicken fajitas with peppers and onions, and steak fillets with mixed veggies. I've gotten really excited about outdoor cooking and I can't wait to try more. I highly recommend this grill!
Date published: 2017-11-23
Rated

5

out of

5
by
Griddle Girl
from
OMG!!!! Where have you been all my life?!
What can‰ЫЄt be done on this awesome Griddle? I‰ЫЄve done Chicken Wings, Brussel Sprouts, Burgers, Stringbeans, Corn on the Cob, Eggs, Hashbrowns, Bratwursts, GroundBeef Philly Cheese Steaks, Bacon, Sausage, and the list goes on and on and on!!!!! Comes out of the box with the griddle top seasoned and ready to cook on. Was put together in a matter of minutes. Sturdy, well designed piece of equipment.
Date published: 2017-10-03
QUESTIONS
When will the flat top grill 600 be back in stock?
I called in early May and was told June 9th.
Date published: 2018-05-18
Do they make a 1/2 griddle for the 600 model. So I can use it as a grill and a flat top at the same time?
I heard people say Grill Grates / Griddle Grates work pretty good on Flat Top Grill/Griddles.
Date published: 2018-04-23
I love this product but have a problem with grease splattering since there is no lid. Am looking for a surround similar to that of a camping stove. Anyone have other suggestions??
Have you tried a Melting dome? Also, I've seen people use cake pans or even dog water bowls in a pinch.
Date published: 2018-04-23
Just purchased this beautiful piece of equipment, is it necessary to keep the heat deflectors, and grills on since I'm not using them, I'm only going to use the flat top.
I was told to leave them on to prevent hot spots on the griddle surface. However, I think it will work just fine without them.
Date published: 2018-04-23
Any idea when these will be back In stock?
I heard they will be back in stock online and in stores by the middle of May. I got one last week at Dicks Sporting Goods in Houston. It was a display model, but they said they could get from other stores in the country. I think Colorado has several in stock still.
Date published: 2018-05-06
Could the griddle and propane tank be removed and the FTG be laid on its side for transport for a short distance in the back of an SUV?
I don't see why not. Just keep in mind that it will still weigh about 100 pounds with the flattop and propane bottle removed. Also the flame deflectors are just sitting above the burners so they will need to removed or they will fall out. Seems like the whole thing would be a bit of a pain.
Date published: 2018-03-22
Which bag fits this griddle when it's removed from the grill?
The model # SGBFTG flat top griddle carry bag fit that griddle.
Date published: 2018-04-23
How thick is the cooking surface?
The griddle is made of 7 gauge steel and is .180" thick.
Date published: 2018-04-04
RELATED BLOG POSTS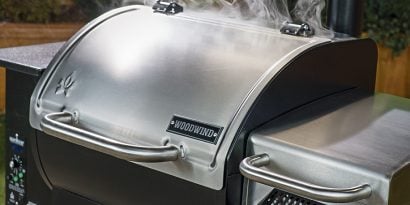 (3 Comments)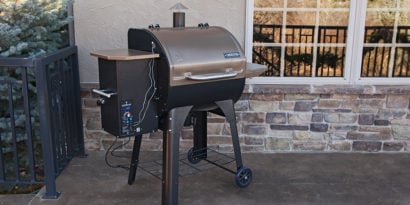 (1 Comment)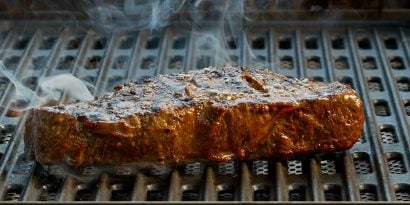 (2 Comments)