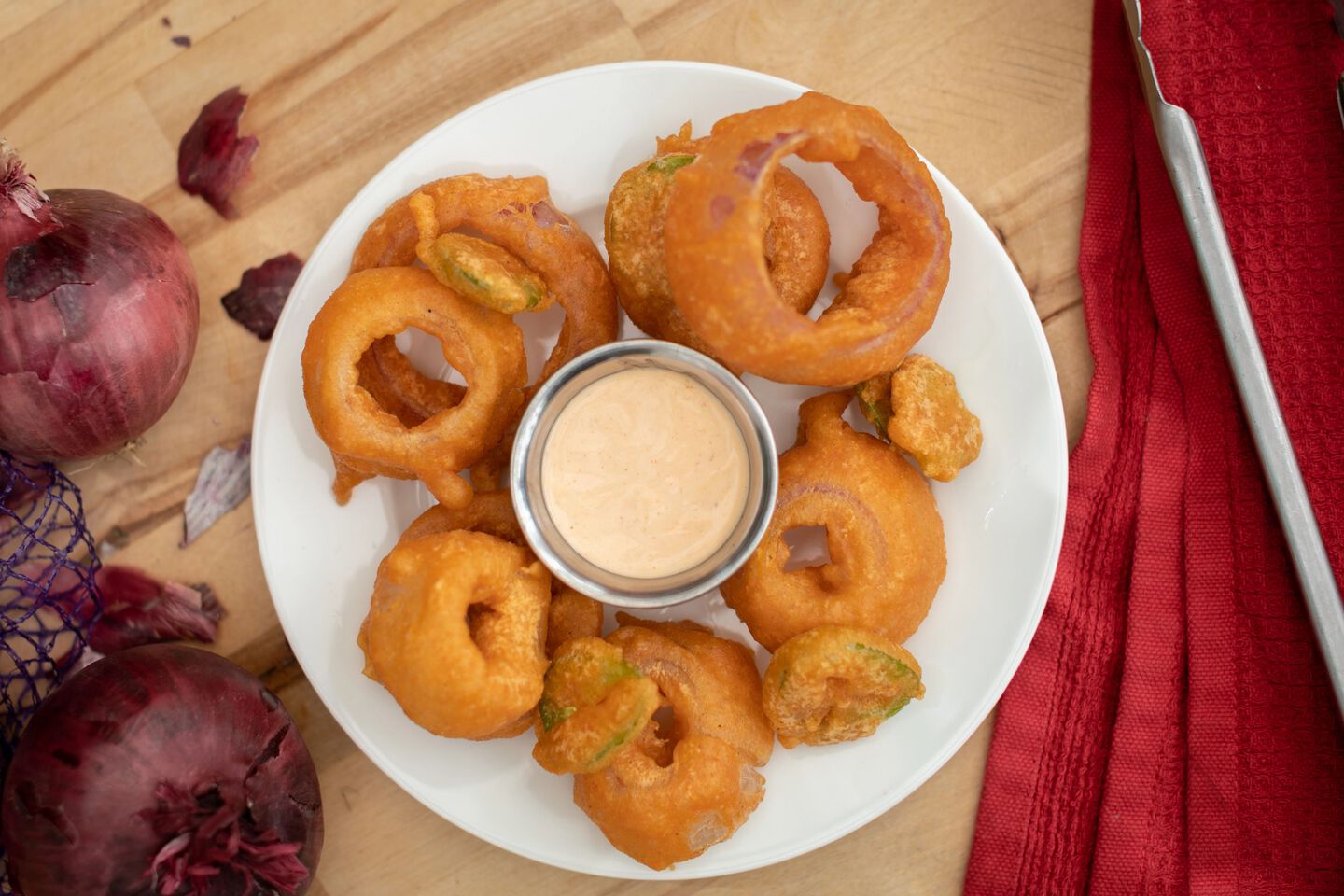 Ingredients
All Ingredients
2 red onions
1 jalapeño
2 cups All Purpose flour
2 teaspoons salt
1 teaspoon cayenne pepper
1 teaspoon white pepper
1 teaspoon smoked paprika
1, 12 ounce can of Pale Ale
Frying oil such as peanut oil or canola oil
Instructions
Onion Rings
Step 1
Start by putting your oil on the burner and heating it to 350°F. Keep a candy thermometer in the oil to monitor the temperature and turn up or down the burner keeping it as close to 350°F as possible.
Step 2
To make the batter. Mix the flour with all the seasonings thoroughly in a bowl with a whisk.
Step 3
Slowly add in the beer and keep whisking, it should be the whole can to make the batter, the consistency should be similar to a pancake batter.
Step 4
Slice the jalapeño about ¼ inch thick and keep in the seeds.
Step 5
To clean the onion, chop off the head and the root, then chop the onion into half and remove the skin. Separate the rings from the onion.
Step 6
Place 5-6 rings and a few jalapeño slices into the batter and coat them evenly, tap off the excess batter and slowly place into the hot oil. They should take about a minute and a half to fry and will most likely need to be flipped half way through.
Step 7
When they are golden brown, remove them and set on a few paper towels to collect the excess oil.
Step 8
Serve up with your favorite sauce, fry sauce here in Utah, bbq sauce, garlic aioli or a spicy mayo, you choose; or add to your favorite pulled pork sandwich.
RECIPES YOU MIGHT BE INTERESTED IN