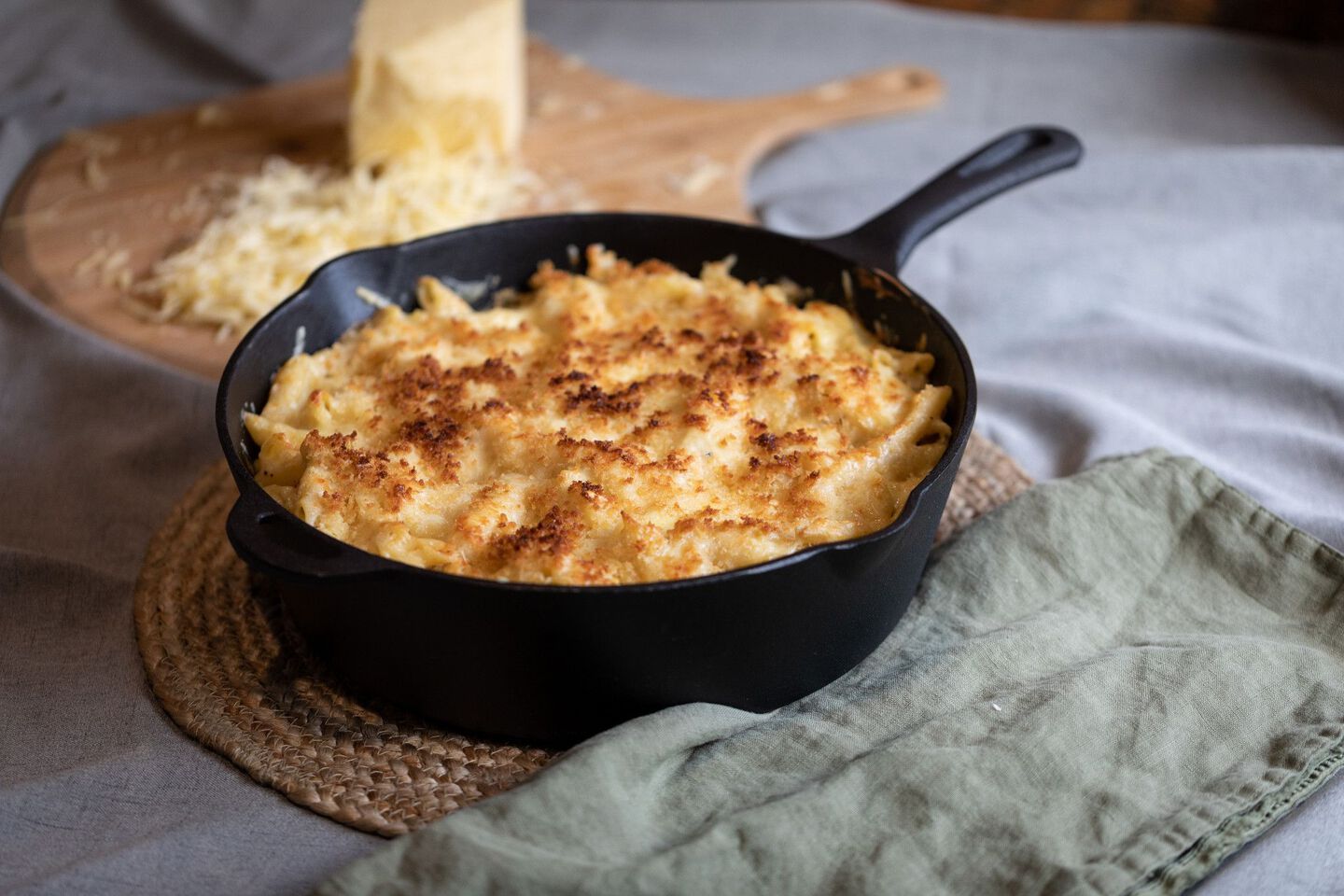 Ingredients
All Ingredients
2 pounds penne pasta
12 Tablespoons butter, divided
5 1/2 cups milk or whole milk
1/2 cup all purpose flour
3 garlic cloves, minced
2 teaspoons Kosher salt
1/2 teaspoon ground mustard
1/2 teaspoon ground black pepper
1/4 to 1/2 cayenne pepper (depending on how much heat you prefer)
4 1/2 cups sharp white cheddar cheese, shredded
2 cups gruyere cheese, shredded
1/2 cup Panko breadcrumbs
Instructions
White Cheddar Mac & Cheese
Step 1
Preheat oven to 375°F.
Step 2
Cook pasta 3-4 minutes less that the package instructions indicate.
Step 3
In a large saucepan or skillet, melt 6 Tablespoons of butter over medium heat. When butter is melted, add garlic and cook for 1 minute. Add flour, and cook an additional minute. Slowly pour in milk into flour-butter mixture while whisking. Continue cooking, whisking constantly until the mixture bubbles and becomes thick.
Step 4
Remove the saucepan or skillet from heat. Stir in salt, mustard, pepper, cayenne, 3 cups of cheddar and 1 1/2 cups of gruyere cheese. Set cheese sauce aside.
step 5
Transfer the cooked pasted to a colander, rinse under cold water, and drain well. Stir macaroni into cheese sauce.
step 6
Pour the mixture into a large greased, skillet or casserole dish. Sprinkle remaining 1 1/2 cups of white cheddar and 1/2 cup of gruyere cheese on top.
step 7
In a small bowl, melt 3 Tablespoon of butter in microwave, then add Panko breadcrumbs and stir until butter covers breadcrumbs. Sprinkle breadcrumbs on top of macaroni.
step 8
Bake until brown on top, about 30 minutes.
Recipes you might also be interested in