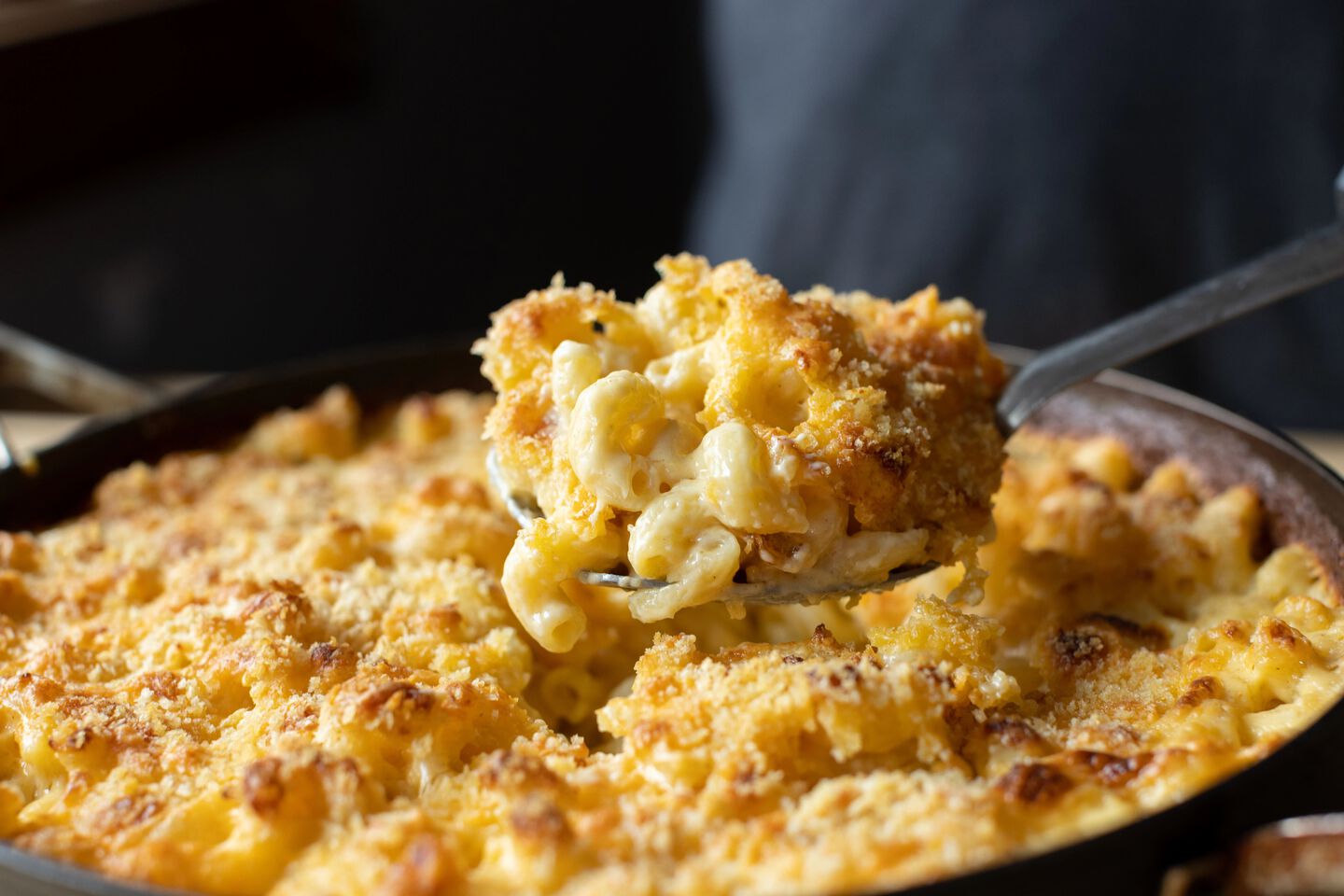 Ingredients
All Ingredients
1 pound Cavatappi pasta, or pasta of choice
6 tablespoons unsalted butter
2 teaspoons White truffle oil
1 small white onion, quartered
1 habanero, seeds removed
5 tablespoons AP flour
1 teaspoon white pepper
4 cups whole milk
1 ½ cup heavy cream
14 slices American cheese
12 ounces sharp cheddar cheese
½ cup panko breadcrumbs
salt
Instructions
Mac & Cheese
Step 1
Start by cooking the 1lb of cavatappi pasta, make sure the water is heavily salted, as salty as if you tasted sea water. Don't go by a time frame for cooking the pasta, just keep stirring it and after 5 minutes or so taste it for doneness. You want to be able to chew it easily, but it should still have a bite to it. Not soft or mushy.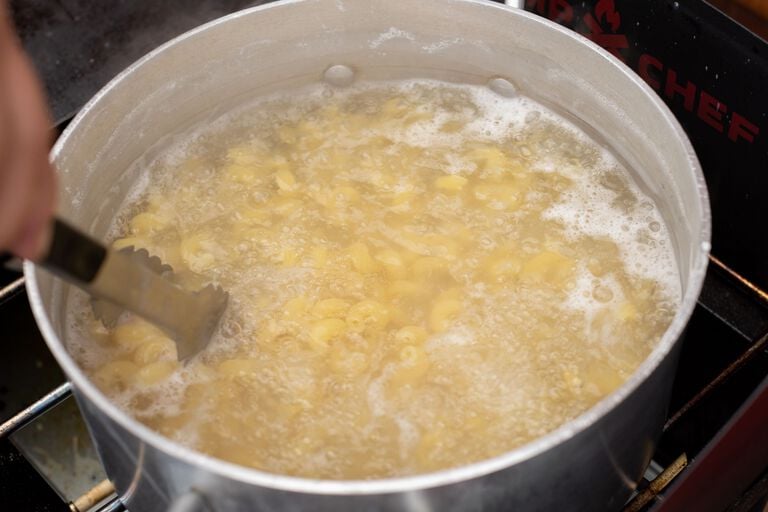 Step 2
Drain the pasta and cool it with cold water. Set it aside.
Step 3
While the pasta is cooking , prepare your onion and habanero. Clean the seeds out of the pepper and give it a rough chop.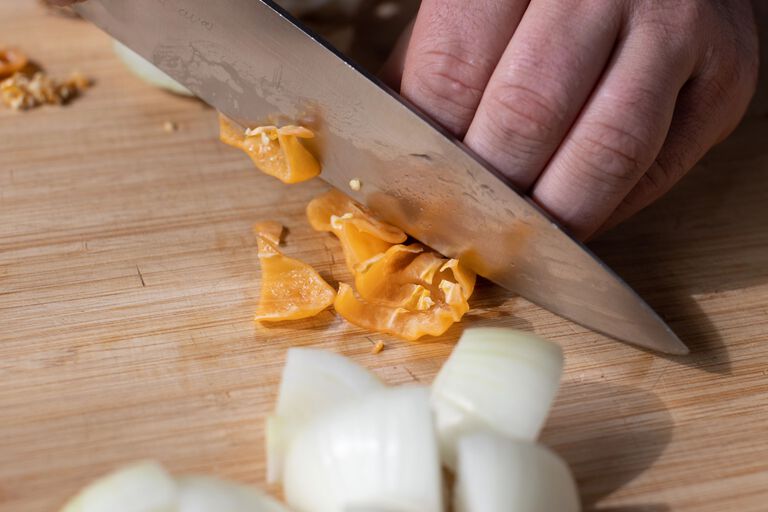 Step 4
Clean the onion and simply just quarter it. It will fall apart more as it's cooking.
step 5
Heat a medium sized saucepan over medium heat on the stovetop.
step 6
As it is warming up throw in the butter, chopped habanero, and the onion. Slowly sauté them in the butter until the onion becomes translucent and the habanero fragrant and soft.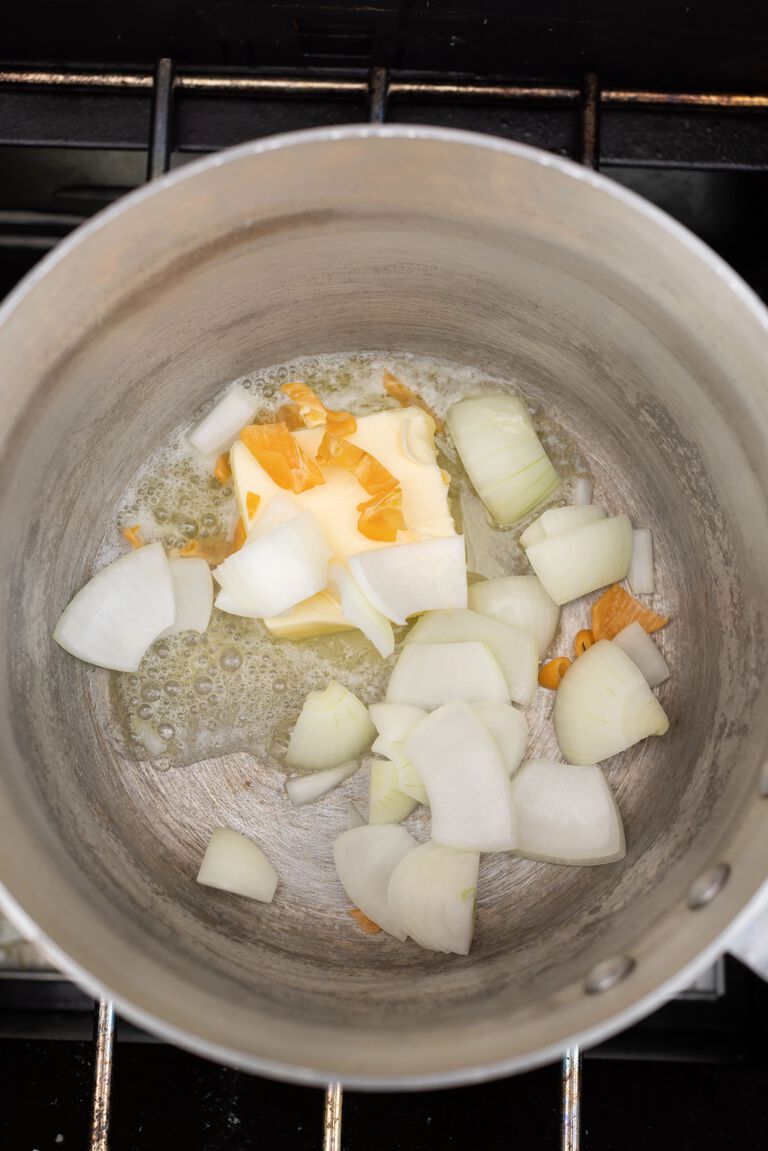 step 7
Add in the flour, and the 1 tbsp of white pepper to make the roux. Stir it together with the butter to incorporate it. It should start resembling a wet dough like substance. Continue to stir it and toast it until it begins to become bubbly or frothy. Shouldn't be more than a minute or two.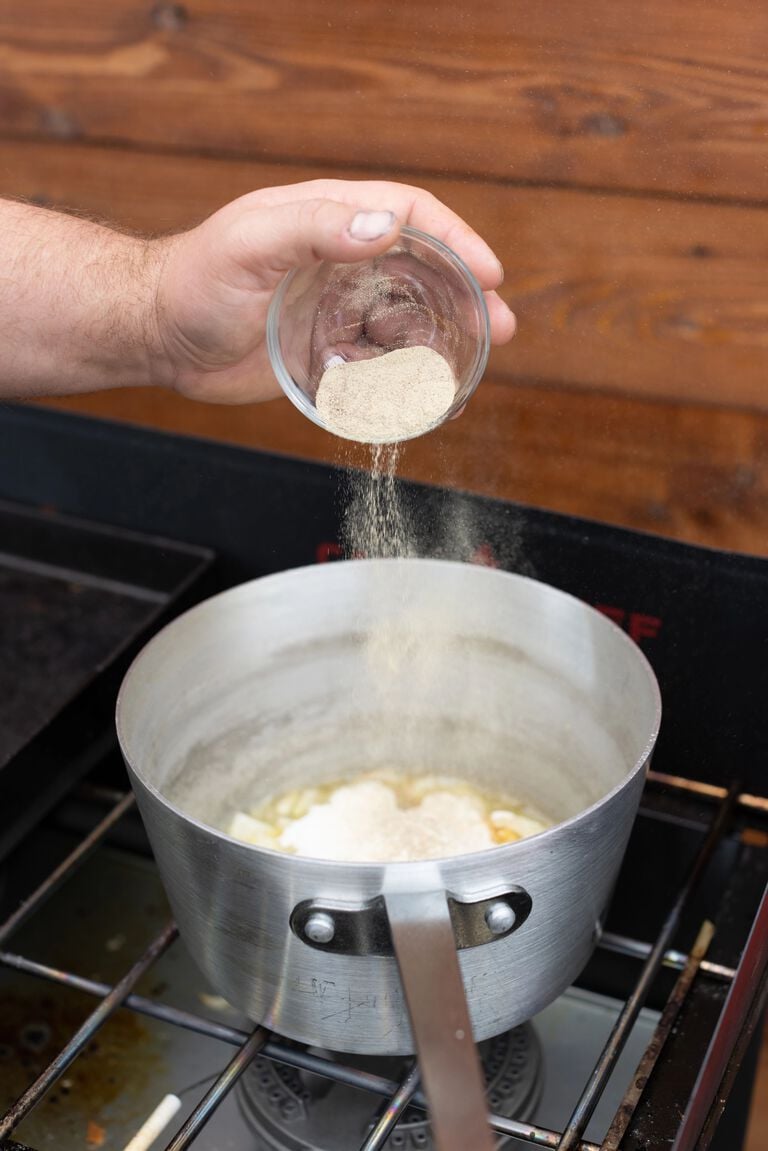 step 8
Add in the 4 cups of milk and the cup and a half of heavy cream.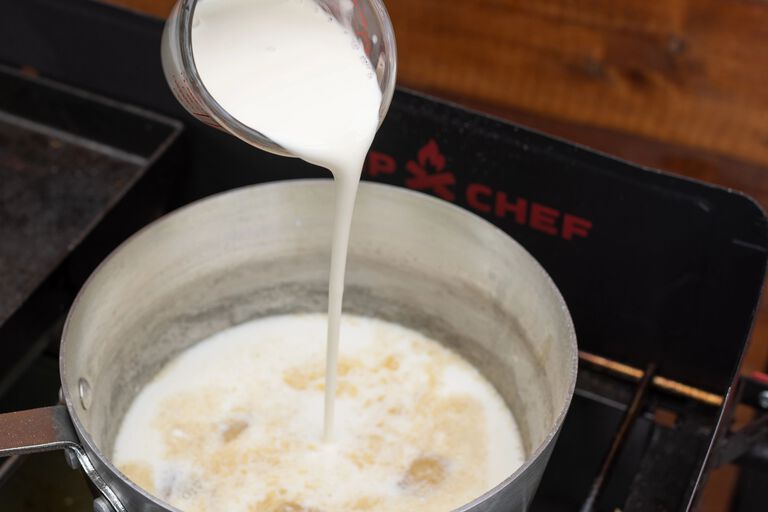 Step 9
Immediately stick blend the liquid. It will incorporate the roux faster. Try blending in the onion and pepper to the sauce itself instead of straining it later or leaving chunks. Remember, the liquid has to come to at least a low simmer to activate the roux and thicken.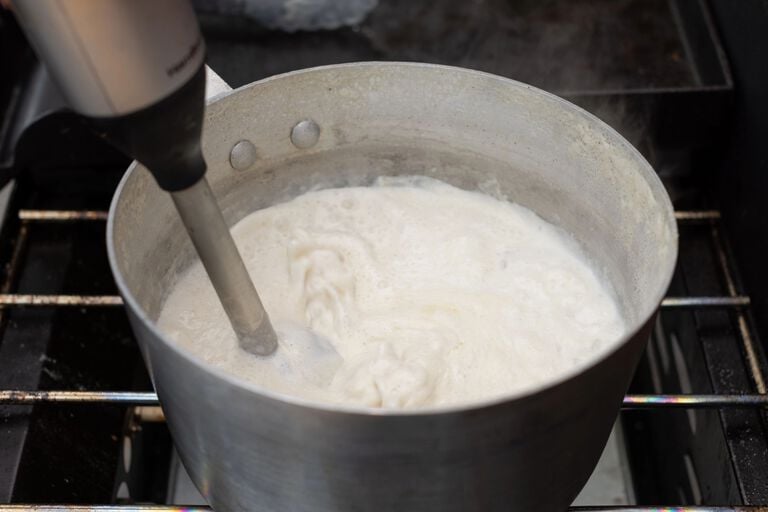 Step 10
As the liquid is heating up to activate the roux, prepare the cheese. Use a block and a half of sharp cheddar cheese. Note that the blocks are 8 ounces each. Slice 8 oz thin for the sauce, and grate the remaining 4oz for later use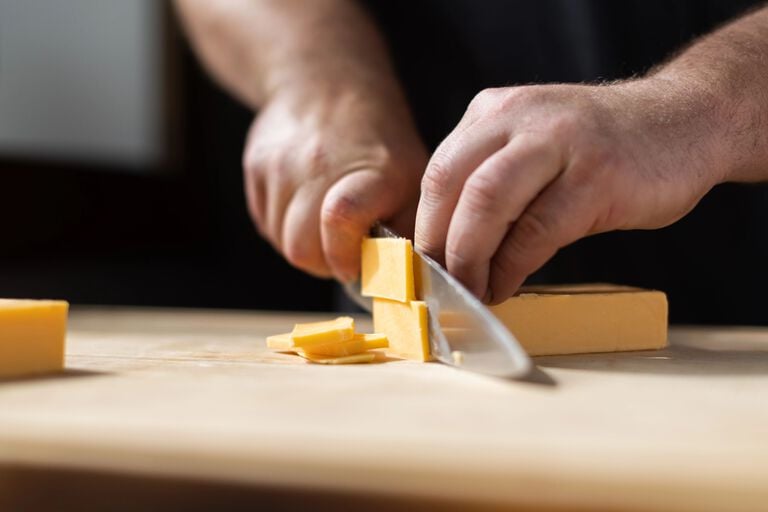 Step 11
Prepare the American cheese by counting out 14 slices and unwrapping them. Once the sauce is hot and at a low simmer turn it down to low and add in the American cheese, 4 slices or so at a time and stir them in.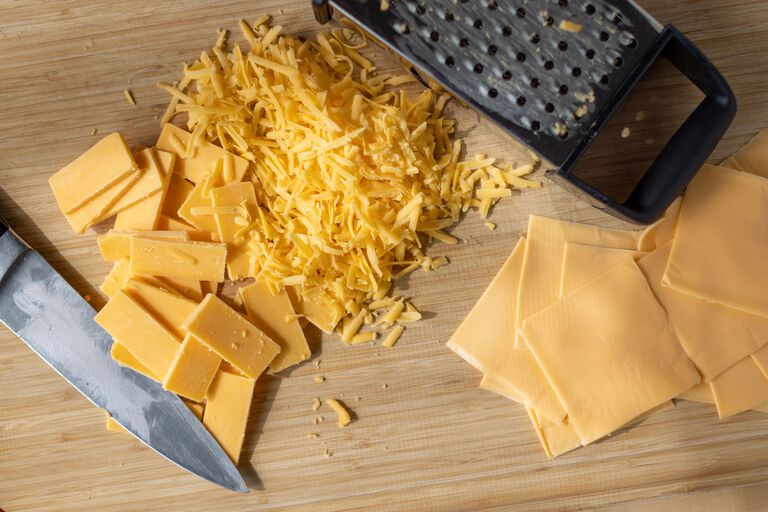 Step 12
Begin to add the cheeses to the sauce once it's hot, a little at a time stirring them in (except the 4oz of shredded cheddar). I like to come back and stick blend everything again because its faster and makes everything nice and smooth.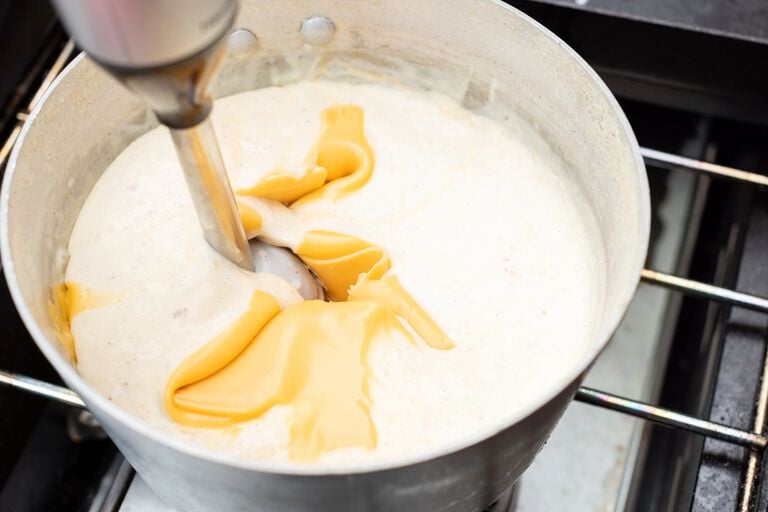 Step 13
Once all the cheese is mixed in its time to taste test and salt. Use kosher salt or sea salt and try about ½ a tablespoon and taste it. Adjust it from there to your liking. Keep in mind its saltiness must carry the pasta. So, although it tastes great as a sauce once you add the pasta it might need to be salted again.
Step 14
To finish up the mac & cheese: In a large bowl add all the pasta and about half the sauce from the pot. Drizzle in the 2 teaspoons of white truffle oil across the pasta and mix everything to incorporate. You want the mix to be wet and runny. Add more sauce if needed.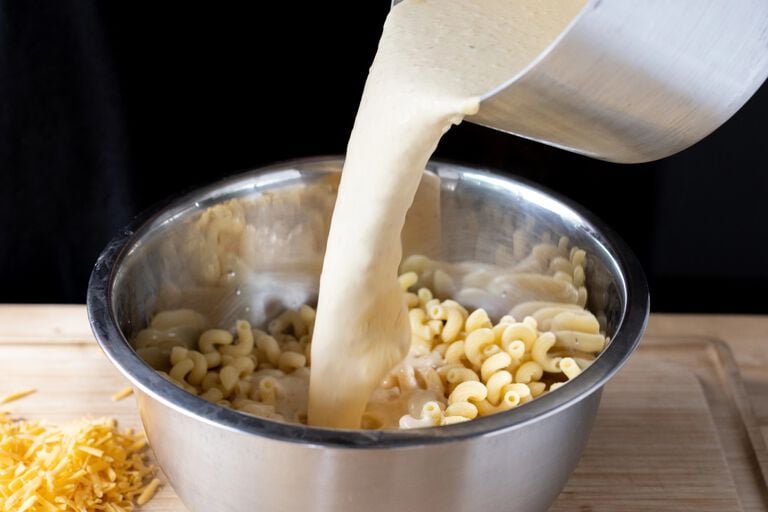 Step 15
Pour the mix into an oven safe pan, 12 inch cast iron pan, glass baking dish ext. Feel free to add another cup or so of sauce all around to the mix, just on top, don't mix.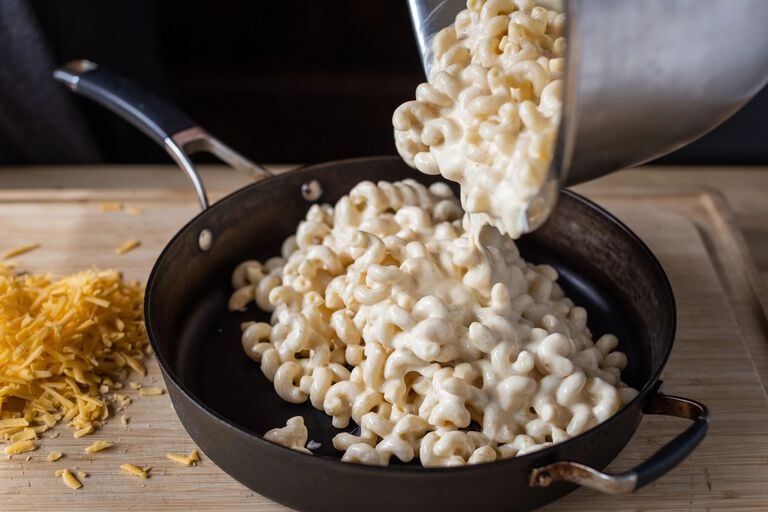 Step 16
Top the mac mix with the remaining 4 ounces of shredded cheddar and then the ½ cup of panko; make sure the cheese and panko are edge to edge.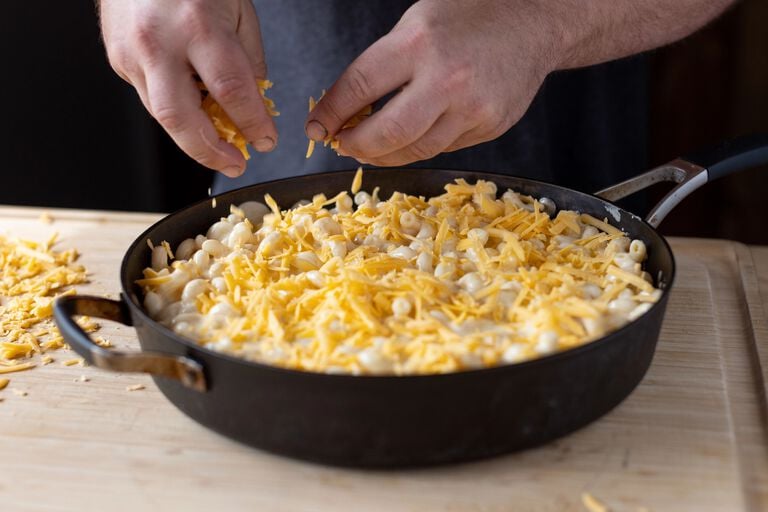 Step 17
Bake at 350°F in an oven or in your pellet smoker for 30 minutes to add that kiss of smoke. If the top hasn't browned up by then, switch the oven to broil and throw it under the broiler for a good 5 minutes or until it is golden, and the panko is toasted. Remove it and allow to cool for a few minutes before digging in.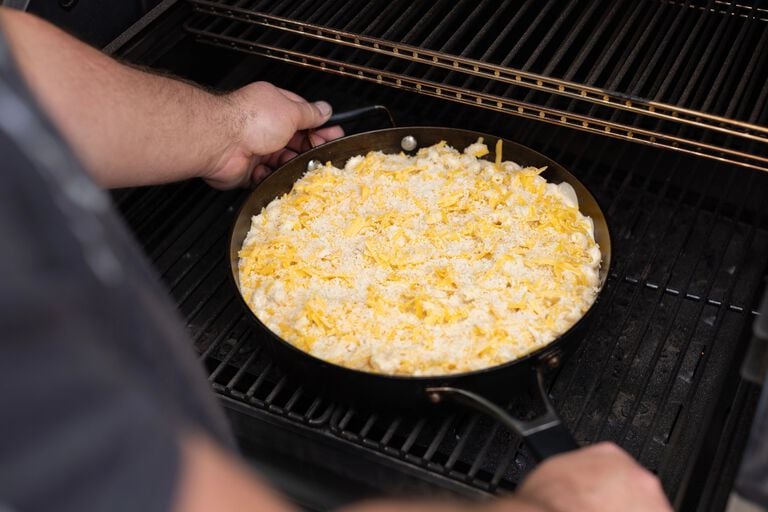 CHEF'S NOTES
As for the extra cup or more of sauce leftover, feel free to dip a chip in it; add a can of rotel tomatoes and green chilies to it to make a quick queso.
As far as pastas go, I love the cavatappi because it's similar to the elbows but if they just kept spinning a few times before they were cut. The awesome spirals catch and hold the sauce, and if cooked correctly they hold up to the bake and don't get mushy. I don't like mushy mac & cheese. Fusilli also works amazing, but feel free to use your pasta of choice.
If you cook pretty often and don't have a stick blender, just get one. They are life changing. They make it incredibly easy to blend sauces in a pot on the go, and now a days most have a whisk attachment. You can usually pick up a good one such as a Kitchenaid for $50 and I've seen plenty for less than that.
The white truffle oil can be bought online or at a local grocery store. Let's discuss it really fast: Most white truffle oils are pungent and robust, earthy, they can come off garlicy and mushroomy. They are usually synthetic and not necessarily infused with truffles. They can also be one dimensional and desensitize your pallet to real truffles. That said I believe they have their place just like anything else, and if used correctly can elevate foods to another plane. Just make sure you don't overuse it, it's very situational. Make sure the flavors match the profile you're trying to achieve, and it is always a 3rd or 4th ingredient, or a finishing ingredient used lightly and in moderation as an accent. It can easily become overpowering and ruin a dish.