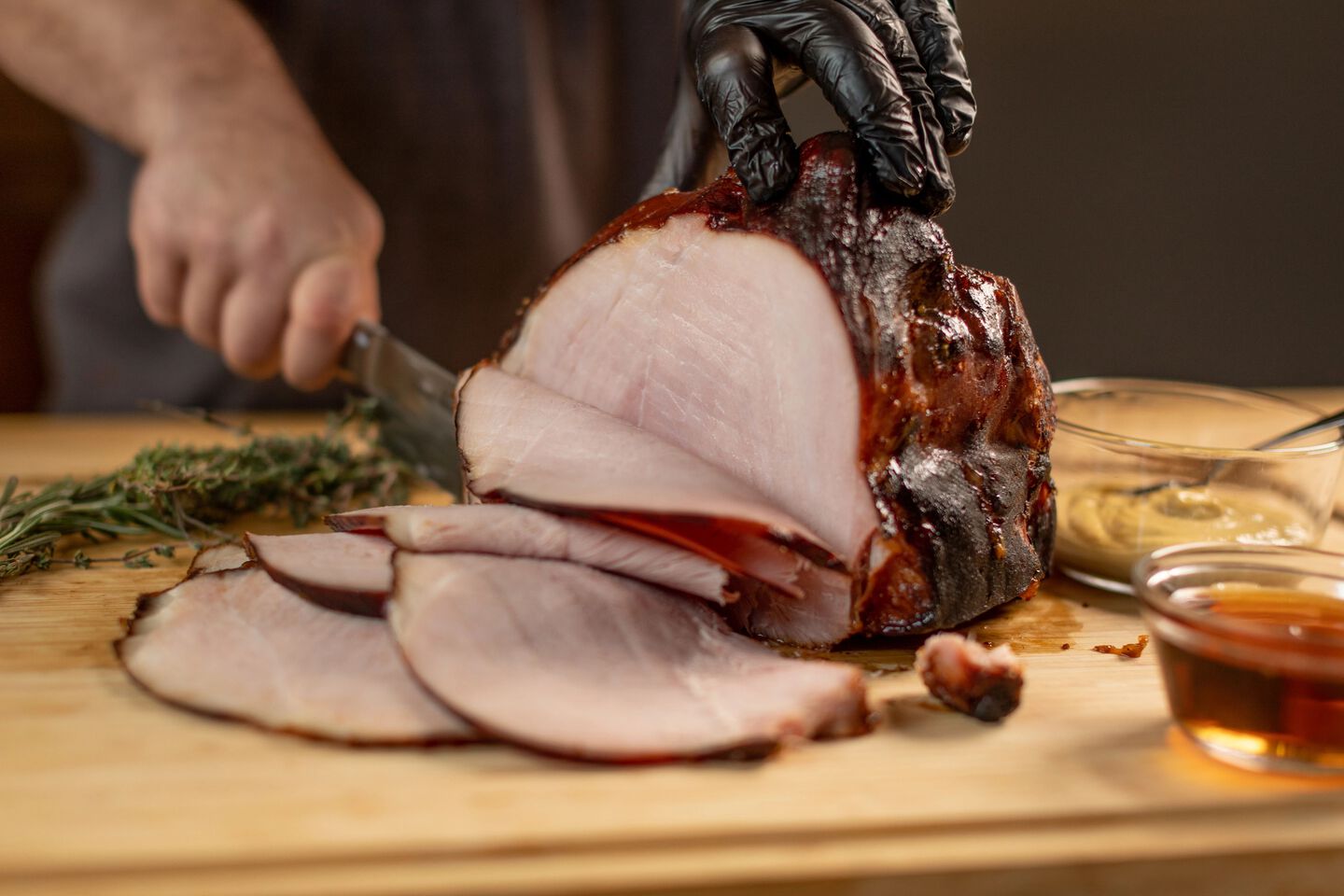 Ingredients
All Ingredients
1 Steamship cut of ham, skin removed
3 gallons water
Pink curing salt
3 cups salt
2 cups brown sugar
1 cup pickling spice
½ cup molasses
1 tablespoon maple extract
Maple-Dijon glaze
Instructions
Prepping the ham
Step 1
Remove the skin from the cut of pork, make sure the leg is frenched and cleaned up so as it cooks the meat pulls back correctly exposing the bone.
Brining + Smoking
Step 1
To make the cure/brine add all the ingredients (besides pork, curing salt, and glaze) to the 3 gallons of water.
Step 2
Next add the curing salt. The curing salt is situational on how much you need depending on the size of your cut of pork. Follow the instructions on the curing salt you are using depending on the weight of the pork cut with the skin removed. This particular recipe calls for about ½ a cup per gallon of water; make sure to follow the brine instructions not the ground meat instructions.
Step 3
Let the pork cure into ham. Common curing is about 1 day for every two pounds. (This Steamship was 24 pounds so it cured in the fridge for 12 days before we smoked it.) Be sure to use a large food safe container and make sure the pork is submerged in the water. This process is important, it's what will turn your steamship roast into a ham, without curing, it will simply be a giant roasted pork leg.
Step 4
Once cured appropriately, remove from the liquid and part dry.
Step 5
Let it rest outside the refrigerator for about an hour before you begin to cook it, allowing it to warm up a bit.
Step 6
Preheat your pellet grill to 425°F. While it preheats and you let your ham warm up - score the ham and give it those glorious diamond patterned cross hatches.
Step 7
Let it smoke for about 30 minutes to get a good sear on the outside.
Step 8
Turn down the smoker to 200°F and let the ham cook until it reaches and internal temperature of 150°F.
Step 9
Glaze the ham. Try using a Maple-Dijon glaze, it compliments the ham perfectly. Close the smoker back up and let the ham reach 155°F
Step 10
After you've reached temp, pull it out of the grill and let it rest for a minimum of 30 minutes.
Chefs Note:
This type of ham varies in cook time. A general rule of thumb is to plan to cook it for 15 to 20 minutes per pound. The best practice is to cook to temperature not time. The final internal temperature of this ham should be 155°F.
Recipes you might be interested in