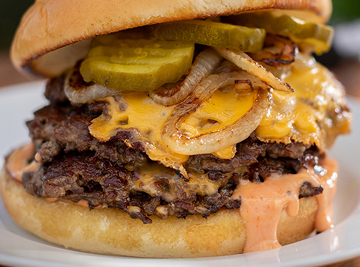 Ingredients
All Ingredients
2 pounds 80/20 Ground Beef
1 large sweet onion, sliced
1/4 cup mayonnaise
1/4 cup ketchup
2 Tablespoons mustard
Pickles
American cheese
Salt and pepper
Garlic powder
Butter
8 Brioche hamburger buns
Instructions
All American Smash Burger
Step 1
Preheat griddle to medium heat.
Step 2
Lightly form 80/20 ground beef into 1/4 pound balls. Do not hard pack the meatball. Set aside and keep cool.
Step 3
Cut onion into rings or strings. Set aside.
Step 4
Mix together mayonnaise, ketchup, and mustard. Set aside.
Step 5
Mix together salt, pepper, and pinch of garlic powder. Set aside.
Step 6
Once griddle is hot, place small amount of butter on the griddle and add onions. Sauté onions until translucent and golden brown. Add a pinch of salt.
Step 7
While the onions are cooking, lightly toast the buns on the griddle. Remove when done.
Step 8
Once onions are close to finished, butter the remaining space of the griddle. Place meatball on the griddle, and using a large, sturdy spatula, press down on the meatball until the patty is smashed thin on the griddle.
Step 9
Once the edges are brown and grease is coming out of the meat, flip the hamburger. Add a pinch of salt/pepper/garlic powder, and top with cheese.
step 10
To build the cheeseburger, start with a spoonful of hamburger sauce on bottom bun, add a cheeseburger patty or two. Top with onions, pickles, and top half of the bun.