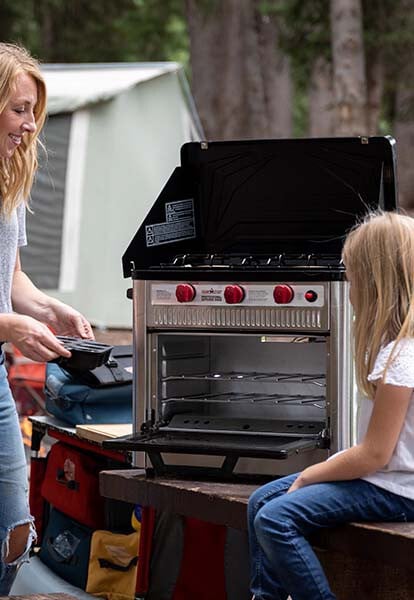 Camp Kitchen
You feel most at peace when you're relaxing at your home where everything is familiar. Does your cooking equipment match that same feeling or is there a learning curve? With an Outdoor Camp Oven, bring everything except the kitchen sink to the campground in one easy haul. Two stove-top burners sear, sauté, and boil—while the oven beneath bakes just like your home oven.
FEATURES
2 BURNER STOVE TOP
BUILT-IN IGNITION
BUILT-IN THERMOMETER
STAINLESS STEEL CONSTRUCTION
EASY CARRY HANDLES
WINDSCREENS
400°F OVEN
FREQUENTLY ASKED QUESTIONS
What is a Camp Chef outdoor oven?
A Camp Chef Outdoor Oven is a portable cooking appliance that is designed for use in outdoor settings, such as camping, tailgating, or backyard cooking. It combines a stove burner and an oven in one unit, allowing you to cook a wide variety of meals while enjoying the great outdoors.
What are the features of a Camp Chef outdoor Oven?
Camp Chef Outdoor Ovens features a propane-powered stove burner with adjustable heat settings, a built-in oven with adjustable temperature control, and a range of cooking accessories such as baking racks, a broiling pan, and a thermometer. They also have durable construction and are designed to be easy to transport.
What are the benefits of using an outdoor oven?
Using a Camp Chef Outdoor Oven allows you to cook a wider variety of meals than you would be able to with just a camp stove or grill. The oven feature allows you to bake, roast, and even broil, giving you more options for meal preparation. Additionally our models are portable and easy to transport, making them a convenient choice for outdoor cooking.
How do you use an outdoor oven?
To use an Outdoor Oven, you will need to first connect it to a propane tank and ensure that the fuel supply is turned on. Next, light the stove burner and adjust the heat as needed to cook your food. To use the oven feature, simply preheat the oven to the desired temperature, place your food inside, and set the timer as needed. Always consult the instructions for specific usage and safety information.
What food can you cook in an outdoor oven?
An Outdoor Oven can be used to cook a wide variety of meals, including baked goods such as bread and cookies, roasted meats and vegetables, and even broiled fish or steak. The options are endless and will largely depend on your personal preferences and culinary skills.