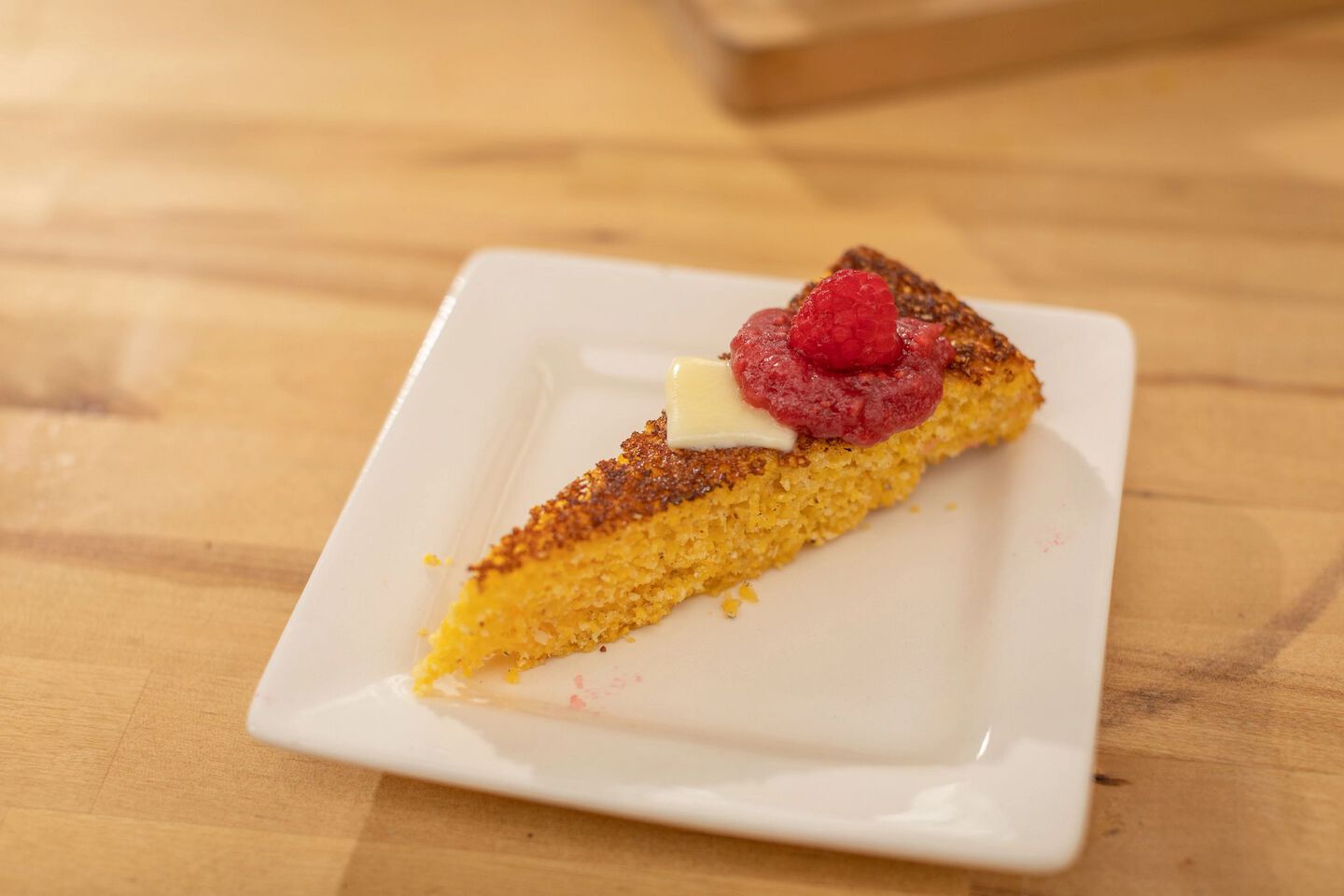 Ingredients
Cornbread
3 cups white cornmeal, stone ground
2 teaspoons baking powder
1/2 teaspoon baking soda
1 teaspoon Kosher salt
3 large eggs
2 1/2 cups buttermilk
2 Tablespoons bacon fat or butter, melted
6 Tablespoons butter
Hot Raspberry Honey Butter
1 cup fresh raspberries
1/4 cup water
1/2 cup honey
1/2 cup butter
Salt to taste
All Ingredients
3 cups white cornmeal, stone ground
2 teaspoons baking powder
1/2 teaspoon baking soda
1 teaspoon Kosher salt
3 large eggs
2 1/2 cups buttermilk
2 Tablespoons bacon fat or butter, melted
6 Tablespoons butter
1 cup fresh raspberries
1/4 cup water
1/2 cup honey
1/2 cup butter
Salt to taste
Instructions
Cornbread
Step 1
Preheat pellet grill to 400°F.
Step 2
Mix dry ingredients together, add eggs and buttermilk. Stir until just incorporated and then add melted butter or bacon fat, whichever one you prefer.
step 3
Melt 6 tablespoons of butter, in a 12" cast iron skillet on the stove or in the pre-heated Pellet grill, until sizzling.
Step 4
Pour the cornbread batter into skillet and cook in pellet grill for about 15-20 minutes or until the sides pull away and brown.
Raspberry honey butter
Step 1
In a medium saucepan, over medium-high heat , add water and raspberries. Bring to a simmer.
Step 2
Add honey and simmer for 10-15 minutes or until water has evaporated, and honey and raspberries have thickened.
Step 3
Add butter and simmer for 5-10 more minutes.
Step 4
Salt to taste evenly.