Before we make a big purchase, we almost always talk to someone else. In the market for a new fishing fly? You're going to ask your friend who fishes the river every weekend. Looking for a new pair of hiking boots? You'll ask your coworker who's a backpacking junkie. Don't you wish you had an outdoor cooking master right next door? In our first edition of "Ask the Experts," we talked to four cooking pros about the new
Pro X Series stoves
. If you're on the fence about a new camping stove, here is your chance to get your questions answered.
Our Experts
Christie Vanover
Christie is the editor and publisher of Girls Can Grill, an avid RVer, and a lover of national parks. You can find her at
Girls Can Grill
or on social media with @girlscangrill.
Adam Eakle
Adam is the KSL Outdoors Host and Hunting Guide. You can find his show on
KSL TV
,
YouTube
, or on-demand on Roku and Apple TV. Episodes air weekly every Saturday at 6:30 PM and midnight in the Salt Lake City, UT area.
Tiffany Haugen
Tiffany is a cookbook author, food columnist, and cooking teacher. You can find her website
here
.
Bill Miller
Bill is a freelance writer, editor, television producer/host, and the Executive Editor of 50 Campfires. Find him on
50 Campfires
or in most issues of Delta Waterfowl Magazine.
What is your area of expertise when it comes to the outdoors?
Christie Vanover
My area of expertise outdoors is definitely cooking. Give me fire, and I'll give you a rock star meal. The possibilities are limitless. Through my online magazine, Girls Can Grill, I work to elevate people from campfire hot dogs to cooking an entire Thanksgiving feast outdoors.
Adam Eakle
I've been a hunter and fisher ever since I could hold a rifle and rod. Elk hunting is a passion of mine that has led me to become a part-time elk hunting guide—something I've been doing since 2002. Currently I guide for Wild Country Outfitters on a private piece of property called Deseret Land and Livestock. I also host a weekly outdoors show in the Salt Lake City market. I get the chance to work with people who are passionate about the outdoors. Whether that person is an avid angler, hunter, survivalist, or conservationist, I get to learn from the best.
Tiffany Haugen
When it comes to the outdoors expertise, there isn't much wild fish and game I can't cook. For the past 26 years my husband and I have been living a semi-subsistence lifestyle that has ranged from the Arctic of Alaska to the jungles of Indonesia to the Pacific Northwest. Wherever we have lived, we have hunted and fished for our food.
Bill Miller
My longest involvement has been with hunting, shooting, and fishing (since early childhood.) I've been blessed to travel the country and the world to hunt and shoot competitively. Along the way, I've picked up a deep appreciation for and experience with camp cooking and cast iron cooking.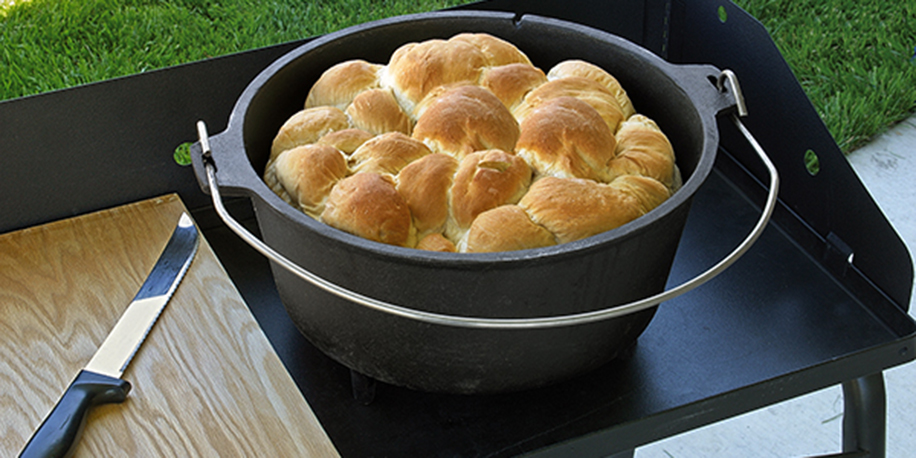 How often do you find yourself cooking outdoors, backcountry or back patio?
Christie Vanover
When I'm home, I cook in the backyard at least three times during the week and three to four times on weekends. I find every excuse to escape to my favorite national parks, so I can forget the worries of the day and cook every meal outside.
Adam Eakle
Once or twice a week.
Tiffany Haugen
My husband Scott has hosted multiple TV shows as well as written several books on hunting and fishing, so this work has had us (along with our two sons) cooking outdoors and in the backcountry quite often. We also have an outdoor kitchen set up on our back porch that we use year-round, complete with a stove (with multiple accessories), an oven, multiple smokers, a pellet grill and a pizza oven.
Bill Miller
Several times per week; daily in the summertime. When I was freelancing full-time a few years ago, I made it a point to cook at least my own breakfast outdoors every morning when the weather was fit to do so. I also cook for large events (church events, parties, charity events, etc.) several times per year.
What do you look for in an outdoor stove? What do you recommend our readers look for?
Christie Vanover
Portability, versatility and reliability are all important features for a great outdoor stove. If you you buy an outdoor stove for your back patio, you'll find that you'll probably want to take it on the road for camping trips or tailgating. Therefore, it's important that the legs collapse easily to make it compact enough for your trunk or RV basement. Don't just buy a stove for the burner. When you get a stove that offers a variety of accessories, you can turn the outdoors into a gourmet kitchen. You should also look for solid construction and a stove that considers wind protection.
Adam Eakle
I own a variety of stoves and each has a purpose. But the one thing I look for in all my stove purchases is durability. I'm hard on equipment, and if the stove can stand getting beat up in the back of my truck while I cruise the mountains, that's the stove for me.
Tiffany Haugen
In an outdoor stove, I look for power and consistent heat. I want to be able to depend on the gas flame and have it operate like an indoor stove. It's also important to have heat control and a reliable ignition. A feature I like with any stove or grill is the ability to see the flame through an opening, especially when the stove may be covered with a griddle, grill box or pizza oven. When shopping for a stove, know what you are going to use it for and
shop accordingly
.
Bill Miller
I need durability and portability. I also need to be able to cook outdoors in nearly any kind of weather. A couple of summers ago, the Camp Chef gear and I pulled off a charity event meal for 150 people in a virtual monsoon—nearly 10 inches of rain in 3 hours. It wasn't pretty but we got it done! That said, I need a camp stove designed to stay lit in the worst conditions under minimal cover. I think the majority of camp stove users need those same qualities in their gear as well.
How does the Pro X Series compare to other outdoor cooking appliances you've used?
Christie Vanover
As an avid griller, I currently have 15 cooking appliances in my backyard. I have a combination of grills, smokers, fryers, fire pits and my Camp Chef Pro X Series. What's cool about the Pro X Series is that, with its accessories, it can do everything 12 of my other appliances do and more all for a much smaller footprint. I use it for the stove feature, but also use it to grill, bake, fry and roast. The Pro X Series isn't just a great outdoor cooking appliance. It can also make up for a less than perfect indoor kitchen. I've lived all around the world and have often found myself in a home with an electric range. Cooking on gas is so much better because you can control the heat. I've looked into adding a gas stove into my kitchen, and it costs thousands of dollars. I wish I had considered a Camp Chef stove for the backyard a decade ago.
Adam Eakle
I really enjoy the matchless ignition. Since I don't smoke, I rarely have a lighter on hand. It's nice to push a button and cook. I also enjoy the ability to adjust the legs. I can't tell you how many times this feature would have come in handy on some of my previous cookouts.
Tiffany Haugen
When comparing the Pro X Series to other stoves, I find the Pro X to be the most stable stove I've ever used. The added room on the side shelves is extremely beneficial and the stove is very portable and easy to clean. I also love the
carry case with wheels
.
Bill Miller
The vast majority of my outdoor cooking has been done on the older versions of Camp Chef stoves. In fact, I plain wore out my last
Expedition 3X
I used it (and loved) it so much. I've just started using the new Pro X stove and it's already easy to see the great advances Camp Chef has taken in the new design. It's looking like I'm going to love the Pro X stove even more!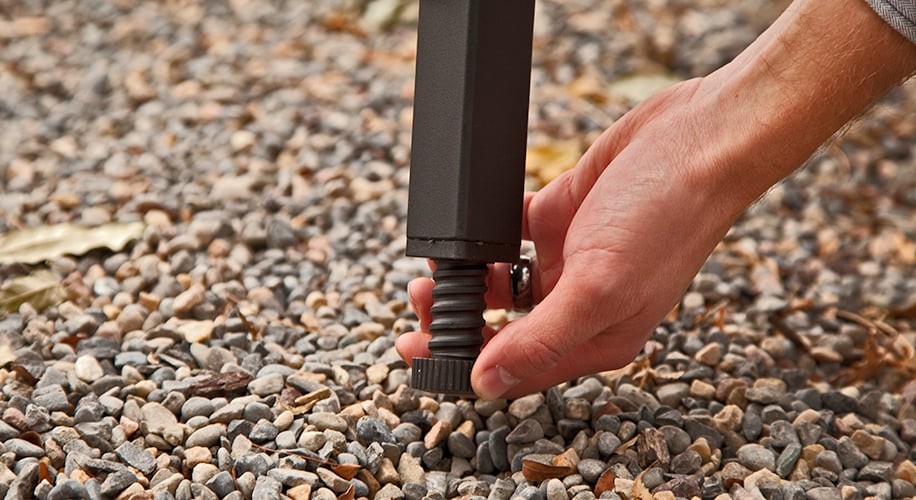 What is your favorite thing about the Pro X Series stoves?
Christie Vanover
I fell in love with the Pro X Stove right out of the box. It came with so many optional accessories already built in. There is no assembly required. You open the box, pull down the legs, fold out the shelves and get cooking. My favorite features of the new stove are the
leg levelers and the individual ignition knobs
. When I camp, I find myself in all sorts of terrains. With built-in leg levelers, I no longer have to look for the perfect rock to keep my eggs from slipping and sliding. With individual ignition knobs, I can light any one of the burners with a simple twist, giving it the feel and function of my indoor kitchen stove.
Adam Eakle
I think the best thing about the Pro X line of stoves is that the stoves have been well designed. Camp Chef has been the industry leader for over two decades. They used all the knowledge they gathered off of their other stoves to come up with one that is both durable and versatile. The Pro X stove has everything I need to cook a meal for my family or friends while hunting.
Tiffany Haugen
My favorite things about the Pro X are how stable the unit is (folding legs and levelers) and the compatibility of the accessories. I also really like the shelves that fold up or down as needed, and the fact that they act as a cover to the stove when in storage.
Bill Miller
Because I use the griddle surfaces so much, getting just the right "tilt" on the stove to drain grease is really important. The new leg leveling system makes this really easy and fast. And the new
grease catch system
on the griddles is SO MUCH better than trying to balance a bean can in the old style wire holster. With the old system I was almost sure to make a mess. With the new pro system, I never do!
Which is your go-to stove system accessory?
Christie Vanover
The
Camp Chef Italia Artisan Pizza Oven
is my go-to stove accessory. While it makes an incredible pizza with tender, crispy crust and perfectly golden cheese, it does so much more. When we're camping, I love to wake up the family with fresh baked biscuits that I cooked in the oven. They're light, fluffy, and golden brown. While they're baking, I use the third burner to make homemade sausage gravy and fry up eggs. I've also used the oven to bake pies and fruit tarts. I've even pieced out chicken and turkey and roasted it in the pizza oven. It ends up juicy with the addictively crispy skin everyone craves.
Adam Eakle
No doubt my favorite accessory is my griddle for my Pro 60X stove. At least once a month, my kids will beg me to cook a Saturday morning breakfast on my two-burner griddle. There's something about sitting outside on the back porch with the kids, cooking pancakes, eggs and bacon. I love that my passion for the outdoors is supported by Camp Chef products.
Tiffany Haugen
My go-to stove system accessory has to be my pizza oven set up on my outdoor stove. A few years back, during a kitchen remodel, I cooked nearly every meal in my pizza oven. From pizza and other breads to plank cooking to using with a cast iron skillet, that one accessory fit most of my needs.
Bill Miller
There are several actually. I use the
flat griddles
a ton. Breakfast is one of my favorite meals to cook outdoors and the griddle makes it so easy, whether I'm making eggs, pancakes, bacon, sausage or just about anything else. I also do a lot of
Dutch oven
cooking and really appreciate the convenience and versatility of the
Dutch oven domes
. They make Dutch oven cooking more accessible because you don't have to spend the time prepping wood coals or charcoal. Just heat up the stove, pop on a dome, and bake!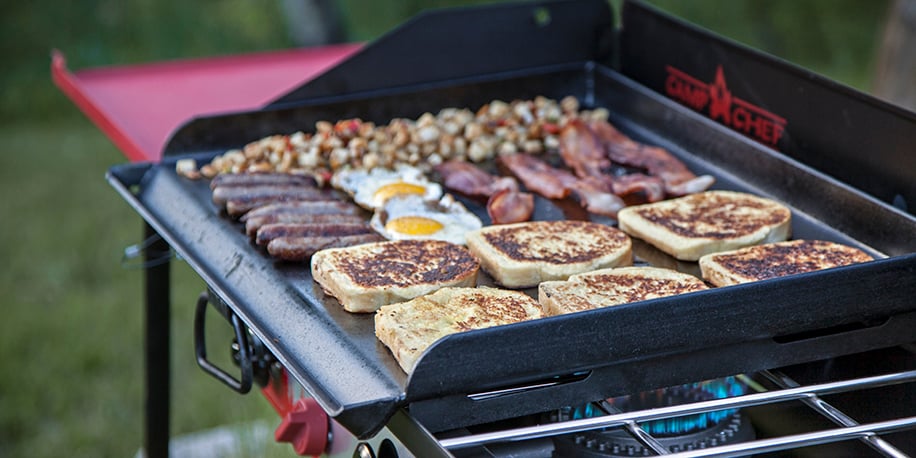 What are some of your favorite recipes to cook outdoors?
Christie Vanover
My motto is "If it can be cooked in the kitchen, it can be cooked outside." So I'm always finding ways to make classic recipes outdoors. A couple of my favorites include osso buco, cioppino and paella (to find these recipes,
click here
). Eating any one of these dishes under the stars in the fresh air with a glass of wine is the perfect end to any day.
Adam Eakle
My favorite way to cook period is on my
Camp Chef pellet grill
. So it goes without saying that smoking fish is one of my favorite recipes. It's pretty simple: I use a simple brine and Yoshida's Teriyaki sauce, and smoke my favorite trout, kokanee or Alaskan salmon. Even my daughter who hates fish will eat it this way.
Tiffany Haugen
Aside from my passions for
Dutch oven
, one-pot meals, and plank cooking, I truly enjoy both pressure and water-bath canning on my back porch. It's great to be able to enjoy time outside canning while keeping the mess out of my house.
Bill Miller
A quickie is something we call "American Stir Fry." I simply cut a pre-cooked sausage, like a ring bologna or country sausage, into ½-inch thick slices. Then chunk up some onions, mushrooms, sweet bell peppers of various colors. Also cut up any additional veggies that trip your trigger like zucchini, eggplant, summer squash, cabbage, etc. Put some cooking oil down on the medium hot griddle then sauté all the vegetables. When they are half way to limp, add the sausage pieces. Use your big spatulas to keep everything moving until the sausage is heated all the way through and edges of veggies are beginning to caramelize. Then plate it in a big family-style bowl. It's beautiful and delicious. Serve with rice or boiled potatoes. Another favorite for dinner guests is Beef Ribs Braised in Ancho Chile Sauce. It's a fairly long and complicated recipe, but it turns out great. It's just one example of cooking long, low, and slow in a Dutch oven!
Ask the Experts
Did you enjoy hearing from these four outdoor cooking gurus? Let us know in the comments what you'd like to ask the experts about next time.