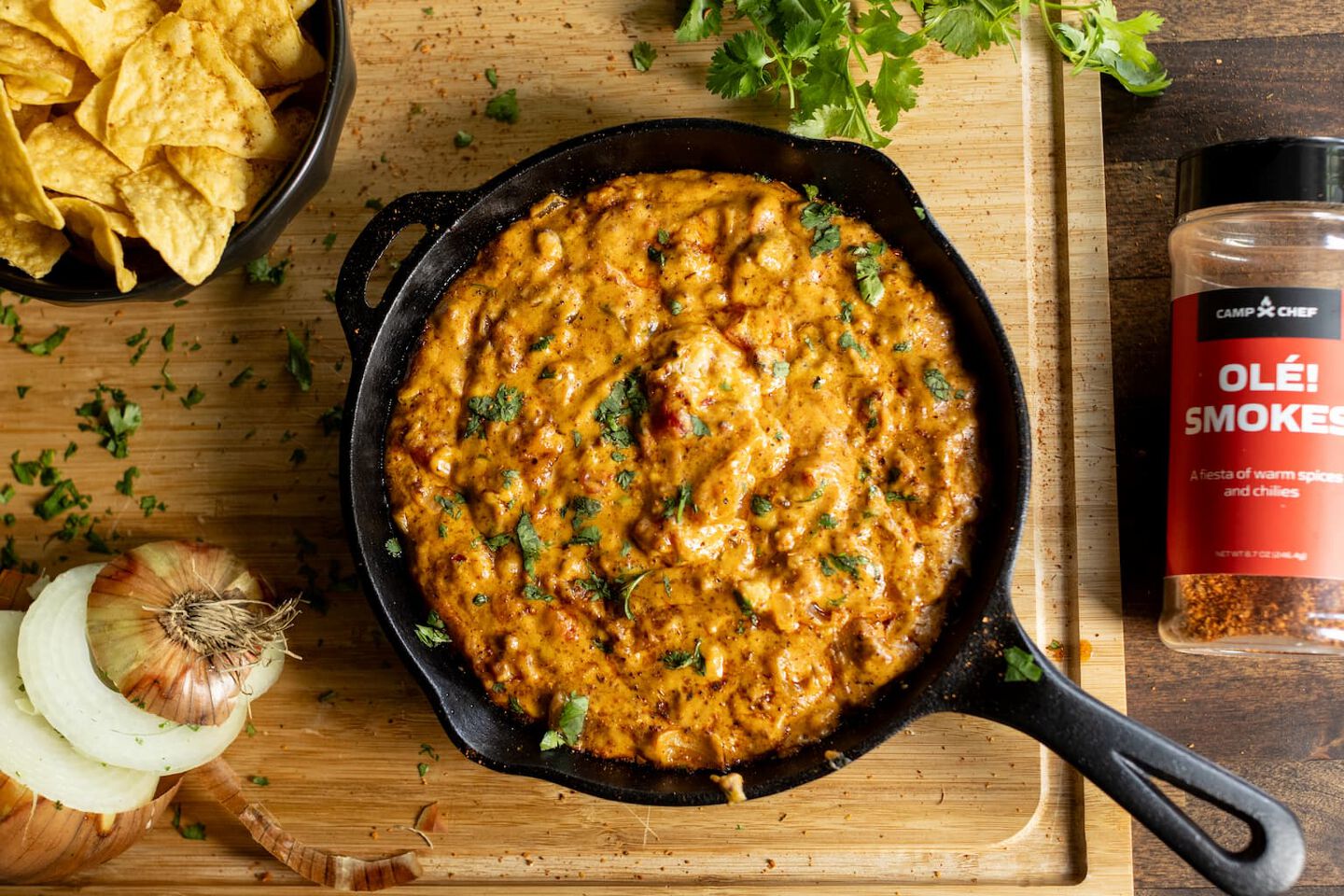 Ingredients
All Ingredients
32 ounces Velveeta Cheese
8 ounces Pepper Jack
One tube of Chorizo
2 Jalapeños
1/2 diced onion
One can Rotel Tomatoes
Diced Garlic
Camp Chef Olé Smokes Seasoning
Instructions
Smoked Queso Dip
Step 1
Preheat your pellet grill to 250°F.
step 2
Using a Dutch oven or cast iron skillet, cook your chorizo and drain. Chorizo is a pork sausage so make sure it is completely cooked. Pork needs to be 145°F.
step 3
Combine the cubed cheese, chorizo, diced onion, jalapeños, garlic, Rotel tomatoes, and seasoning in a disposable aluminum pan, Dutch oven, or cast iron skillet.
step 4
Place the tray in the top rack of the smoker. Close the lid and smoke for approximately 1-2 hours until the cheese melts and is bubbly.
Step 5
Every 30 minutes, check and stir the dip. You can increase the temperature to 350°F for the last few minutes to achieve a more golden and bubbly top.
step 6
Allow the dip to cool for a few minutes before serving. Garnish with cilantro or green onions for added flavor and presentation.
STEP 7
Serve the smoked queso dip warm with your favorite dippers, such as tortilla chips, fresh vegetables, or toasted bread. Enjoy!
Recipes you might also be interested in