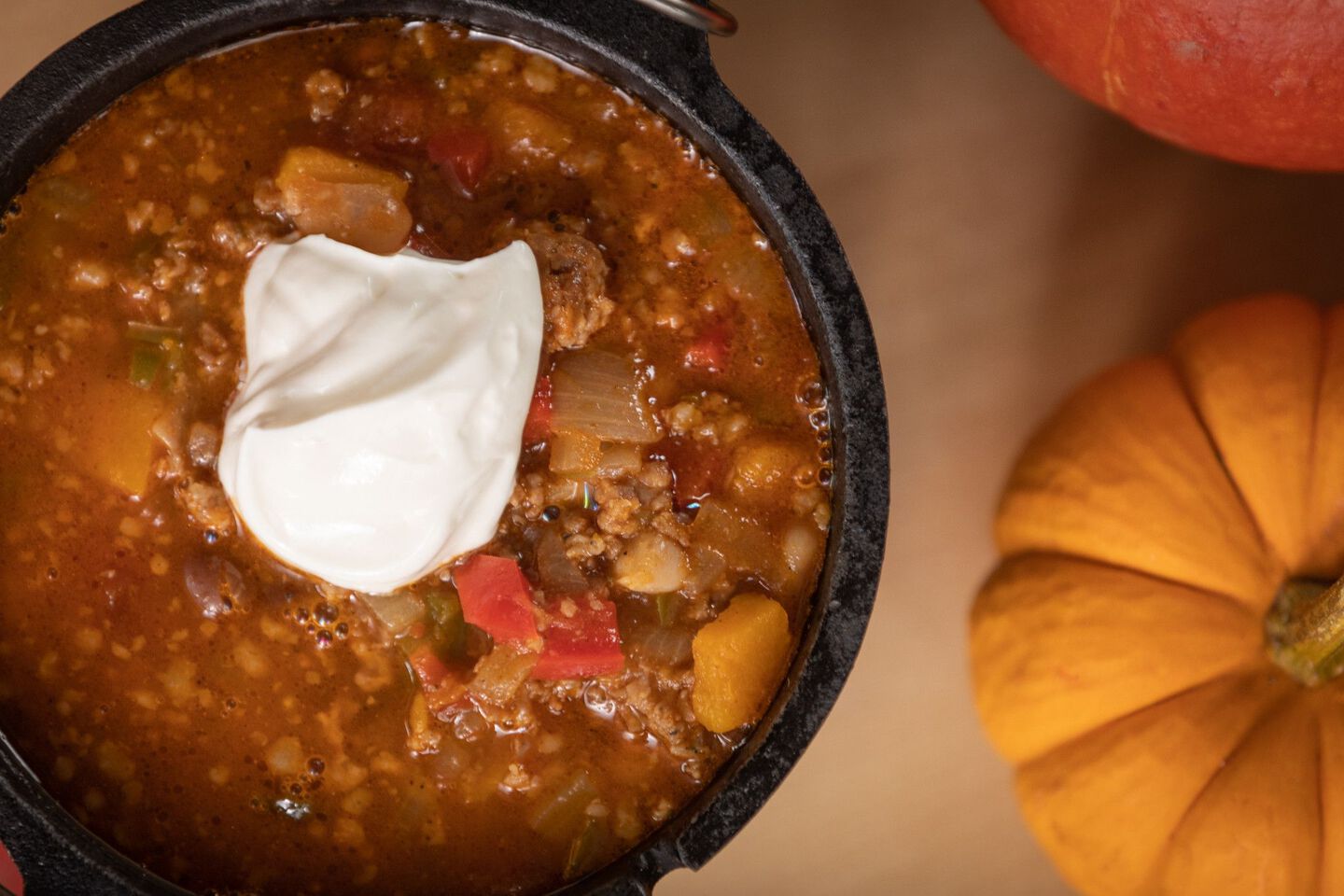 Ingredients
All Ingredients
1 - 6 inch sweet pumpkin (or other hard squash), peeled and cubed
1 pound ground sweet Italian sausage
1 pound ground hot Italian sausage
1 yellow onion, diced
1 red bell pepper, diced
3 jalapeño peppers, seeded and diced
3 Serrano peppers, diced
2 Tablespoons tomato paste
1 can diced tomatoes
Olive oil
Chili spice mix (3 Tablespoons chili powder, 2 Tablespoons cumin, 1 Tablespoon cayenne pepper, 1 Tablespoon garlic powder, 3 teaspoons onion powder, 3 teaspoons Kosher salt, 3 teaspoons black pepper)
32 ounces chicken stock
6 cans assorted beans, drained and rinsed (we used black, white and pinto beans)
Sour cream for garnish
Instructions
Sausage and Pumpkin Chili
step 1
In a large pot or Dutch oven heat enough olive oil to coat the bottom of the pan. Heat to medium heat.
step 2
Add onions and cook until translucent and tender. Add the sausage to the onions and brown. Once the meat has browned, add the chili spices and stir until fragrant, about 1 minute. Add tomato paste and stir to combine.
step 3
Add the pumpkin and peppers to the pot, then the diced tomatoes and the chicken stock and bring to a simmer.
step 4
Once the stock has heated through, add the beans to the pot. Simmer for 45-60 minutes. Enjoy with a dollop of sour cream.