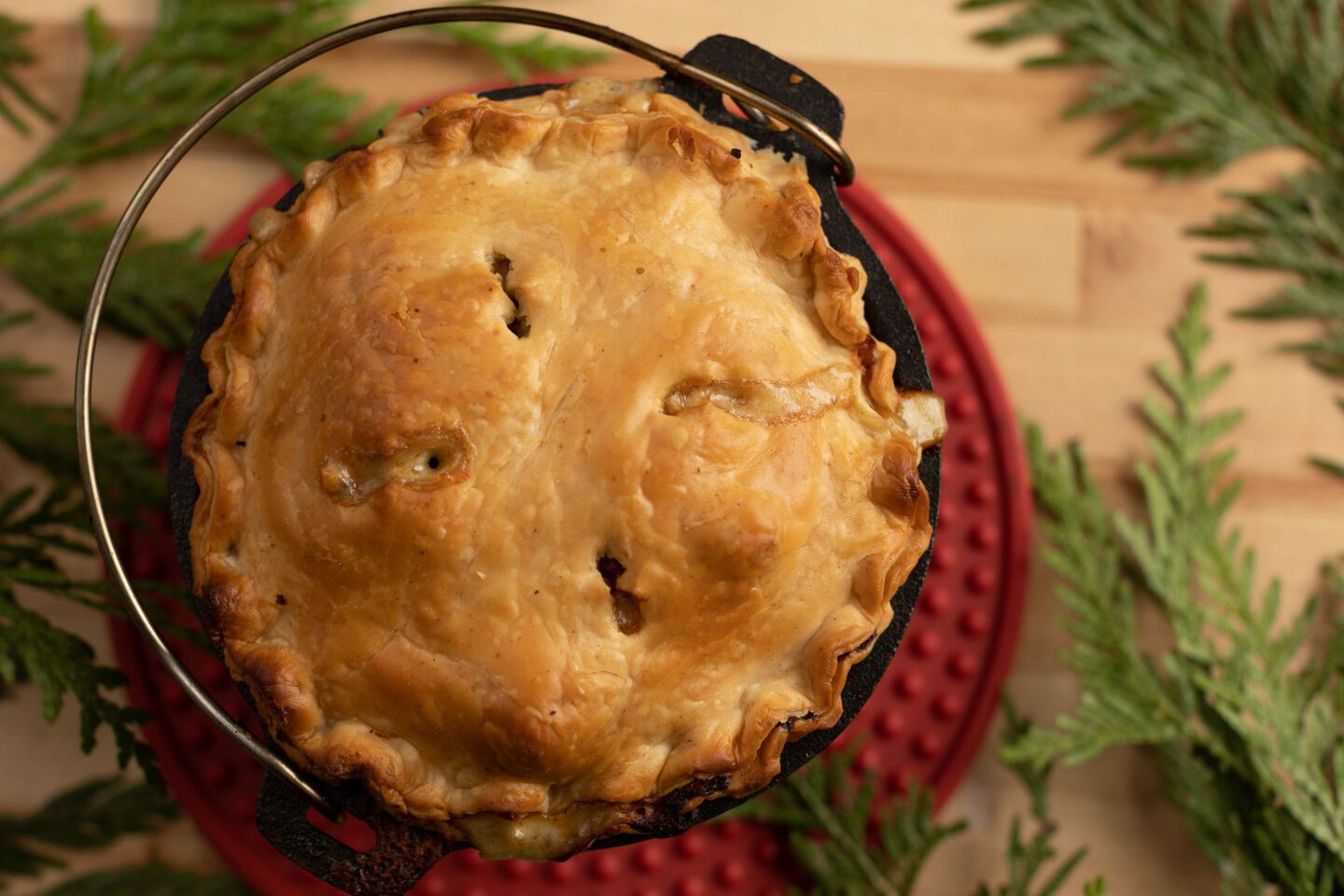 Ingredients
All Ingredients
Store bought or homemade pie crust
2 pounds chicken breasts, diced
1/2 bacon, chopped
1 celery stalk, diced
2 carrots, diced
1 onion, diced
2 cups mushrooms, chopped
2 Tablespoons fresh thyme, minced
2 Tablespoons fresh sage, minced
2 Tablespoons flour
2 cups heavy cream
1 cup peas
Salt and paste to taste
Instructions
Creamy Herb Chicken Pot Pie
step 1
In a large skillet or Dutch oven over medium heat, render the bacon. Once rendered, add the onions, carrots and celery. Cook until tender. Make a well and brown the chicken. Add the mushrooms and cook until just soft. Add the herbs and stir. Add flour and coat all ingredients. Allow raw flour to cook for a few minutes. Add cream and stir until thick. Stir in peas. Salt and pepper to taste. Set aside and allow filling to cool.
step 2
Preheat Pellet grill to 375 °F.
step 3
Roll out bottom pie crust dough and place in buttered and floured 5-inch Dutch oven. This may take a little practice to get just right. Remove excess dough around the edges. Fill the crust with filling to the top of the Dutch oven. Cover filling with top pie crust, remove excess dough around the edges and crimp to the bottom crust. Cut vent holes in the top of pie. Roll out excess dough and repeat this process 3 more times with 3 more 5-inch Dutch ovens.
step 4
Bake at 375 °F for 30-40 minutes or until crust is golden brown. You may need to cover the edges of the pies after 20 minutes to prevent over cooked crust.
Chef's Notes
Recipe can be used with cast iron pie pan or 14" cast iron skillet in place of 5" Dutch ovens.
Recipes you might be interested in