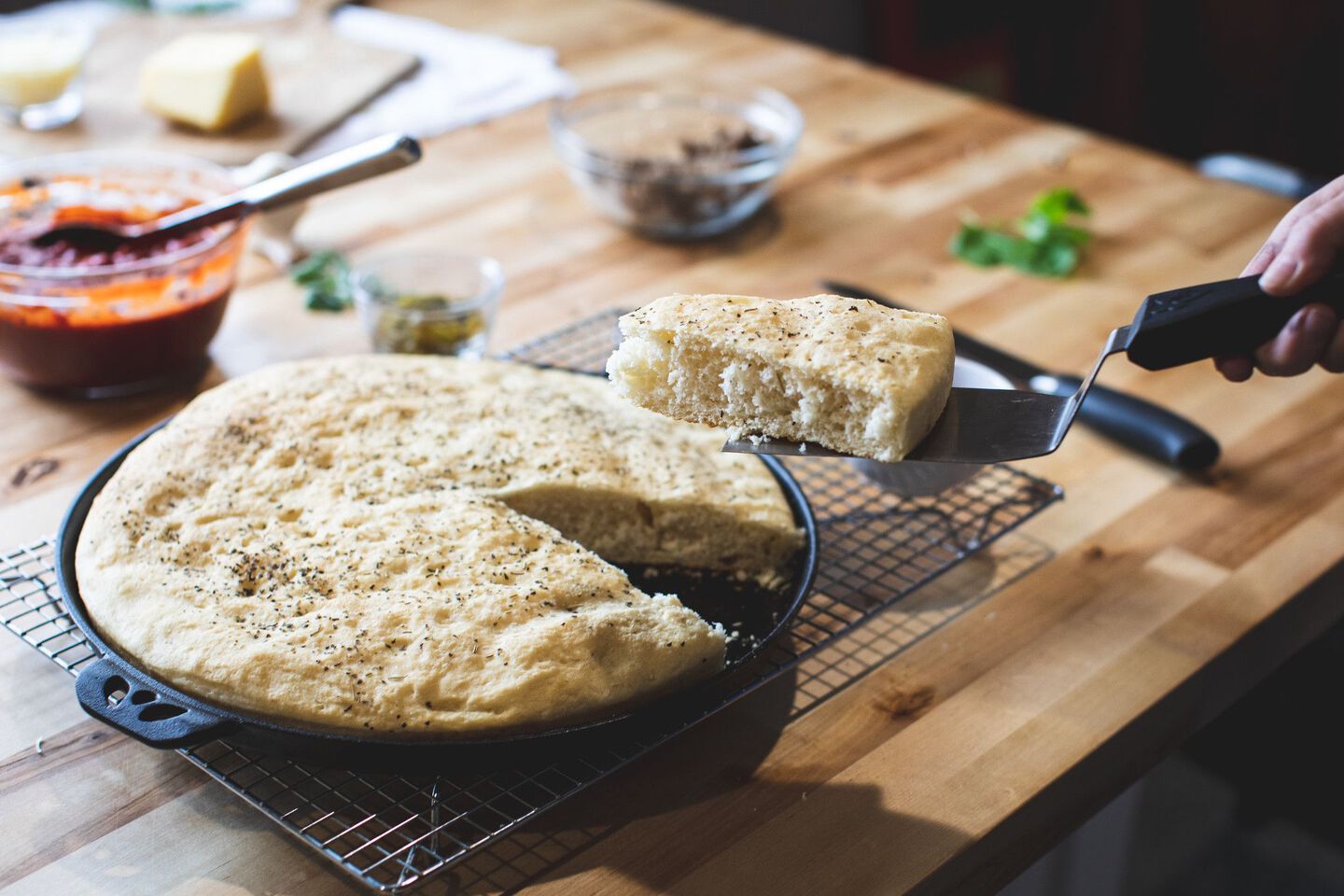 Ingredients
All Ingredients
1 1/2 cups water
2 teaspoons yeast
2 teaspoons salt
1 ½ teaspoons sugar
2 tablespoons olive oil
3 1/4 cup unbleached AP flour
Dried rosemary, basil, garlic powder, and salt
Instructions
BREAD
Step 1
Mix yeast, salt, sugar, and olive oil with water in a medium size bowl.
Step 2
Mix in the flour until no dry remains. You may need to wet your hands to incorporate the last bit of flour.
Step 3
Cover (not airtight), and rest at room temperature until dough doubles in size.
Step 4
Dough can now be used although it will be easier to handle when cold. Refrigerate covered (not airtight) and use over the next 12 days.
Step 5
When ready to use the dough, take it out of fridge, (it will take 2 hours to rise and another 20 mins to cook). Scrape out of container/bowl and make a dough ball. Let rest for about 5 minutes. Pour some olive oil (about 2 T.) into a cast iron pizza pan. Use your hands to spread the oil to cover the pan, with hands covered on oil, stretch the dough ball to fit into the pizza pan, put more olive oil on hands if needed. Slap the top of the bread to get any air bubbles out. Cover and let rise for about 2 hours.
Step 6
Turn the pellet grill to 400°F. Sprinkle rosemary, basil, garlic powder, and salt on top of the dough. Bake the bread, on the top shelf, for 10 minutes, then turn the pellet grill down to 350°F, turn the bread a half turn and cook for about another 10 minutes, until golden brown.
Serve:
Serve warm with marinara or alfredo sauce. You may also cut into squares and use to make artisan paninis or a sandwich.