With football season right around the corner (you can almost hear the kickoff whistle echoing from the stadium), it's time to haul your tailgating gear out of storage. Chances are you have a
trusty stove
that's both portable and powerful, a
heavy duty cooler
for maximum beer-holding capacity, and a collection of
tried-and-true recipes
. Or maybe this is your first season, and you're trying to decide what you need to kick things off with a bang. Whether you're a newbie or a veteran, you can't reach MVP status until you're bringing these items and accessories with you every weekend.
1. Extra bag of chips or pack of drinks
Obviously, you should plan to bring plenty of food. But take special care and set aside an extra bag of chips or six pack. This inexpensive investment can go miles as a peace offering to your tailgate neighbors, especially if you're a newcomer. Bring it by their tent when you arrive with no strings attached. You'll make a few friends—and you'll have someone to ask for help when you realize that you forgot the mustard.
2. Frozen water bottles
Filling your cooler with ice is great for cans of soda or beer, but when it comes to keeping your food cold, you need something that won't create a puddle. You can buy ice packs for this—they'll stay dry and cold. However, the next-level strategy is to pack your cooler with frozen water bottles. Not only will this keep food cool and dry, you'll also have a half dozen refreshing waters to drink later that afternoon.
3. Wireless thermometer
As the party chef, you could find yourself pinned to your stove all day, watching the meat like a helicopter mom. If you're paranoid about hitting the right temperature, you aren't leaving yourself any time for fun. And last time we checked, tailgating is all about having a good time. With
a wireless thermometer
, you can enjoy the party and keep a close eye on your meat at the same time. Set the desired temperature, insert the meat probe, listen for the notification alarm, and dominate at cornhole until it's time to eat.
4. Crazy condiments
Ketchup, mustard, mayo, and relish might be classics, but they aren't your only options. Don't be afraid to up your tailgating game with some more…experimental condiments. Spice it up with BBQ sauce, teriyaki, ranch, and more. If you really want to score with your guests, bust out a homemade spread like
artichoke pesto sauce
or peanut butter sauce (
yes, peanut butter
). Trust us, your taste buds and tailgating buddies will thank you!
5. Outdoor screen and projector
You might have a portable TV to watch football games throughout the day; an outdoor movie screen takes that concept to the next level of awesome. Grab a white sheet, you'll need to bring a power source for your projector, but from there it's a simple set up. Imagine all your favorite games showing on the big screen instead of your tiny computer. You'll be the star of the parking lot.
6. First Aid Kit
Okay, okay. This might seem like a no-brainer, but the tailgating pros always put safety first. You never know when you might need some burn ointment after a hot splash of grease or a bandage after flag football gets too competitive.
7. Hand-Washing Station
Once the eating, drinking, playing, and high-fiving is done, you will want to be able to wash and dry your hands. Hand sanitizer is a quick, easy solution. But you can take it a step further with a bottle of hand soap and a 5-gallon beverage cooler as a wash station. Leave a large bucket underneath (or your dirty dishes tote, see below) to catch the soapy water, and voila! You have yourself a full tailgate hand-washing station. For added convenience,
hook a paper towel rack
onto your stove or grill.
8. Empty plastic tote or collapsible garbage can
When the burgers are eaten and the beers are gone, you only want to think about one thing: winning the big game. What you don't want to think about is washing a pile of dirty spatulas, knives, trays, cutting boards, plates, and other scattered dishes. Cue the empty tub: you can pile everything into it without getting your car dirty, then forget about it until after the game. If you don't have a spare tote, try using a collapsible garbage can like
this one
.  Either way, the idea is the same: clean-up in a snap.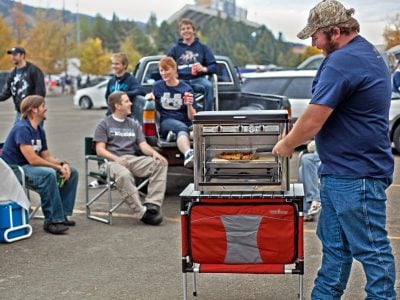 Do you have some hacks of your own? Let us know in the comments below or share on social media how you've taken your tailgating game to pro status.