Everyone deserves perfectly smoked food-no matter your location and family size. We've created three universal sizes for all types of smokers-20-inch, 24-inch, and 36-inch. Features and exact specifications vary by models, but the overall output of a Camp Chef pellet grill is unmatched. If you've ever wondered,
What size pellet grill works best for me?
Or,
How much food can my Camp Chef grill handle?
Then you're in the right place. We put our grills to the test and here's what we came up with.
We've recently introduced the Pursuit Pellet Grill. The Pursuit will take you from balcony to backcountry with a sleek portable design. Folding legs, latching lid, heavy castor wheels, and a smaller size is perfect for those looking to save on space. Take your Pursuit tailgating, camping, or smoke on your back patio. The possibilities are endless. You can fit up to 24 - ¼ pound burgers or 16 - ½ pound burgers, one 12-inch pizza, 4 chickens, 4 racks of ribs, and 4 tri tips. *Note the Woodwind WIFI 20 house the same cooking capacity as the Pursuit pellet grill.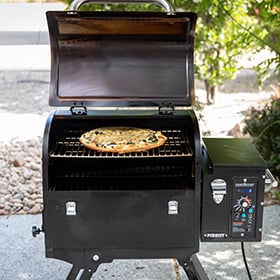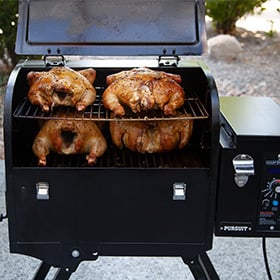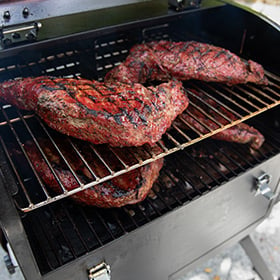 The 24-inch size of our SmokePro and Woodwind family is by far our best-selling size. Buyers get an outstanding piece of grilling equipment for the space, quality, price, and overall output. Specific models, like the Woodwind SG, house more overall cooking capacity than other 24-inch Camp Chef pellet grills. But in general, if you're cooking for a family/party of 6 or less-a 24-inch Camp Chef pellet grill will do just fine. You can fit up to 40 - ¼ pound burgers or 24 - ½ pound burgers, one 14 to 16-inch pizza, 8 chickens, 6 rack of ribs, and 10 tri tips. *Note that the new Woodwind WIFI 24 house the same cooking capacity as the Woodwind SG.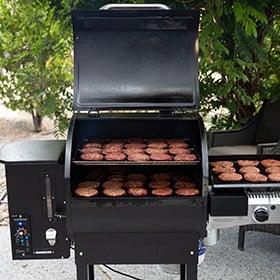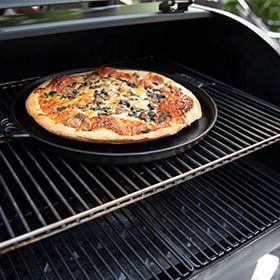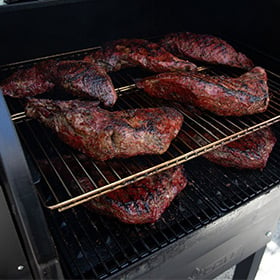 Our 36-inch SmokePro model owners are a different breed. They live and breathe pellet grills. If you often host parties and cookouts with 10+ people or more then you might think about upgrading to a 36-inch pellet grill. Our SGX specifically can fit up to 56 - ¼ pound burgers or 36 - ½ pound burgers, two 14 to 16-inch pizzas, 12 chickens, 10 racks of ribs, and 16 tri tips.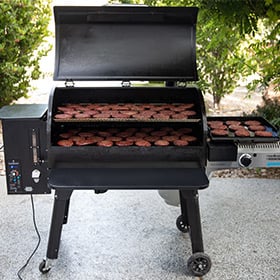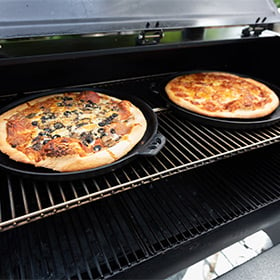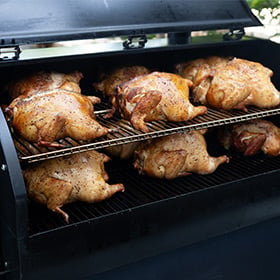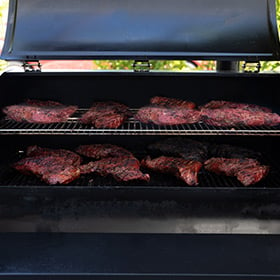 We've blown our competition out of the water. By purchasing compatible
jerky racks
, a
Sidekick Flat Top
, or
Sidekick Sear
you can add even more food to the mix. So, whether you're cooking for one or cooking for the masses, Camp Chef pellet grills will hold their temperature.
Besides a tasty tri tip or brisket we love smoking pizzas on our Camp Chef pellet grills. Be sure to smoke them on the top shelf for an authentic, even cook.