This product has been replaced by a newer Gen 2 version containing Smoke Control, PID technology, WIFI capability, and Camp Chef Connect controls. Buy the new SmokePro SGX 36 Pellet Grill (Black) here!
Bring more versatility and flavor to your back patio with the new Camp Chef SmokePro 36 SGX. Switch seamlessly between traditional low and slow smoking and Direct Flame wood-fired grilling to achieve two delicious flavor profiles all on one grill. Whether you are craving flame-kissed burgers or tender slow cooked prime rib, the new Slide and Grill Technology allows you to achieve the flavors you want easier than ever before.
Features
Includes 2 meat probes
Includes warming rack
Smart Smoke Technology
Pellet Hopper Cleanout/Purge
Slide and Grill Technology's Direct Flame grilling reaches 650°F
Ash Cleanout System
Cord Management System
Grease Management System
Large capacity pellet hopper
Electronic auto-start ignition
Dual LED temperature readout: internal cooking temps and internal food temps
Simple temperature selection system
160º F up to 500º F temperature range for slow smoking to grilling
Automatic auger dispenses pellets as needed for improved smoker efficiency
Leg wire shelf not included
Specifications
Upper Rack Area: 573 sq. in.
Lower Rack Area: 663 sq. in.
Total Rack Surface Area: 1236 sq. in.
Side Shelf Dimensions: 16 in. x 12 in.
Chamber Capacity: 7,000 cubic in.
Hopper Capacity: 22 lbs. of pellets
Overall Weight: 177 lbs.
Overall Height: 43.5 in.
Downloads

PG36SGX Instruction Manual
REVIEWS
SmokePro 36 SGX - Black
is rated out of
5
by
5
.
Rated

5

out of

5
by
Jesse101
from
Smoker
Absolutely love this smoker, amazing product. Looked at the Traeggar for quite awhile and now know that I made the right choice!
Date published: 2020-01-04
Rated

5

out of

5
by
brisket man
from
Perfection
So its been about 4 weeks since my Camp Chef Smoke Pro 36 SGX pellet grill has arrived. After over a dozen cooks I must say I am truly impressed with every aspect of this smoker/grill. As a professional pit master of over 10 years, I have owned and cooked on a multitude of smokers ranging from small ceramic grills, competition grade offsets, to commercial grade offsets and rotisserie pits that hold over 1500lbs of meat. I must say that when Pellet Grills first hit the market I was very skeptical and even laughed at those who used them. To me it was all about hard work and loading that log every hour. But as I got a little older/wiser and started a family I decided it was time for me to join the pellet grill club. After extensive research online I decided to go with the Smoke Pro SGX and it has exceeded all of my expectations! While the smoke pro isn't ideal for commercial use I feel like I could cater for a party of 50 with my eyes closed from home. It's temperature hold is solid…..I have even run three separate probes inside the chamber to see if there was any variance to what the actual smoker was set to and the temperature displayed on the dial. There was no variance and that is why I decided to cook my first brisket on it this week. The results were incredible and I was amazed at how evenly cooked the brisket was from point to flat. Outside of the temperature hold, the Smoke Pro is super easy to clean vers some of the other competition out there. The ash removal feature is a piece of cake and requires no vacuum! One other great feature is the "Slide and Grill" technology. Not only can you smoke on it 24 hours straight, but you can also slide the heat plate from over the burner box to create a directly heated wood fire grill to cook burgers or finish off the tomahawk ribeye reverse sear. Lastly I will say that my favorite setting on the SGX is the 165 super smoke mode. Its absolutely perfect for smoking that side of salmon or doing any reverse seared meat. I get about 4 hours of smoke on a 3lb side of salmon and roughly 3 hours on a Beef Tenderloin before searing. The sky is truly the limit with this grill! Whether your experienced or new to the pellet smoker world, I would highly recommend the Camp Chef Smoke Pro SGX! It deserves every bit of a 5 star rating!
Date published: 2019-07-26
Rated

5

out of

5
by
Rich T
from
Couldn't be happier
I reviewed Pellet grills for almost a year. I knew this was a big purchase and I wanted to be as informed as possible in what my options were with these types of grills. I compared Traeger, Camp Chef, Grilla Grills, Memphis Grills and a few others. The top two in my opinion were Traeger and Camp Chef. Camp Chef had the best "thought out" grill between the two. The difference makers were these: Easy Ash clean out, Slide and Grill Technology, Pellet hopper dump and attached optional attached sear box. Camp Chef nailed it. I love this grill. I'm still getting used to it, but I am a believer in this product. It does everything it advertises. Also, I purchased Camp chef Pellets which were far better than another brand I bought. The Grill Gods are happy with us. Haha
Date published: 2019-07-19
Rated

5

out of

5
by
JP Audet
from
Excellent grill
Excellent grill. The surface is huge. Temperature is very constant and easy to use grill. I like the SGX cause you can grill directly on fire with the slide and grill technology.
Date published: 2018-12-21
Rated

3

out of

5
by
NeilMow
from
Good grill but...
I tend to grill large amounts of food so I want a larger grill. I choose this one. At low temps, it does well; however, at higher temps I'm a little disappointed. The burner that burns the pellets is not in the center of the grill it is offset to the left side. I'm assuming it is in the center of the grill in the 24" and rather than reengineering it for the 36" grill, they just left it where it was and extended the grill 12". I find myself having to rotate the foot I'm cooking from the left side of the grill to the right side as the items on the left cook faster. With all of that being said, it is a great product and would get 5 stars if the burner was centered.
Date published: 2018-11-05
RELATED BLOG POSTS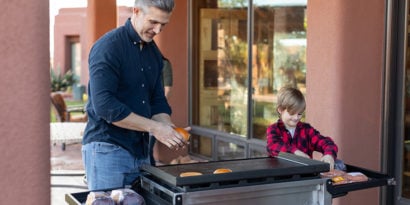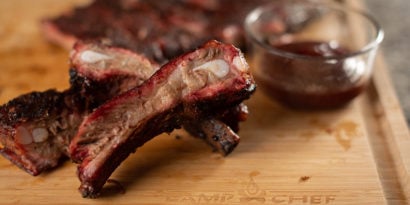 (7 Comments)