Year after year prime rib continues to be one of the most sought after meat choices during the holiday season. Many are reluctant to tackle this expensive cut of meat due to its price and preconceived complexity. Chef Jack Carlisle lets us in on three of his best kept secrets to smoking the perfect prime rib.
Flavor Tip 1: Buy it right
Fat is key and so is choosing your cut. Select (good) vs. Choice (better) vs. Prime (best.) Chef Jack recommends at least buying Choice.
Flavor Tip 2: Salt it right
Chef Jack recommends not using table salt, but rather Kosher salt. Salting should be done evenly and thoroughly. Try salting your prime rib from about 12-inches above the meat. This will give you a well-distributed, even coat of salt.
Flavor Tip 3: Cook it right
For best results go for the reverse sear. Chef Jack is using his Woodwind SG with Sidekick option. Fire up your Camp Chef to 225°F and wait for the prime rib to reach an internal temperature of 100°F. Next, crank your grill up to 500°F, use the Slide & Grill capability, and let the flames do the talking. After a dark crust has formed and the prime rib has reached a safe internal temperature of between 130-160°F (depending on your liking,) take it off. Finally, let it rest for 20 minutes and then you're ready to dive in.
CHEF JACK'S TOOLS OF THE TRADE: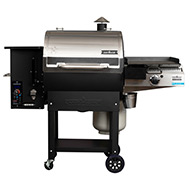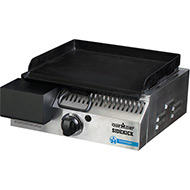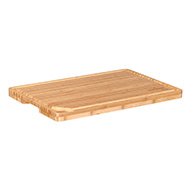 "The beauty of Camp Chef is that you can create your own style. You can use the Sear Box, Sidekick, or simply cast iron." – Chef Jack Carlisle. We couldn't agree more, Chef.
For prime rib recipes click here. What success stories have you had preparing prime rib on your Camp Chef? Let us know in the comment section below.