The weather is changing and it's about time to take those get-togethers outdoors. Are you ready for back yard bashes, birthday parties, and barbecues this spring and summer? You don't need to be the hostess with the mostest but let's make sure you've got your bases covered.
1. Pick a theme!
Depending on the type of outdoor event you're hosting, choosing a theme is a subtle way add to the outdoor ambiance. It doesn't have to be over-the-top, but rather something simple. Whether it's a birthday party, family reunion, or back yard bash—just pick a couple colors and stick to them. Don't be afraid to place accent pieces throughout your outdoor set up or incorporate your colors with cups, silverware, tablecloths, etc.
2. Plan your food in advance!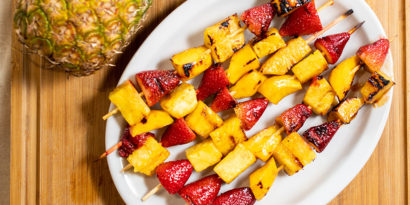 You can get away with hotdogs, bland burgers, and a few bags of chips for the first party of the year. But, we both know you can't keep that up all summer long. Get crafty with your pellet grill/smoker. Plan out meals a few days in advance in case items need to thaw or marinate. Also, don't ever feel like you need to do all the heavy lifting–if it's an informal event, it's not uncommon to ask attendees to bring a dish to pass. Give them suggestions that might compliment the main meal or let them get creative with it. While it's unreasonable to cater to every crazy diet fad out there, try offering a couple of healthy food options. Take advantage of in-season fruits and vegetables, like these divine Grilled Fruit Kabobs. Sneak 'em in as an appetizer, side dish, or dessert.
3. Make it fun!
Have outdoor games out for guests to play. Buy lawn games like corn hole, get crafty and make a life size Jenga set, or if you have the space set up a grass volleyball court. No party is complete without some music. We recommend preparing a summertime playlist with 50-100 classic summer jams to set the mood.
4. Don't overlook the drinks!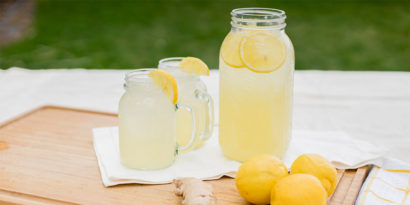 Outside of the need to stay hydrated, every great summer get-together needs chilled drinks. Start brain-storming a signature drink like fresh-squeezed lemonade or a crafted cocktail. Separate bottled and canned drinks accordingly and clearly mark the kid's cooler. Don't forget to purchase extra ice! C'mon, the last thing you want to be doing is stepping out on your own party and running to the gas station.
5. Take a load off!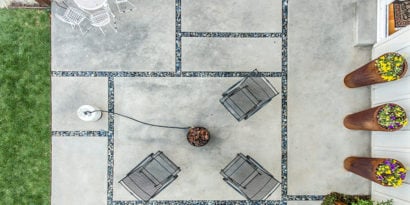 Any outdoor event is going to need seating and tables. Picnic blankets, outdoor poufs, and even tree stumps are trendy ways to get creative with providing seating. If you don't have extra seating available, ask your invitees to bring a lawn or camp chair. Nothing fancy, just a place to take a load off. Create a command center buffet table by placing two Mesa Tables side by side. Any long, weather resistant buffet-style table will do the trick. Easily spruce it up with a mound of delicious food and a cheap tablecloth to match your party aesthetic.


6. Keep the bugs away!
Depending on your location there are different nuisances—wasps, bees, mosquitos, flies, etc. Did you know that Lavender can be both practical and beautiful? It keeps flies, flees, and mosquitos away. Other plants that repel mosquitos are lemongrass, basil, rosemary, lemon thyme, and mint. Not much of a green thumb? There's no shame in purchasing bug repellant candles, tiki torches, and lights. Plus they're perfect for those evening get-togethers.
7. Lastly, always have a backup plan!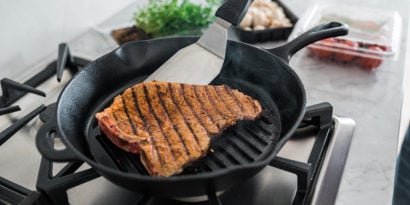 Many websites and phone apps allow you to accurately keep an eye on the forecast up to 10 days in advance. If it's an event you can reschedule and the weather seems less than enjoyable, or even unsafe—it might make sense to cancel. Always have an indoor back up plan in place for unexpected rain. Instead of cooking on the grill you can resort to your stove top and oven. (Party hack: pick up this Ribbed Cast Iron Skillet to get perfect grill marks.) Keep the playlist rollin' and don't be afraid to break out the board games for old times' sake. Designate a spot for the adults and a spot for the kids. Set the toy bin within arms reach and try streaming a popular children's movie on to keep the kiddos preoccupied and playing.
We can't wait for summer! What your go-to tips for planning the perfect outdoor event? Let us know in the comments below.