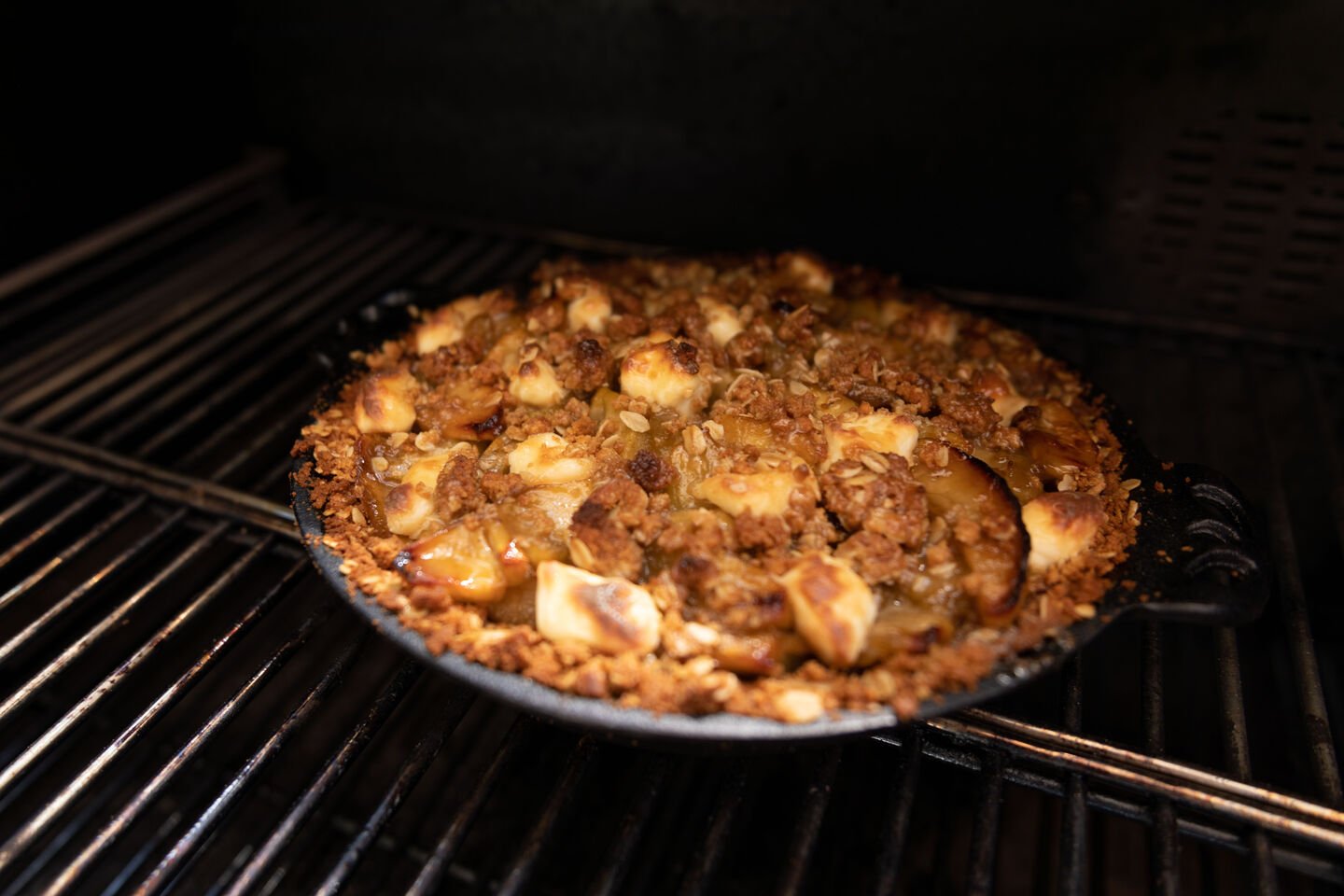 Instructions
For the Crust
Step 1
Preheat pellet grill to 350°F.
Step 2
In a medium bowl, add crumbled crackers, and melted butter. Mix to combine.
STEp3
Press 1 ½ cups of the mixture into the pie pan and bake on top shelf of pellet grill for 8-10 minutes.
For the Apple Filling
Step 1
Peel and core the apples and cut into slices.
Step 2
In a large cast iron skillet, add butter. When butter has melted, add the apples, sugar, salt and lemon juice.
Step 3
Stir apples to cover with the sauce. Let the apples cook until tender
Step 4
Add the cornstarch slurry to thicken the apple mixture.
For the Cream Cheese Mixture
Step 1
In a small bowl, add cream cheese and milk. Mix to combine.
For the Caramel Sauce
Step 1
In a medium saucepan on low to medium heat, melt butter.
Step 2
Add brown sugar and stir continuously until sugar has dissolved.
Step 3
Add cream, vanilla extract and salt. Stir to combine.
Step 4
Bring cream to a low boil then turn heat off. Allow caramel to cool.
For the Crumble Topping
Step 1
Take remaining graham cracker crumbles and add 1/4 cup brown sugar and 1/4 cup oats.
Step 2
Mix all ingredients together for the top of the pie.
Pie Assembly
Step 1
Add a layer of cream cheese mixture to the bottom of the pie.
Step 2
Fill the rest of the pie with apple mixture.
Step 3
Add the crumble topping and a bit of the caramel sauce to the apples.
Step 4
Bake at 350°F for 45-50 minutes or until topping starts to brown. Remove from pellet grill and top with additional caramel sauce.
Step 5
Let pie cool completely before serving.
Recipes you might be interested in