The 13″ Square Dutch Oven is unique not only because it is square, but also because it features a legless, smooth bottom and a lid that doubles as a grill that you can use on your range.
As with all of our Dutch ovens, the Square Dutch Oven features a thermometer hole on the rim of the lid so that you can measure internal food temperatures and know right when your meal reaches the perfect temperature.
In order to get "action shots" of our cooking equipment, more often than not, it requires making some great food! And believe me, this meal that Matt A prepared was delicious and not very difficult at all.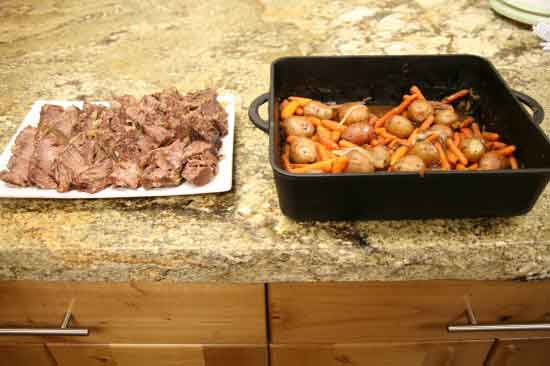 This is a perfect, not overly complicated meal that we'd like to share with you!
For another great recipe in the 13″ Square Dutch Oven, check out the 13″ Square Dutch Oven Chicken post.
Ingredients:
Roast
Package of baby carrots (3 Cups)
20 small red potatoes
Sliced yellow onion
3-4 beef bouillon cubes
1 packet of dry onion soup mix
1 T. crushed red pepper
Directions:
Rinse and allow your roast to set out and dry for a few minutes while you prepare the vegetables.
Cut one yellow onion and rinse about 20 small red potatoes and about 3 cups of baby carrots.
Place the roast in the center of the 13" Square Dutch Oven.
Place 3-4 beef bouillon cubes around the roast and then add 1 cup of water into the Dutch Oven.
Sprinkle the dry onion soup mix over the roast as well as about 1 tablespoon of crushed red pepper.
Surround the roast with as many red potatoes and carrots as you can.
Place slices of yellow onion over the top of the roast and vegetables.
Insert the wireless thermometer probe into the roast with the wire exiting the oven where the thermometer slot is.
Place the lid on the Oven and bake at 275-300 degrees for *3-4 hours.
*Thermometer should at least read 145 degrees before you serve.
Enjoy!
What you will need

Place roast in center of the Square Dutch Oven and add all ingredients as described above

Square Dutch Oven Roast ready to go!

Wireless Thermometers

 inserted in meat and set to alert when correct internal meat temperatures are reached.

After 3-4 hours internal meat temperatures were reached. 

Square Dutch Oven Chicken

 on the left, Square Dutch Oven Roast on the right.
Deliciousness was served!
Want more great information, recipes, and giveaways from Camp Chef? 'Like' us and follow us on our facebook page!