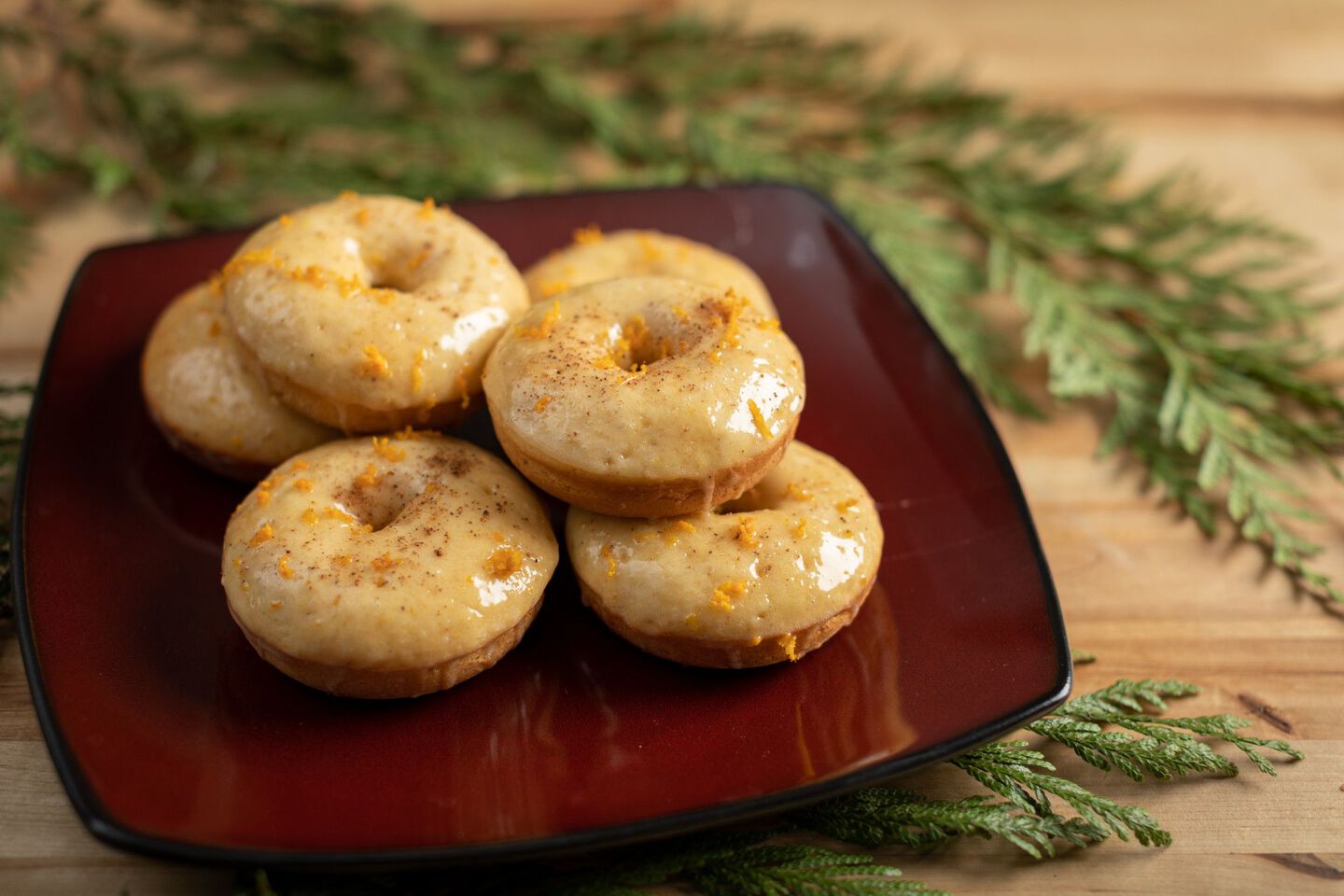 Ingredients
For the Donuts
1 cup all purpose flour
1 teaspoon baking powder
1/4 teaspoon salt
2 Tablespoons salted butter, softened
1/4 cup sugar
1 large egg
1/2 cup full fat eggnog
2 teaspoons rum or rum extract
1 teaspoon nutmeg
1 teaspoon cinnamon
Extra cinnamon, nutmeg and orange zest for sprinkling on top
for the glaze
1 cup powdered sugar
4-5 Tablespoons eggnog
Zest of 1 orange or 2-3 clementines
1 teaspoon rum or rum extract
All Ingredients
1 cup all purpose flour
1 teaspoon baking powder
1/4 teaspoon salt
2 Tablespoons salted butter, softened
1/4 cup sugar
1 large egg
1/2 cup full fat eggnog
2 teaspoons rum or rum extract
1 teaspoon nutmeg
1 teaspoon cinnamon
Extra cinnamon, nutmeg and orange zest for sprinkling on top
1 cup powdered sugar
4-5 Tablespoons eggnog
Zest of 1 orange or 2-3 clementines
1 teaspoon rum or rum extract
Instructions
Orange Glazed Eggnog Donuts
step 1
Mix the flour, baking powder, salt, nutmeg and cinnamon. Set aside.
step 2
Cream sugar and butter. Add egg, eggnog and rum. Mix together.
step 3
Gradually add the dry ingredients and mix until combined.
step 4
Spray donut pan with non-stick cooking spray.
step 5
Split the batter evenly between the six donut molds.
step 6
Bake on the top rack of pellet grill for 12-13 minutes at 325 °F.
step 7
While donuts are baking, mix the glaze ingredients together.
step 8
Once donuts are done baking, transfer to a cooling rack and glaze donuts once they are fully cooled.