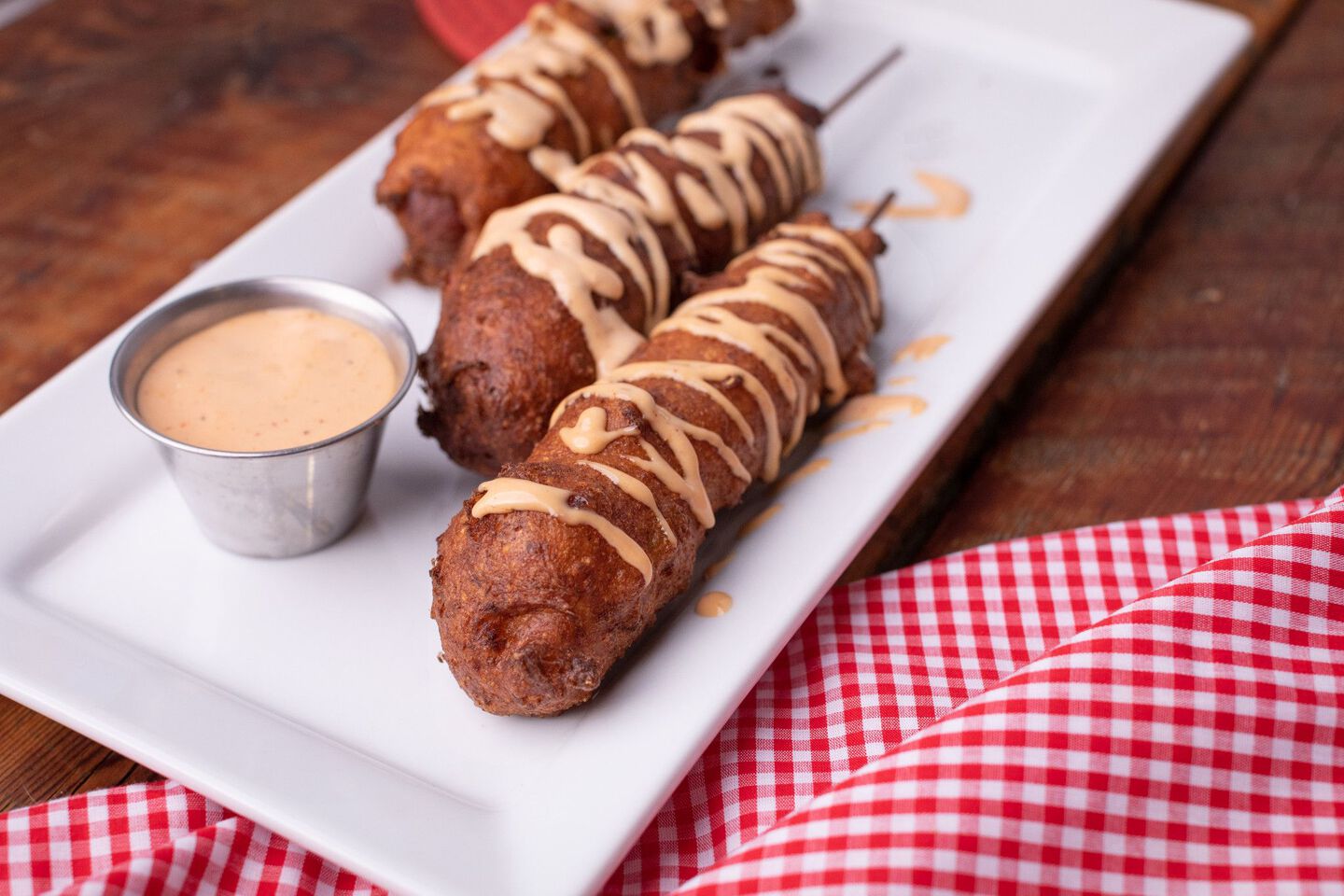 Ingredients
For the Corn Dogs
8-10 hot dogs
1 cup flour
1 cup cornmeal
1 teaspoon chili powder
1 teaspoon garlic powder
1 teaspoon onion powder
1 1/2 teaspoons baking powder
2 Tablespoons maple syrup
2 eggs
2 cups buttermilk
1/2 cup cheddar cheese, shredded
1-2 jalapeños, seeded and diced
8-10 pieces of bacon, cooked and crumbled
8-10 short skewers
Canola or peanut oil for frying
For the spicy chipotle mayo
1/2 cup mayonnaise
1-2 chipotle peppers in adobo sauce plus 2 Tablespoons of adobo sauce (Depending on how much heat you want)
2 Tablespoons ketchup
1 lime, juiced
All Ingredients
8-10 hot dogs
1 cup flour
1 cup cornmeal
1 teaspoon chili powder
1 teaspoon garlic powder
1 teaspoon onion powder
1 1/2 teaspoons baking powder
2 Tablespoons maple syrup
2 eggs
2 cups buttermilk
1/2 cup cheddar cheese, shredded
1-2 jalapeños, seeded and diced
8-10 pieces of bacon, cooked and crumbled
8-10 short skewers
Canola or peanut oil for frying
1/2 cup mayonnaise
1-2 chipotle peppers in adobo sauce plus 2 Tablespoons of adobo sauce (Depending on how much heat you want)
2 Tablespoons ketchup
1 lime, juiced
Instructions
Corn Dogs
Step 1
Mix all the batter ingredients, including the jalapeño, cheddar and bacon.
Step 2
Stick skewers through the hot dogs. Dust the dogs with flour. It will make the batter stick better.
Step 3
Add the batter to a tall cup. Insert the hotdogs into the batter and use a spoon to pour the batter over the top.
Step 4
Add the corn dogs to the heated oil and fry about 3-5 minutes or until the batter is no longer raw and golden brown.
step 5
Remove corndogs from hot oil and drain on a paper towel-lined plate. Serve with chipotle mayo dipping sauce.
RECIPES YOU MIGHT BE INTERESTED IN