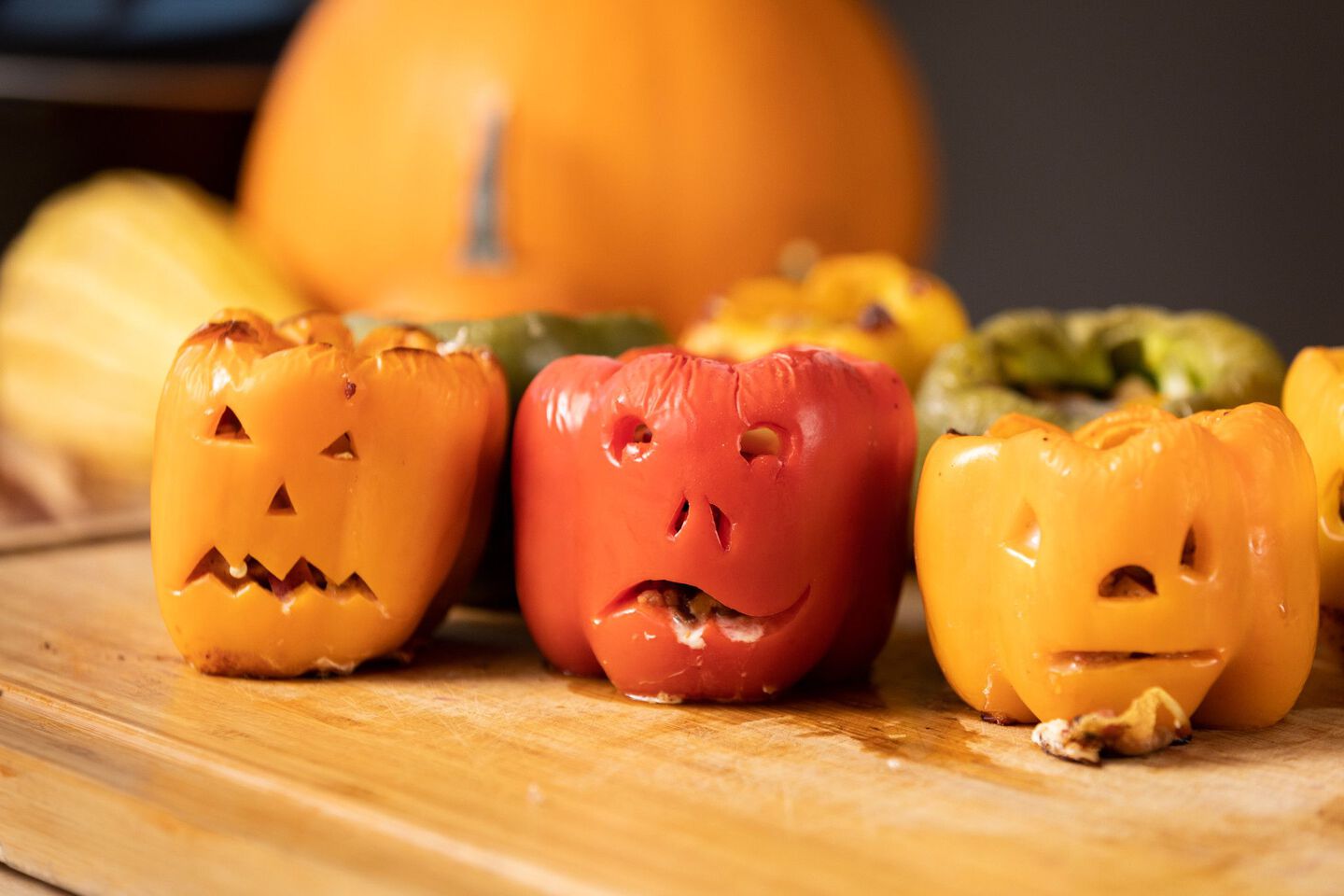 Ingredients
All Ingredients
1 pound ground breakfast sausage
4 slices thick cut bacon, diced
3-4 medium red potatoes, cut into small cubes
1/2 red onion, diced
6 large eggs
1 1/2 cups cheddar cheese, shredded
6 bell peppers, tops cut off, seeded and ribs cuts out
1 Tablespoon paprika
Salt and pepper to taste
Instructions
Stuffed Peppers
Step 1
Preheat cast iron skillet to medium heat.
Step 2
Add the bacon and cook until the fat has rendered out and you have a nice amount of bacon fat in the pan. Remove cooked bacon to a paper towel lined plate.
Step 3
Add the cubed potatoes to skillet and cook until tender. Add the onions and cooked until soft and translucent. Sprinkle the potatoes with paprika until coated. Remove potatoes from skillet and place in a bowl.
Step 4
While the potatoes are cooking, make your jack-o-lantern peppers. Carve faces into the peppers (make sure you don't put too big of holes in the peppers or filling will fall out).
Step 5
In the same skillet, brown the the sausage. When the sausage has cooked through, add it to the potato mixture. Add the cheese, bacon and mix all ingredients in the bowl until combined.
Step 6
Use the filling to stuff the peppers about 3/4 of the way full. Crack an egg on top of the filling. Bake at 400°F in a preheated pellet grill for 20-25 minutes or until the egg whites are cooked and the yolk is slightly runny.
Recipes you might also be interested in