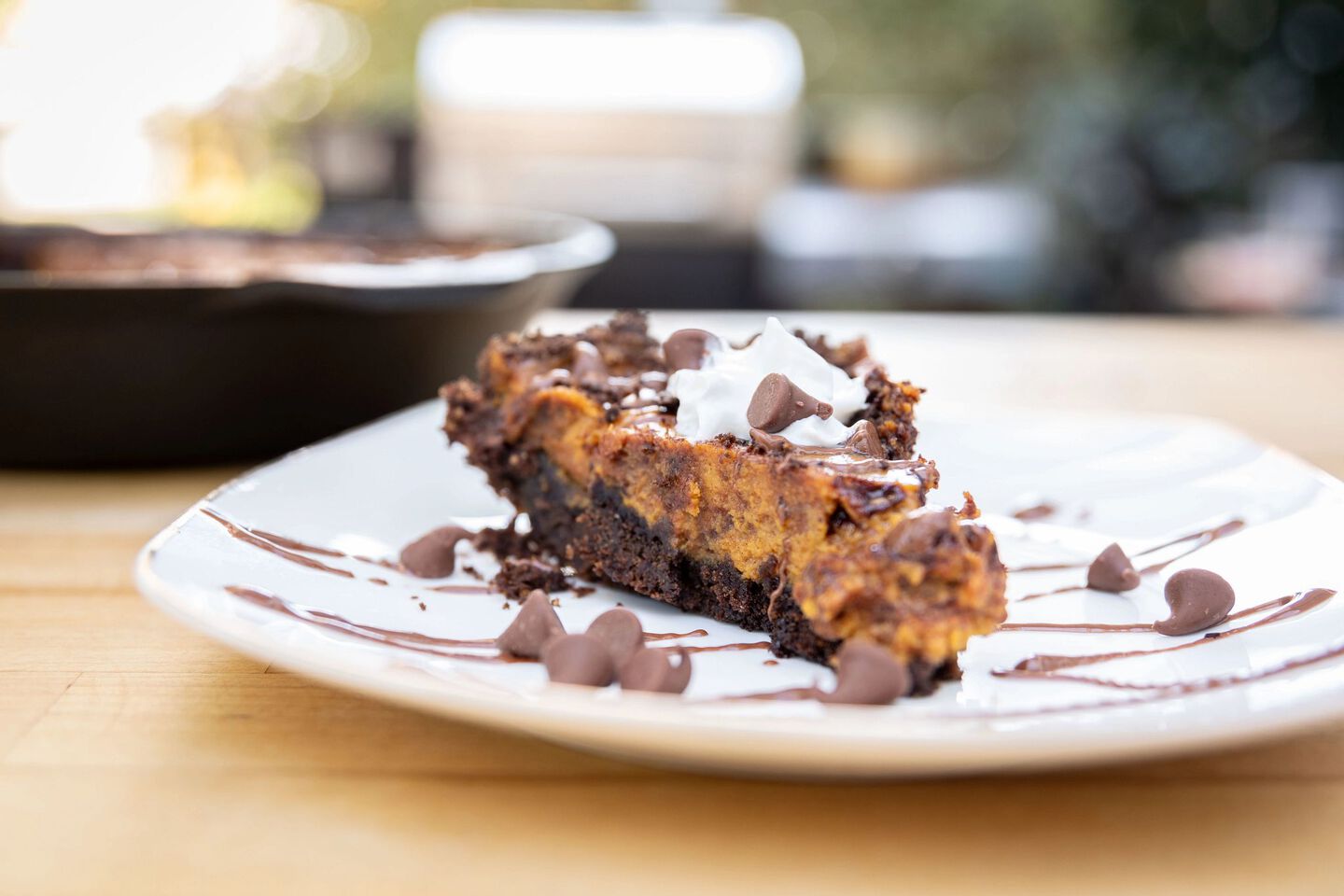 Ingredients
All Ingredients
12 chocolate graham crackers, finely crushed
1/4 cup brown sugar
1 stick of butter, melted
1 1/2 cups milk chocolate chips, divided
Extra chocolate chips for garnish
15 ounce can pumpkin
14 ounce can sweetened condensed milk
1 large egg, slightly beaten
2 teaspoons pumpkin pie spice
Whipped cream for topping
Instructions
Chocolate Pumpkin Pie
Step 1
Preheat pellet grill to 350 °F.
Step 2
In a medium bowl, add crushed graham crackers, brown sugar and butter. Mix until combined. Press mixture into 10 inch pie pan.
Step 3
Bake on top rack in pellet grill for 10 minutes.
Step 4
In a medium bowl, add pumpkin, 1 cup of chocolate chips, egg, sweetened condensed milk and pumpkin pie spice. Mix until combined. Pour mixture into crust.
Step 5
Bake in pellet grill on the top shelf for 50 to 55 minutes or until wooden pick inserted into center of pie comes out clean. Cool 1 hour. Serve topped with whipped cream, chocolate drizzle and garnish with additional milk chocolate chips, if desired.
Step 6
For the chocolate drizzle (optional): Place remaining 1/2 cup chips in small microwave-safe bowl. Microwave at medium for 30 seconds; stir. If necessary, microwave at medium an additional 10 seconds at a time, stirring after each heating, until chips are melted and smooth when stirred. Drizzle melted chocolate over pie.