Let's be real for a minute: your pie is only as good as its crust. You can have the most exquisite fruit or custard filling, but if your pie crust is just so-so, the flavor falls flat. Luckily, we have a simple way for you to step up your pie or bread game this Thanksgiving.
Three words-cast iron bakeware.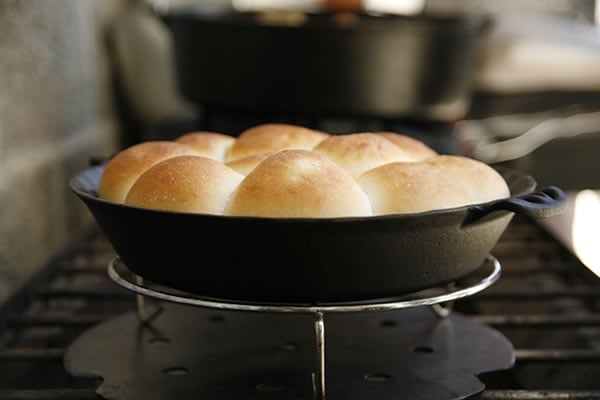 Now, you may already have a cast iron skillet or Dutch oven on which you would stake your life. You already know about the amazing possibilities of sautéing, searing, and even braising in your cast iron cookware. But have you tried your hand at baking yet? We've rounded up some of our best cast iron baking tips, so your Thanksgiving pies will turn out with perfect, golden crusts for everyone to enjoy.
Be sure your cast iron bakeware is well seasoned just like your skillet or Dutch oven. This will help prevent food from sticking (which is especially important for baking!).
Melt a little bit of butter and brown sugar in the bottom of your pie pan before baking for an extra buttery, sweet crust.
Use a rubber pot holder to protect your table from the hot cast iron after it comes out of the oven.
If there is leftover pie, try not to store it in your cast iron dish. The acid in the food might damage your seasoning if left for too long.
Cast iron will keep your bread or pie warmer for longer, so plan cooling times accordingly.
Preheat your pan for cornbread, biscuits, or muffins if you'd like an especially crispy crust. For pies and cakes, start with a room temperature pan.
If your original recipe doesn't factor in cast iron baking, check your bread or pie about 10 minutes sooner than what is suggested. This is to ensure your food doesn't burn from the higher, more consistent heat of cast iron.
Follow this guide for cleaning up your cast iron after you're finished baking.
Are you ready to give it a shot this holiday season? Check out some of our favorite baked dessert recipes for cast iron, or find your own piece of cast iron bakeware.