It's the time of year denoted by dirty bare feet and squeals of excitement echoing from the backyard. It can only mean one thing–school is out, summer is here, and the weather is delightful. We know first hand just how hard it is to keep the kiddos busy this time of year. So, let's take full advantage of these long, beautiful days and create a backyard outdoor movie theater that'll have the entire culdesac lining up for tickets.
Now playing in a backyard near you: The Perfect Backyard Movie Night
Starring you, your little ones, and an Outdoor Movie Screen. In the past, we've sold a variety of canvas sizes all priced out at different levels. If you weren't part of the many who own one try usuing a plain whiter bed sheet and a projector. So, you've got the audience and the screen–let's make sure the rest of the bases are covered.
Snacks that are Poppin'
No movie night is worth mentioning unless you've got popcorn. Keep it classic or mix it up. Set out some bowls or paper bags for everyone in the family to personalize their snack. Concoct a couple funky popcorn flavors to spice up the night. Try a cinnamon/sugar mixture for a sweet treat or a parmesan/oregano mix for something savory.
Jazzy Drinks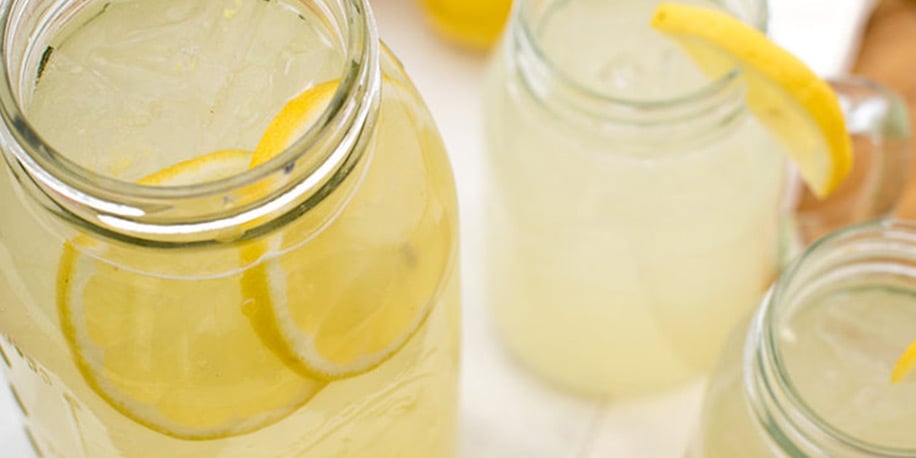 Leave the soda cans and late night sugar rushes for another day. Plan ahead and prepare a couple of signature drinks. Your movie likely won't start until later in the evening – so keep the family hydrated and healthy with an infused water combination or a low sugar lemonade mix.
The Best Seats in the House
By creating your own backyard movie theater you avoid the hefty family price and less-than-perfect view that your local drive-in offers. Make sure that everyone has a comfy spot to unwind. Drag out a couple of camp chairs and outdoor poufs, but most importantly make sure there are tons of pillows and blankets available for your little ones to snuggle up in. In some parts of the country, when the sun goes down, it takes the heat with it–blankets will be your saving grace.
Command Center/Cinema Storage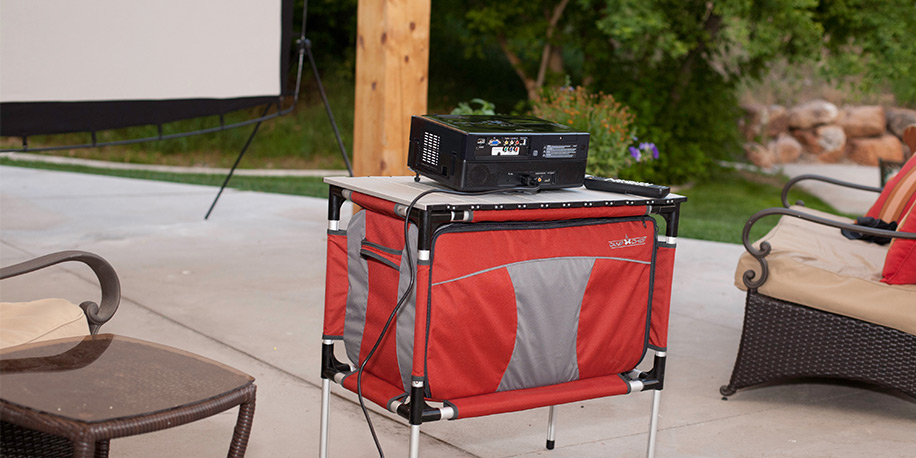 Set up a command center in a central location between everyone. The large, flat surface of our Sherpa Camp Table is the perfect place to temporarily set food, drinks, light a mosquito candle on, or set your projector on. The internal pouches conveniently store any miscellaneous items like flashlights or projector accessories. The Sherpa Table is one of the most frequently bought movie screen accessories.
No Technical Difficulties Here
For outdoor showings, we recommend purchasing a projector with at least 800-2000 lumens (a measurement of brightness.) A rear projection 1000-2000 lumens is best. A good rule of thumb to keep in mind is that larger projections require higher lumens. We have no current projector partnerships/recommendations, but encourage you to consult an expert at a local electronic store for opinions when comparing models.
Show Times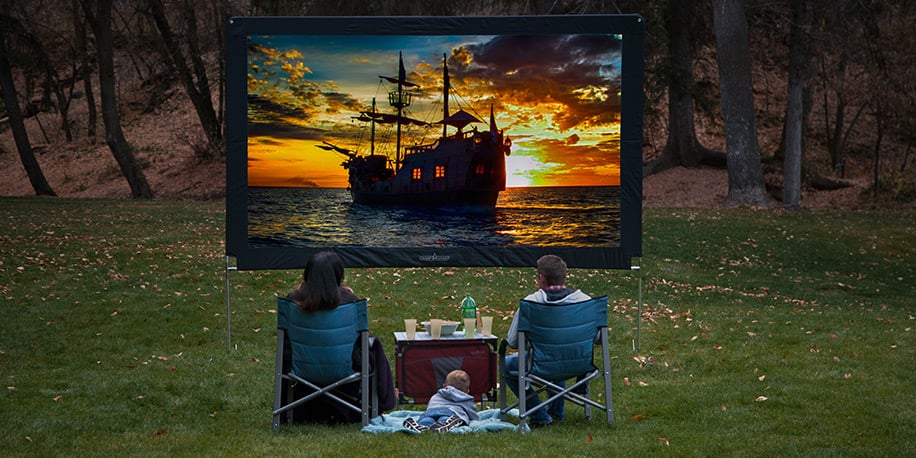 Position your screen so that it faces away from the sunset, this will allow you to start your movie a little bit earlier. But, for the best image quality, we recommend waiting until dark to press play. It's hard to compete with the sun no matter what your projector instructions may say. Until then, keep the family occupied by storing a card game or board game in your Sherpa Camp Table/cinema storage for easy access.
The Main Act
Stop by your school or local library for cost-effective movie rentals. Otherwise stream your favorites from sites like Netflix, Hulu, etc.
"That's a wrap"
When the movie's done, pick up your blankets and pillows, discard of any trash, and stow your chairs. But most importantly, be sure to store your Outdoor Movie Screen properly. All of our screens come with a free carry bag – use it! Leaving it out to endure the weather is harmful to the screen. Pack your projector electronics and accessories back in your Sherpa Camp Table by utilizing all four cubes. This will ensure a for a quick set-up/take down for next week's movie night.
What outdoor movie night tips do you have? Let us know in the comment section below!