Is your tailgate touchdown dance-worthy? Don't false start this season by being unprepared for tailgate season. From equipment to food and everything in between—we've got your blind side.
7 TOUCHDOWN-WORTHY PRODUCTS
Outside of its obvious name, the Tailgater Combo is a great investment as you pick your starting line-up for this upcoming season. Not only does it come with the award-winning Explorer Two-Burner Stove, but you'll receive a compatible BBQ box and fry griddle—the ultimate tailgate package. The removable BBQ Box is great for cooking burgers, steaks, chicken, and more. While the steel fry griddle provides a perfect cooking surface for onions and other yummy additions.
You asked for it and we listened. A portable, powerful, and perfectly compact pellet grill. The Pursuit's 20-inch size is ideal for game day tailgating. Packed with our favorite features like Slide and Grilling Technology and Ash Cleanout – all your attendees will want one by 5th quarter. Latch locking hood and hopper lids hold everything in place while you set up camp. Plug it in to a 110 volt power source and you'll be smoking in no time.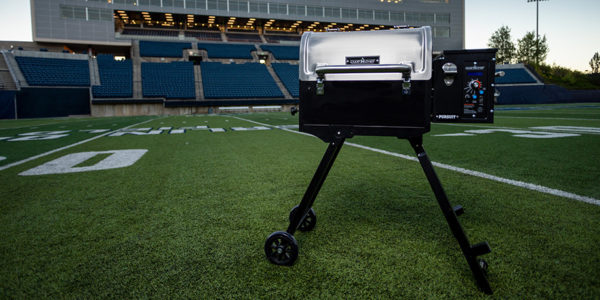 3. Sherpa Camp Table & Organizer
This table will be sure to get you and your mates into the Red Zone. Easily pack, haul, and set up the Sherpa Camp Table with the expandable aluminum legs and table top. Utilize all four storage compartments by packing your favorite spices, sauces, condiments, and grilling accessories. Don't worry if things get a little messy, one of the storage compartments has a lined interior that can double as a portable sink. So don't forget the soap and paper towels.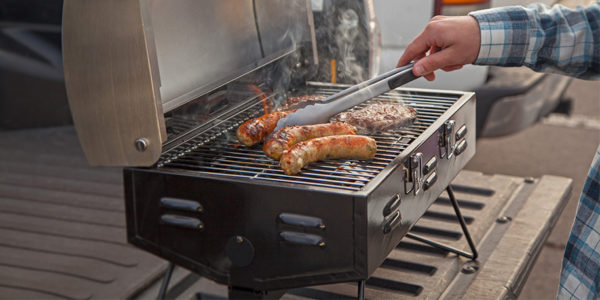 Latch it and go. The Portable BBQ Grill goes where you go. A swift 22 lbs. and foldable legs allows you to set up wherever the party is at. All you need is a propane bottle and food for grilling.
The last thing your tailgate teams needs is a false start. Come prepared for your cookout with the 5 Piece All-Purpose Chef Set. The set includes a beveled edge spatula, santoku knife, heavy duty tongs, flat nosed spoon, and convenient carrying case. All items are made from high grade stainless steel featuring ergonomic handles.
Do your fellow tailgatees one better by offering another crowd pleasing menu item—pizza. The Artisan Outdoor Oven fits perfectly atop all Camp Chef 14-inch cooking systems (including the Tailgater Combo!) The ceramic stone and domed ceiling design yields a perfectly cooked pizza at your next event. A fair warning, your tailgate companions might stick you on pizza duty until half time.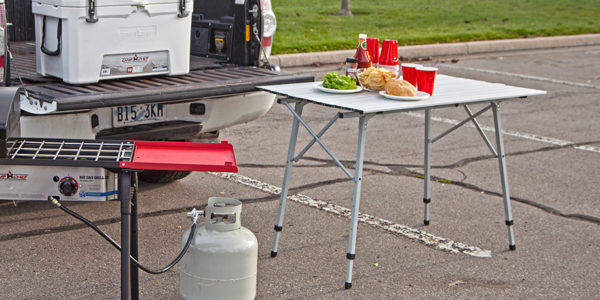 If there's one thing every tailgate needs—it's more prep and 'counter' space. Fuel up for kickoff by housing all condiments, chips, buns, potato salad, napkins, and utensils in one central location. Plus, the aluminum table cleans up quickly between the inevitable spills from constant high-fiving.
TWO-POINT CONVERSION
Oh, yes we did! We're throwing up a Hail Mary for all those open down field. If you're looking to try to outscore all the other tailgates we've got two more game winning products for you.
1. Outdoor Movie Screen
Score the extra point at your tailgate by bringing an outdoor movie screen set up. Catch pre-game content and stream the game live for those who don't have tickets. You'll be enjoying high resolution, edge of your seat, picture quality on the big screen. Screens are easily collapsible and usually under 20 lbs.
If your team has a late kick off – set the mood with a little late night warmth from the Del Rio Fire Pit. Don't forget the marshmallows and s'more ingredients. It's portability, matchless ignition, and beautiful cooper finish will really bring the "wow" factor to your party.
What teams are you rooting for this season? What products does your tailgate need? Leave us a comment below!