If you're serious about meat, this is the pellet grill for you. The SmokePro LUX Pellet Grill & Smoker has a whopping total of 875 square inches of cooking space for you to work with, giving you the room to cook anything—and any quantity—you need. We've kept all of the same great features for the home griller to simplify the smoking process, like a digital temperature display and a simple setting control panel. The new SmokePro LUX also includes a few upgrades from the previous version including a stainless steel fire box to extend the life of your grill and wider 50-millimeter legs for greater strength and stability. Let the grill do the work for you as the pellet auger feeds the perfect amount of wood to your fire box. Our Smart Smoke Technology ensures the maximum amount of smoke and, therefore, the best flavor around. Add to all this our exclusive ash cleanout system, and you're running out of reasons not to buy this pellet grill.
For the best performance, use Camp Chef's Premium Hardwood Pellets. The 100% hardwood pellets (no additives or fillers) burn more efficiently and leave a better flavor than any other.
VESTA 2015 Winner
The SmokePro LUX Pellet Grill was given the Vesta Award, an industry-exclusive honor, for it's innovative cleanout system and user-friendly design.
Multimedia
Features
Electronic auto-start ignition
Dual LED temperature readout: internal cooking temps and internal food temps
Easy setting selection system
160º F up to 500º F temperature range for slow smoking to grilling
Automatic auger dispenses pellets as needed for improved smoker efficiency
Continuous fan provides even-heat and smoke distribution
Included warming rack
Stainless steel fire box
Ash cleanout system
Large capacity pellet hopper means less filling, more smoking
Heavy duty 50mm legs
Swivel caster wheels for convenient transport
Bottom utility shelf
Included recipe booklet simplifies the learning curve
Pellet hopper cleanout and purge
Grease management system
Classic bronze finish
Specifications
Grilling Area Dimensions: 19.5" x 34"
Smoking/Warming Rack Dimensions: 6" x 34"
Total Rack Surface Area: 874 sq. in
16"x12" side shelf
Hopper Capacity: 18 lbs. of pellets
Cooking Height: 32.5"
Overall weight: 180 lbs.
Downloads

PG36LUX Instruction Manual
REVIEWS
SmokePro LUX Pellet Grill - Bronze
is rated out of
5
by
3
.
Rated

5

out of

5
by
Ty W
from
Best smoker ever!
This Pellet smoker is the best smoker I have ever used. The temperature is super easy to control. Some of my favorites on the grille are ribs, Jerky, chicken, and you may not think it but take and bake pizzas are awesome! This thing makes smoking and grilling so much easier. It's easy enough my wife doesn't mind using it also. Highly recommend to anyone from beginner to pro.
Date published: 2017-08-25
Rated

4

out of

5
by
treknogeek
from
It is worth it!
After looking down my nose at pellet grills/smokers for years, I finally decided that my time was better spent with my family than with running out to my stick burner to adjust the vents every time the wind changed directions. The SmokePro LUX is made of thick metal and performs as advertised. You will not be able to use this grill like you would your propane (there is only 1 burner), but the learning curve is small and delivers on great taste, time savings, and ease of use. My only complaint is that some of the finer points could have been more precise. My lid is crooked. Not enough to kill the grill, but it is slightly annoying to see when you look at it. I contacted costumer service and they sent me a new one. I had a shipping receipt within an hour of sending my email in. Also, I wish they included washers to go along with the locking washers for the legs. The holes are a bit big. Don't get me wrong, it is sturdy and I have no fear of it breaking, but those washers would make it even better. So far, I have grilled chicken breast and smoked ribs, rib tips, and steak. Everything has turned out well, and the cover has stayed in place even with our strong Texas winds. In short, there are some imperfections, but I have no regrets in buying this grill and would recommend CampChef to anyone.
Date published: 2018-03-05
QUESTIONS
What are the external dimensions of the smokepro lux and the smokepro dlx? What's the major difference between the two besides the size?
Hello, Thank you for your question. The DLX does not have the bottom shelf and it does not have the caster wheels so besides the size that is the major difference. Have a great day! Sincerely, Camp Chef
Date published: 2018-03-22
What gauge steel are the pellet grills?
Thank you for your question. The body, hopper, and legs are made of 18 gauge steel. The lids are a little thicker 14 gauge.
Date published: 2018-03-06
Do you offer a military discount?
We do offer a great military discount. We would need you to email in a picture of your military ID, then we will put that on file. Then you can call in your order to 1-800-650-2433, and place the order over the phone. Our normal business hours are Monday - Thursday, between 7 am and 5 pm, MST. Unfortunately, we do not have a coupon code to place the order online.
Date published: 2018-03-06
is there a sear box available for this?
Yes, the PGSEAR is the model number of the Sear Box to fit the grill.
Date published: 2018-03-06
You write about "Slide and Grill Technology" in your new ads but you do not explain what this is ? Please explain to me ? I want to buy your product but you are confusing me. Ron
Hello Ronald, Thank you for reaching out to us. The Slide grill allows you to slide the heat deflector back allowing you to have an open flame to grill on when you choose and then you can slide it back to smoke your items as well. So you can smoke your steak and then turn the temp up and slide the deflector over to put a sear on it. Please feel free to contact us with any further questions. Have a great day! Camp Chef
Date published: 2018-03-06
Anything come with this pellet grill? Do you price match? I fund it for $799.99. Shipping costs?
Hello, Thank you for your questions, at this time the LUX does not come with any promotional items. As the direct manufacture we sell our items at full retail so we do not undercut any of our dealers, therefore we are unable to price match. On our website any order over $50.00 will have free shipping, if you have any other questions let us know.
Date published: 2018-03-06
If I buy the SGX will I also need the sear box to sear the steaks - your ads imply that the SGX has this searing ability to expose the meat to more heat or flame ?
Ronald, in theory no you will not need the sear box as this new grill becomes a open fire grill. When you slide the heat shield over you start cooking over direct flame so to speak. This should be enough to grill your steaks or burgers, chicken etc. The Sear box of course will always offer you HIGHER TEMPS for searing vs just grilling. This smoker will not get to 900 degrees like the box will, but again offers the backyard cook the ability to smoke and grill on ONE DEVICE.
Date published: 2018-03-06
What is the electrical efficiency of these wood pellet grills? How many kilowatts Per hour?
RELATED BLOG POSTS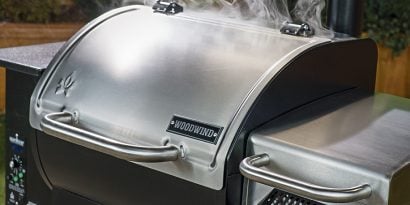 (3 Comments)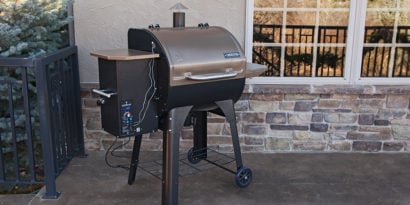 (1 Comment)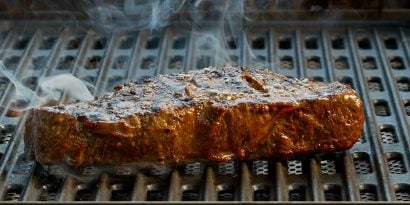 (2 Comments)