Don't let cold weather deter your grilling fun. With the Pellet Grill Blanket, smoking and grilling can be year-round activities. The blanket is made of fire-resistant fiberglass that will help keep your grill warm and reduce the amount of pellets it needs to burn in the cold weather. It might be snowing outside, but your pellet grill is smoking hot.
Features
Fire-resistant fiberglass blanket
Magnetized to hold in place
Reduces pellet consumption
Helps Camp Chef pellet grill maintain temps in cold environment
Fitment
SmokePro DLX 24 Pellet Grill, PG24
SmokePro XT 24 Pellet Grill, PG24XT
SmokePro SE 24 Pellet Grill, PG24SE
SmokePro SG 24 Pellet Grill, PG24SG
SmokePro STX 24 Pellet Grill, PG24STX
Woodwind Classic Pellet Grill, PG24WWS
Woodwind SG Pellet Grill with Sidekick, PG24SGWWSK1
Woodwind Classic Pellet Grill with Sear Box, PG24WWSS
Woodwind SG Pellet Grill with Sear Box, PG24SGWWSS1
REVIEWS
Pellet Grill Blanket - 24"
is rated out of
5
by
42
.
Rated

5

out of

5
by
Anonymous
from
Greatest grill ever
Had a propane grill for years , talked into buying a pellet grill from my buddies, I have never in my life grilled so much. I also purchased the sear box and mounted the shelf that comes with the grill on the side of it for more space for spices and seasonings . Just set the temp and knock out some cold ones while dinner is cooking . I highly recommend this grill . A+++
Date published: 2017-12-17
Rated

1

out of

5
by
Vindog1970
from
Such a disappointing experience
I tried to order once of these last year from Amazon for $80. They were backordered, and somehow my order just completely vanished. I saw them available this year, but the price rose to $100. I paid the $100 and promptly received my grill blanket. I have struggled to keep my grill at temperature on windy days, especially with the Camp Chef pellets that went on sale on Amazon for over half off. Those pellets were obviously sub-par, but unfortunately, they were still sold to the consumer. We are not your dumpster for garbage your suppliers send you. This blanket certainly helps the pellet grill achieve and maintain temperature better. I'm not convinced there is a reduction of pellets consumed to maintain temperature, but I know I am cooking in less time, using fewer pellets. I have not used it on an exceptionally windy day yet. Maybe I'm so disappointed because I was so excited to get this thing, but the quality of workmanship is horrendous. The seams are crooked. Like the main seam across the front, the one that jumps out at you. It's crazy wavy. The pockets the magnets are sown in are located inconsistently. This is especially problematic at the bottom of the front. The flaps on either side of the handle stick out. There is damage to the material in several locations. It is torn in a couple more. There are spots where the double seams cross each other. In other spots, the seams have been removed and sewn again, leaving the material damaged. I know this will cause premature failure of the blanket. Printed on the blanket is the fact that temperatures over 350° will damage the magnets. With the natural variation in temperature during cooking, this means the grill can't be set over 325° with the blanket on. Removing the blanket requires removing the chimney cap, so it's not something you want to do while cooking. I can't understand why they didn't use a little extra insulation between the magnet and grill to allow the blanket to be used at any setting on the grill. It's just like the meat probe that can't go over 350°. It should work at any settings without permanently malfunctioning. They could at least include a spare, but I digress. So I received my blanket and installed it, getting the impression I would be happier if I returned it, instead of having that center seam smirk at me each time I opened the grill. I went to Amazon to check for contact information and maybe to leave a review, but what I noticed is that the day I received my blanket, the price dropped back to $80. It was another slap in the face. I originally found it hard to fathom that Camp Chef would cut corners on quality like this, but unfortunately, considering everything, it actually seems to be the norm. Sometimes, you need to take the hit on bad product, not pass it along to your customers. Maybe stop looking for the cheapest Chinese labor. I would happily pay more for product made in USA, with straight seams. Instead, it seems I have received the discards from training people.
Date published: 2018-11-06
Rated

5

out of

5
by
Teaysguy
from
Saves Pellet Consumption!!!!
This thing is great with helping save Pellet Consumption. Have bought one with every smoker I have. Pay attention to the warning of not letting it go over 350* or it can damage the magnets. You'll love it....
Date published: 2018-02-05
Rated

5

out of

5
by
bobbywagner
from
Easy to put on
I like to grill when it's cold outside, but it is hard to maintain the internal temperature of the grill. This blanket goes on very easily, and attaches with magnets. It has helped hold the internal temperature when I am smoking using the low or high smoke setting.
Date published: 2019-01-13
Rated

5

out of

5
by
Geo
from
I have had a pellet corn grill for years and we wanted to upgrade
this is the best grill ever works better than expected and the new 3yr warranty makes it even better I have had a pellet corn grill for years with out the auto temp controls and we wanted to upgrade to a newer larger pellet grill with the new electronic controls its perfect and it will make a great fathers Birthday gift Just set it and forget it all you have to do is just cook. Just that simple thanks A+A+A+A+A+A+A+A+A+A+A+A+A+A+A+A+A+
Date published: 2017-07-06
Rated

5

out of

5
by
Doc Patterson
from
Master the Art of BBQ!
I have been a Pit Master for a few years now. I was torn about giving up my charcoal/wood smoker until I saw the Camp Chef SE one day. We purchased it and use it on a regular basis. My friend bought the compition and I hear them complain about things. I have nothing to complain about. If they ever need a spokesperson I'm you guy! Pit Master Doc P!
Date published: 2017-12-17
Rated

5

out of

5
by
JAR1
from
Works as expected!
I bought this pellet grill blanket recently and so far it works well for the purpose intended. We have had some cold weather here and it has allowed us to use our pellet smoker/grill more efficiently. Before using the blanket we burned more pellets to reach a suitable temperature for cooking. So far worth the purchase price.
Date published: 2018-01-26
Rated

5

out of

5
by
Hebrews12v2
from
Nice Blanket
I have had this for a few weeks now and am very happy with the purchase. The blanket fits very well, and is held in place by magnets. If you have a sear station, you have to fold that side of the blanket back, as it cannot be used on the sear station side due to the sear station lid not being able to open easily.
Date published: 2018-01-26
Rated

5

out of

5
by
Ed
from
Finally went to pellet Smoker!
I researched pellet smokers for some time, on you tube and other places. Idecided on the SmokePro because it had more/better features than anything else I found. Had a little problem with the electric timer, but they sent me a new one and it is now Perfect! No more charcoal watching etc!!
Date published: 2017-11-18
Rated

5

out of

5
by
Dreamer
from
A MUST HAVE
This product is a must have, for your Grill. It will save you on pellets and help keep your temperature constant. Should pay for itself the first few months. My only negative, I wish they had put a flap/cutout for the probe, so you wouldn't have to fold the cover back to insert it.
Date published: 2018-02-02
Rated

5

out of

5
by
Pogono82
from
Worth every dime!
Well constructed and thick. Has magnets that hold it to the grill. Been using it for a few weeks now in the winter. No complaints. Supposed to conserve pellets whens its cold. Might keep it on in the summer too to protect it from sun.
Date published: 2018-01-28
Rated

5

out of

5
by
Lyman
from
An amazing addition to my pellet grill
Awesome deal. My pellet consumption is half of what it was before the addition of the blanket. Magnets work great. Haven't had to adjust the fit once. Highly recommend to everyone. Thanks Camp Chef for another awesome product.
Date published: 2018-02-06
Rated

5

out of

5
by
SkipDiver
from
Just Perfect!
In cold weather I didn't use my grill very often. Now that I have blanket on my grill, I am grilling all year. The blanket really helps maintain the set temperature. This is the perfect grilling accessory.
Date published: 2018-02-01
Rated

5

out of

5
by
backfire22
from
What Cold Weather?
For those of you who live in areas where it's really cold during the winter i.e. (Wisconsin), this is exactly what you need for your Camp Chef. It keeps the heat in allowing me to use my baby year round.
Date published: 2018-01-26
Rated

4

out of

5
by
Chalkman
from
Performed as advertised.
Bought it because I was having trouble attaining temperature in cold North Dakota winter conditions. Fit fine and worked great. Bit disappointing that it's not recommended for use over 325 degrees.
Date published: 2018-04-27
Rated

4

out of

5
by
Filo B
from
Grill Blanket
Really happy I bought it helped with the colder temps outside but it says I can't really grill much because it can cause damage to the magnets!
Date published: 2018-05-02
Rated

5

out of

5
by
Brennon
from
Must have!!!!
This is a must have accessory! I can keep 400 degree temps in below freezing temps now! And I feel that I use less pellets than before
Date published: 2018-05-08
Rated

4

out of

5
by
dflea
from
Useful item
I have found that it is much easier to maintain temperatures in cold weather with the addition of the blanket. Glad I purchased it.
Date published: 2018-02-13
Rated

5

out of

5
by
Dusty
from
Great grill
I love it . I have at traeger grill also. The camp chef grill give more flavor to the food. Definitely better than traeger.
Date published: 2018-02-07
Rated

5

out of

5
by
jwtetz
from
Great fit, solidly made.
It's a bit tight opening the lid of the sear box with the blanket on but, a great fitting product and well made.
Date published: 2018-04-11
Rated

5

out of

5
by
misfit2life
from
Insulated blanket
Had me smoking like a mad man all winter . Really does it's iob ! Helps hold temp in those cold winter days
Date published: 2018-03-27
Rated

5

out of

5
by
Slick
from
Works Great!
Grill heats up a lot faster, uses less pellets which saves me money, and less heat variation.
Date published: 2018-04-16
Rated

5

out of

5
by
Cazador
from
Let it rain
Wind rain or snow let the pellets flow this cover lets you cook in any weather conditio !
Date published: 2018-07-17
Rated

5

out of

5
by
Steve
from
Fits great and holds heat in cold weather smoking
Works fantastic would strongly recommend this to anyone that smokes food in the winter
Date published: 2018-01-26
Rated

5

out of

5
by
jevp
from
helps a lot when cold out
Fits well and helps a lot when cold. makes it much easier to cook in the cold
Date published: 2018-02-02
Rated

5

out of

5
by
rsmith
from
Best price around
Camp Chef quality at a great price. Makes my pellet grill nearly 4 seasons.
Date published: 2018-09-19
Rated

5

out of

5
by
Marie
from
Grill
This looks like a Good pit to cook some Ribs and chicken on it
Date published: 2018-03-01
Rated

5

out of

5
by
Anonymous
from
It fit vary nice looks good so s well Werth the money
Date published: 2019-04-17
Rated

5

out of

5
by
RobbieO
from
Superb Product! Outstanding smoked meats and barbecue with incredible ease.
I truly love my SmokePro DLX grill. Before Camp Chef I was intimidated by the prospect of smoking my own brisket, ribs, shoulder, chicken, turkey, seafood. My fear...temperature maintenance. With 3 kids...Ain‰ЫЄt nobody got time for that! DLX SmokePro makes it ridiculously easy. Camp Chef‰ЫЄs mantra of, ‰ЫПSet it and forget it‰Ыќ is really true. Follow Camp Chef‰ЫЄs easy recipes and directions (or don‰ЫЄt), enjoy your event or get things done while the magic happens, AND understand the trick while it‰ЫЄs happening. With DLX, I grill and smoke outstanding product, regularly. Doing my first dry run turkey on their Cannon before Thanksgiving. I did a lot of research on pellet smoker grills before I chose Camp Chef...and it makes all the difference. I also saddled my DLX with the accompanying sear box because both I and my wife were very leary of not being able to enjoy traditional charcoal/gas fired steaks, chops, breasts, etc. Camp Chef presented a complete package for our needs. Do not think twice...do not hesitate...do not second-guess. I‰ЫЄm just a simple guy who really loves cooking with my children and teaching them that the gift of cooking great food together only enhances our family experiences and increases the appetites of our really barbecue-needy friends and neighbors! Oh, the the neighbors pay attention to when we‰ЫЄre cooking up a storm. Believe it, people. The Camp Chef DLX pellet smoker is a great product.
Date published: 2017-11-13
Rated

5

out of

5
by
Dan1003
from
Perfect fit, insulates well in the cold and wind
One night I decided to smoke a pork butt. It usually takes 4-5 hours for a 5-7 lb piece, but this time took well over 10 hours. It was in the 30's outside and the grill was really struggling to hold the temp. I was also burning through pellets at an alarming rate and used almost a full box by the time I was done. I knew I wanted to smoke in the winter so when I discovered this insulating blanket, I had to have it. All I can say is what a great investment that truly works. I've since smoked prime rib roast and another pork butt and even in the cold, rain and wind, the temp holds perfectly and I go through a normal amount of pellets. This has definitely been a wonderful addition to the grill. The design of the blanket covers the top half of the grill as advertised. The only design flaw I found had to do with the meat probe hole. Because the blanket is held on by magnets, if you put the probe through the hole then cover the probe wire with the blanket, the magnets in the blanket interfere with the temp signal and the readout on the display will jump all over the place and give you the wrong temp. A simple workaround is to just fold the blanket away from the hole, keeping it away from the probe wire. Works perfectly and the probe temp is accurate again. If you live in an environment with air temps that get down into freezing temperatures, this blanket is a must buy. I'm looking forward to using the grill year round now.
Date published: 2018-12-22
RELATED BLOG POSTS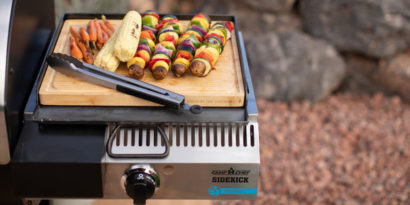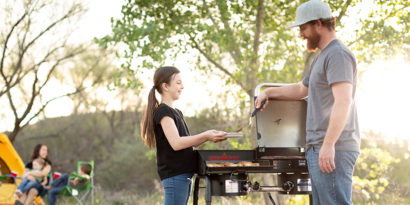 (1 Comment)