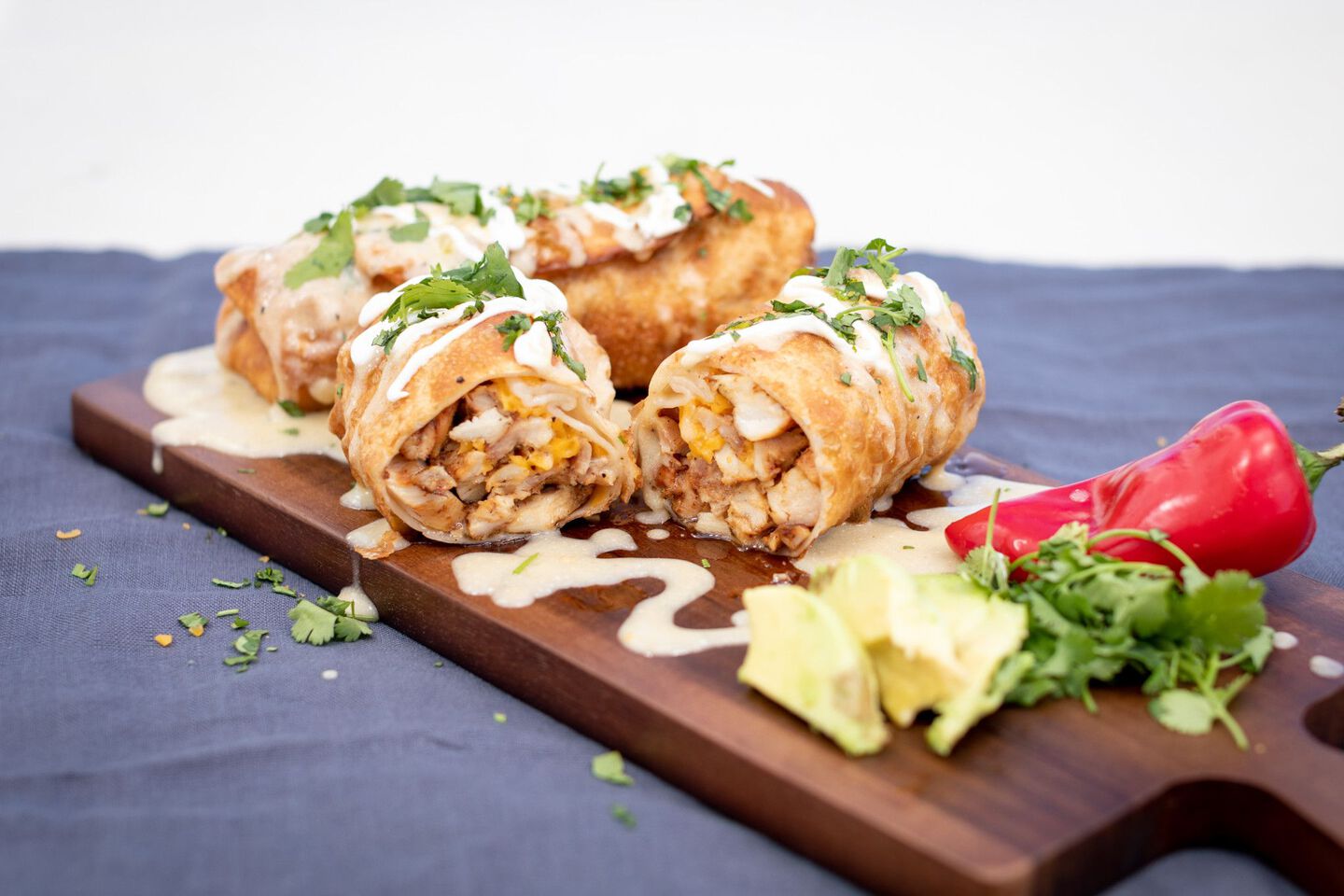 Instructions
Chicken
Step 1
Juice the limes into a medium sized bowl. Add red wine vinegar, garlic, chili powder, cumin, kosher salt and black pepper.
Step 2
Put chicken in a zip lock freezer bag. Pour marinade over chicken, completely covering chicken. Marinate for at least 4 hours.
Step 3
Preheat pellet grill to 375 °F.
step 4
Grill chicken about 10-15 minutes per side or until internal temperature reaches 165 °F.
step 5
Let stand for a few minutes, then chop into bite sized pieces.
Green Chili Sauce
Step 1
Melt butter in olive oil in a sauce pan over medium heat. Whisk in flour and cook, stirring constantly for 3 minutes. Reduce heat to low then gradually whisk in chicken broth.
Step 2
Add spices and bring to a simmer while stirring until thickened, about 3-5 minutes. Remove from heat and stir in green chilies and cheese until melted. Then add sour cream and stir until smooth. Add hot sauce to taste.
Chimichangas
Step 1
Preheat oil in Dutch oven to 375 °F.
Step 2
Prepare chimichangas by adding 1/2 cup of chicken to each tortilla then top with 2-3 tablespoons of sauce and a sprinkle of cheese. Roll the chimichangas up burrito style. Repeat until all chimichangas are rolled.
Step 3
Place chimichangas into Dutch oven, 1-2 at a time, flap side down to create a seal and cook for 2-3 minutes on both sides or until golden brown.
Step 4
To serve, top chimichangas with green chili cream sauce and desired toppings.