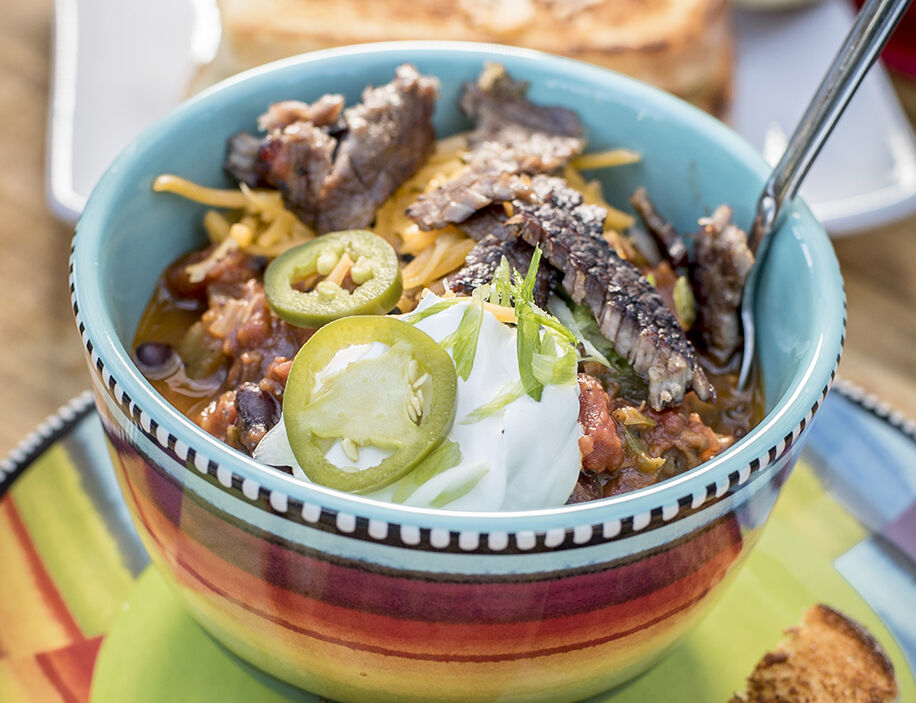 Ingredients
For the brisket
5 pounds smoked brisket, diced
For the chili sauce
4 garlic cloves, minced
8 whole dried New Mexico or California chilis
7 cups water
All ingredients
5 pounds smoked brisket, diced
4 - 28 ounces can diced tomatoes
4 -28 ounces can kidney beans
4 - 8 ounces can black beans
4 Anaheim peppers, roasted
4 jalapeño peppers, diced
3 passilla peppers, diced
1 red bell pepper, diced
1 yellow bell pepper, diced
1 orange bell pepper, diced
1 green bell pepper, diced
3 white onions, diced
2 red onions, diced
12 ounces of your favorite beer
1 Tablespoon cumin seed
Salt and pepper to taste
4 garlic cloves, minced
8 whole dried New Mexico or California chilis
7 cups water
Instructions
Smoked Brisket chili bowl
STEP 1
You will need at a least a 16-quart pan. Heat pan on medium heat and toast cumin seed.
STEP 2
Add 2 Tablespoons of oil, add onions and jalapenos to pot. Sauté until onions are translucent and start to brown.
STEP 3
Add beer, reduce liquid by half on medium high. Add tomatoes, beans, peppers, brisket and chili sauce simmer for 3 hours mostly covered. Salt and Pepper to taste.
chili sauce
STEP 1
Add water, garlic, and dried chilies bring to boil turn off heat let rest for 15 minutes, blend until smooth.