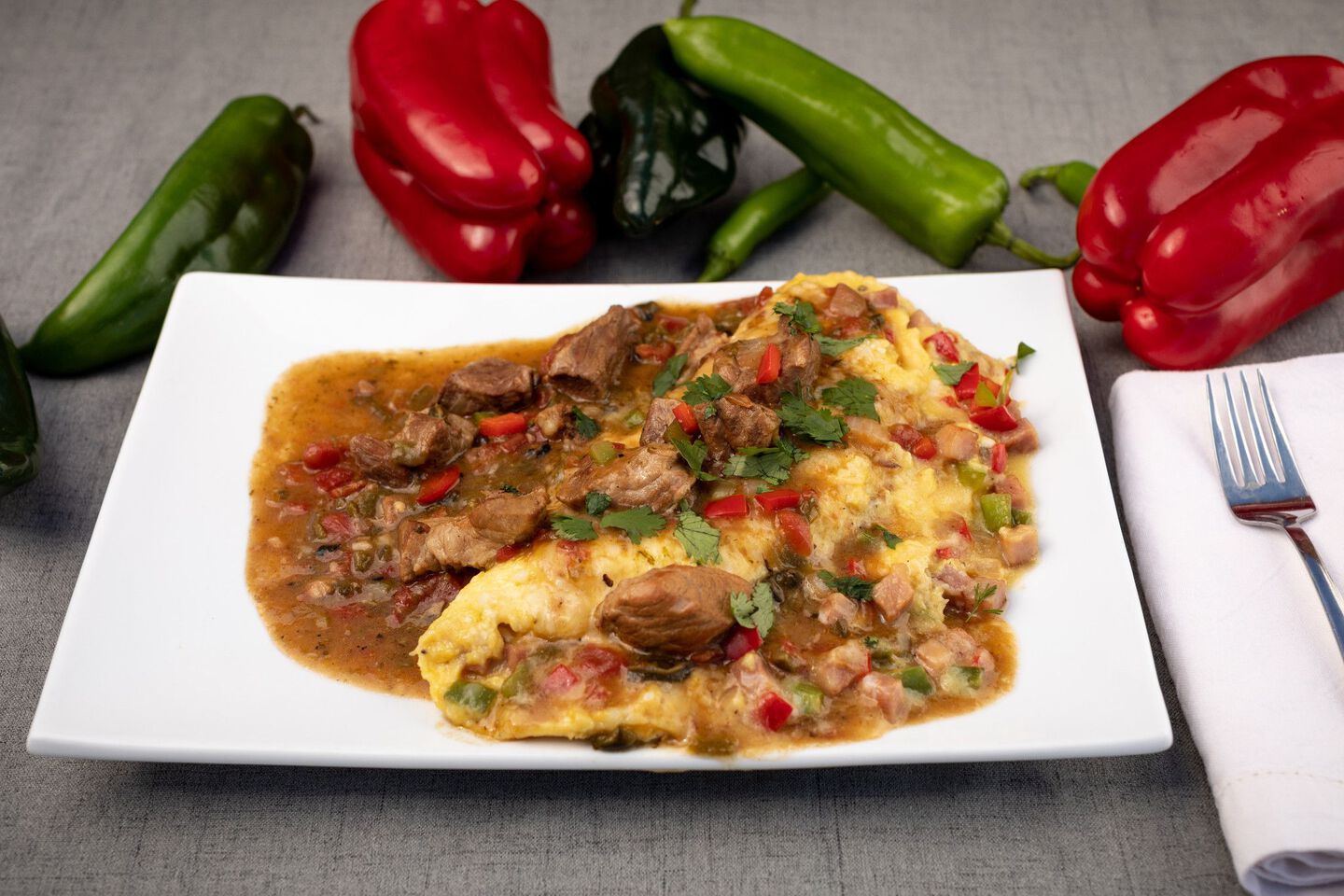 Ingredients
For the Omelet
1 Tablespoon canola oil
16 oz thick cut ham, diced
1 green pepper, stemmed, seeded and diced
1 red pepper, stemmed, seeded and diced
1/2 yellow onion, diced
8 oz cheddar cheese, shredded
2 Tablespoons butter
8 large eggs
Salt and pepper to taste
For the Slopper Sauce
1 lb pork shoulder, cut into cubes
Canola oil for cooking
2 garlic cloves, crushed
1/2 yellow onion, diced
1/4 cup all purpose flour or more if necessary
1/2 cup water
1 1/2 cups chicken broth or more if necessary
6 oz canned diced tomatoes and chilies
6 large roasted green chilies, such as Hatch or poblanos, skin removed
1 serrano chili, diced
1 teaspoon cumin
2 teaspoons fresh cilantro, chopped
1/2 teaspoon cayenne pepper
1/2 teaspoon salt
1/2 teaspoon ground black pepper
1/4 ground white pepper
All Ingredients
1 Tablespoon canola oil
16 oz thick cut ham, diced
1 green pepper, stemmed, seeded and diced
1 red pepper, stemmed, seeded and diced
1/2 yellow onion, diced
8 oz cheddar cheese, shredded
2 Tablespoons butter
8 large eggs
Salt and pepper to taste
1 lb pork shoulder, cut into cubes
Canola oil for cooking
2 garlic cloves, crushed
1/2 yellow onion, diced
1/4 cup all purpose flour or more if necessary
1/2 cup water
1 1/2 cups chicken broth or more if necessary
6 oz canned diced tomatoes and chilies
6 large roasted green chilies, such as Hatch or poblanos, skin removed
1 serrano chili, diced
1 teaspoon cumin
2 teaspoons fresh cilantro, chopped
1/2 teaspoon cayenne pepper
1/2 teaspoon salt
1/2 teaspoon ground black pepper
1/4 ground white pepper
Instructions
Slopper Sauce
Step 1
Cook the pork in canola oil in Dutch oven over medium heat until the meat is browned on the outside and a little pink on the interior. Add the garlic and onion and cook until soft.
step 2
Add the flour and stir until brown. Then add water and adjust according to the desired thickness. Next add the chicken broth and stir to combine. Add the canned tomatoes and chilies, roasted green chilies, serrano chilies, cumin, cilantro, cayenne, salt, black pepper and white pepper then bring to a boil.
step 3
Turn the heat to low and simmer uncovered, stirring constantly, for 2 to 3 hours. If you need to thicken the chili, add more flour. If you need to thin it out add more broth.
Omelet
step 1
Pour the oil into a large cast iron skillet. Turn the heat to medium high heat and add the diced ham. Cook, stirring often until the ham is lightly browned and crisp, about 2 minutes.
Step 2
Add the green and red pepper, then the onion. Cook until the vegetables are tender but still a little crisp, about 2 minutes. Season with salt and pepper to taste. Transfer mixture to a bowl.
step 3
Clean out skillet and then set back on the stove. Crack two eggs into a medium sized bowl and whisk with fork until combined. Season with a pinch of salt and pepper. Add 1/2 tablespoon of butter to the skillet and turn the heat to medium high.
step 4
When melted, add the whisked eggs. Let the eggs cook for a few seconds. Then, using a spatula, push the cooked eggs towards the center of the pan, tilting the pan down to let the uncooked eggs drip towards the sides. When the middle is still runny, pile a quarter of the ham and onion mixture and a quarter of the cheese on half of the omelet. Carefully fold the omelet over. Let cook until the cheese melts, flipping halfway through. Transfer the omelet to a plate.
step 5
Repeat the process three times. Top with slopper sauce.