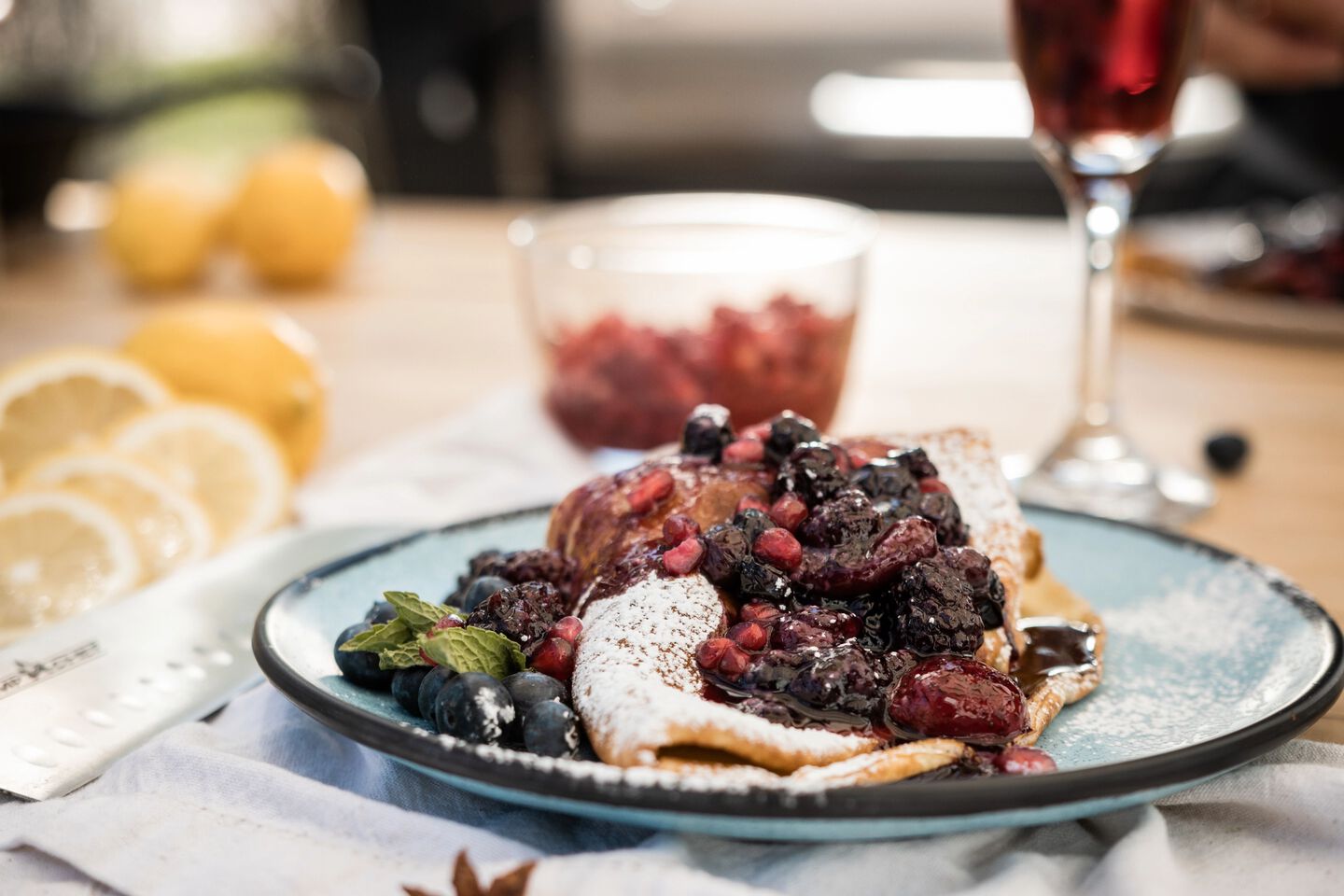 Instructions
Batter
Step 1
In a mixing bowl, crack and partially beat 6 eggs.
Step 2
Mix the sugar and flour with the partially beaten eggs.
Step 3
Add the milk and continue to mix. Squirt in the oil, about one ounce or so.
Step 4
After the oil is mixed in, slowly pour in the butter and mix into the batter. Set aside. (Mixing the eggs, sugar, and flour first should prevent any lumps. If made correctly the batter can be mixed up ahead of time and will hold roughly 48 hours, it should be velvety smooth and fine enough to use with a squirt bottle.)
Compote
Step 1
In an 12" cast iron skillet, add everything except the slurry and the sherry wine and turn to medium heat.
Step 2
Once the berries start to bubble and begin releasing their liquid add the sherry wine and stir.
Step 3
As the heat distributes, turn the pan to low and the berries will begin to break down and release their liquid. Let them go for about 5 minutes stirring occasionally.
Step 4
Adjust the temperature to medium and add in the slurry, stir continually for 30 seconds or so and keep it bubbling.
Step 5
Once thickened cut the heat and remove the compote allowing it to rest and set up.
Maple Filling
Step 1
In a bowl, beat the cream cheese, vanilla, maple extract and sugar until smooth.
Step 2
Add the butter and maple syrup and continue to mix until thick and fluffy.
Note:
If you want your filling to be lighter and fluffier, fold n whipped cream to the maple mix after it is done, use a spatula and just fold lightly until incorporated. Too much mixing will beat the air out of the whip cream and it won't be super fluffy amazing.
Cooking the Batter
Step 1
In a 12" cast iron skillet, on medium-low heat, add a little oil and spread it around evenly.
Step 2
Add 1/3 cup of the batter in the middle and then move and rotate the pan to spread the batter and create a round shape.
Step 3
When you see the edges starting to brown, flip over and continue to cook for a minute. Remove from pan.
Step 4
Repeat this process until the batter is gone.
Assemble
Spread the filling across the inside, no rhyme or reason, a little or a lot make it your own. Toss in some assorted berries and fold the crepe in half and half again, lightly. I prefer this fold rather than a roll because I just think it looks better. Add some warm compote on top and more assorted berries if you'd like, top with powdered sugar!
Recipes you might be interested in