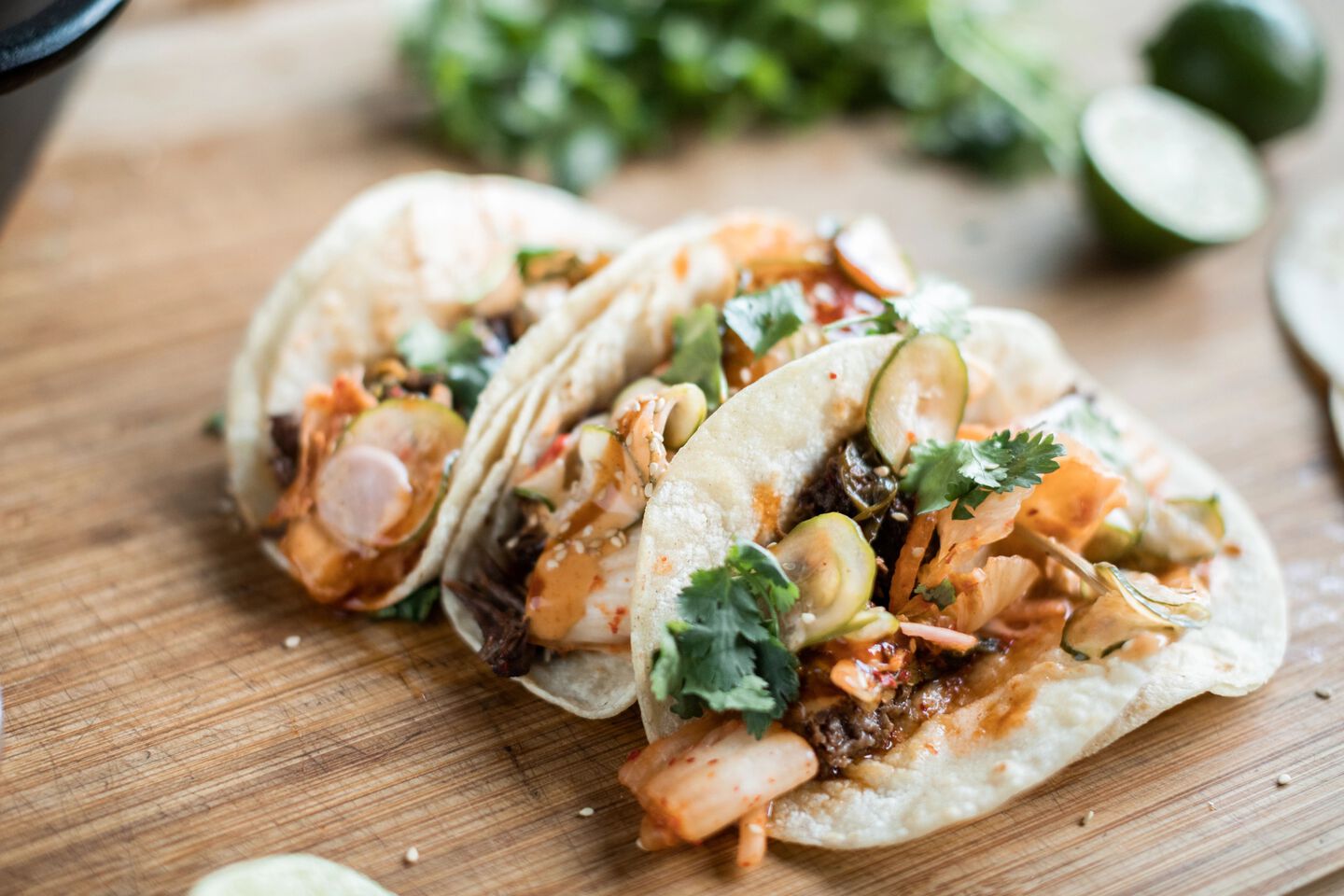 Ingredients
Tacos
2.5 pounds boneless short ribs
½ cup brown sugar
2 ½ cup soy sauce
½ cup mirin (japanese rice wine)
1 onion, cut into 1 inch cubes
12 cloves of garlic
1.5 inch piece of ginger, peeled and sliced
5 whole star anise
4 bay leaves
2 tablespoons sesame oil
5 green onions, roughly chopped
1 ½ tablespoons gochugaru (red korean hot pepper powder, same as used for kimchi)
1 tablespoons gochujang paste (korean fermented red chili paste)
Chicken stock/ broth or water
Gochujang Aioli
1 cup mayonnaise
½ a lime juiced
½ teaspoon fish sauce
1 teaspoon oyster sauce
2 tablespoons Gochujang sauce
1 tablespoons Gochujang paste
Salt to taste
All Ingredients
For the tacos:
2.5 pounds boneless short ribs
½ cup brown sugar
2 ½ cup soy sauce
½ cup mirin (japanese rice wine)
1 onion, cut into 1 inch cubes
12 cloves of garlic
1.5 inch piece of ginger, peeled and sliced
5 whole star anise
4 bay leaves
2 tablespoons sesame oil
5 green onions, roughly chopped
1 ½ tablespoons gochugaru (red korean hot pepper powder, same as used for kimchi)
1 tablespoons gochujang paste (korean fermented red chili paste)
Chicken stock/ broth or water.
For the Gochujang Aioli
1 cup mayonnaise
½ a lime juiced
½ teaspoon fish sauce
1 teaspoon oyster sauce
2 tablespoons Gochujang sauce
1 tablespoons Gochujang paste
Salt to taste
Instructions
Tacos
Step 1
Cut the short ribs into manageable pieces (roughly 2 inches by 2 inches.)
Step 2
Add all the ingredients to a bowl, except the stock/water.
Step 3
Evenly rub the ribs down with the paste, spices, and other herbs. Allow them to marinate for 4 hours or overnight.
Step 4
Preheat your smoker to 300ºF.
Step 5
Transfer the ribs and all the spices into a dutch oven braising dish, make sure it has a tight fitting lid. Be sure to scrape any spice residue or liquid into the cast iron with the ribs.
Step 6
Add enough chicken stock to the braising pan so that ⅓ of the ribs are left uncovered.
Step 7
Place in pellet grill and smoke for 2.5-3 hours (or until the beef is soft and shred-able.)
Gochujang Aioli
Step 1
Whisk all the ingredients together in a small mixing bowl.
Serve
Slather on your Korean tacos and serve.