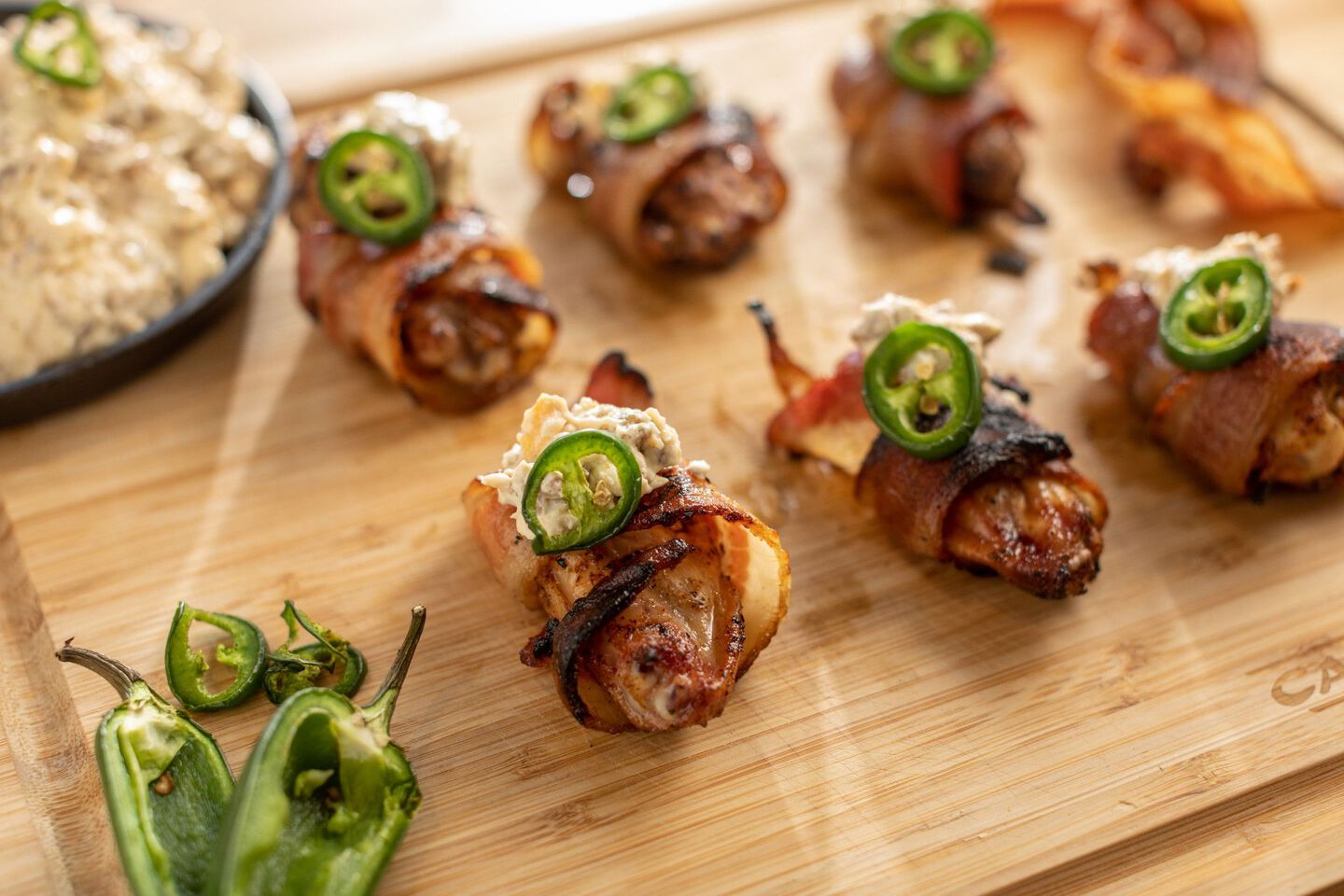 Ingredients
Toppings
40 ounces of cream cheese
1 cup cheddar cheese, shredded
1 pound of sausage
2-4 jalapeños (2 diced, 2 sliced)
Wings
2 pounds of chicken wings
Texas select seasoning jalapeño dusted or your favorite rub
1 pound of bacon
All Ingredients
2 pounds of chicken wings
Texas select seasoning jalapeño dusted or your favorite rub
1 pound of bacon
40 ounces of cream cheese
1 cup cheddar cheese, shredded
1 pound of sausage
2-4 jalapeños (2 diced, 2 sliced)
Instructions
Jalapeno Popper Wings
Step 1
Preheat pellet grill to 225 °F.
Step 2
Smoke jalapeños until charred. When jalapeños are done, slice 2 jalapeños and dice the other two.
step 3
In a cast iron skillet, brown sausage, mix in softened cream cheese and cheddar cheese. Smoke mixture in pellet grill until cheeses are melted. Remove from heat and add diced jalapeños until combined.
Step 4
Season wings with Texas Select Seasoning Jalapeño Dusted or your favorite poultry rub.
Step 5
Wrap wings in bacon and smoke at 225 °F (using level 10, if available) using Camp Chef's Charwood Cherry Pellets until internal temperature reaches 150 °F.
step 6
While wings are getting close to temperature, preheat sidekick to high heat. Place smoked wings on sidekick to crisp the skin. Remove when internal temperature reaches 165 °F.
step 7
Remove from sidekick and top with sausage cheese mixture and sliced jalapeños.