Anyone can cook deliciously smoked food with the smaller, portable design of the Pursuit® Pellet Grill. With 501 square inches of cook space and a convenient 10-pound hopper capacity—the Pursuit is prepared for wherever your next adventure takes you. Tailgate, campsite, block party, and back yard approved. Heavy-duty wheels, locking lids, and push-button folding legs will have you up and cooking in minutes. Now with Gen 2 features like PID technology and Smoke Control the Pursuit is pure pellet grill perfection. Adjust your Smoke Number for a custom smoke taste or hold the tightest temperatures in in the industry.
Enjoy an extensive 160°F to 500°F temperature range fueled by premium hardwood pellets. Switch seamlessly between indirect and direct flame broil mode with our Slide and Grill Technology. Customizing your cooking has never been easier—Smoke a brisket for hours and achieve a beautiful smoke ring or quick-cook a batch of burgers and feed the family. Fit up to 24 - ¼ pound burgers or 16 - ½ pound burgers, one 12-inch pizza, 4 chickens, 4 racks of ribs and 4 tri-tips. When you're done, clean up is effortless with our patented Ash Cleanout system. Get the same reliable name and durable construction of a Camp Chef, with the flavors of a wood fire. Fuel your next adventure with the Pursuit.
Features
PID controller for consistent temperatures (+/- 5ºF )
Includes 2 meat probes
Adjustable smoke settings from 1-10
160º F - 500ºF temperature range
Easy to use menu dial
High-visibility, low-glare digital display
Slide and Grill Technology's direct flame grilling reaches 650°F
Full sized upper shelf
Ash Cleanout System
Cord Management System
Grease Management System
Compact design, stores, and transports easily
Locking chamber & hopper lid for easy transport/storage
Folding legs and leg levelers
Dual position rolling transport
Requires 110-volt outlet
Specifications
Upper Rack Area: 248 sq. in.
Lower Rack Area: 253 sq. in.
Total Rack Surface Area: 501 sq. in.
Chamber Capacity: 2,100 cubic in.
Hopper Capacity: 10 lbs. of pellets
Folded Dimensions: 38 in. L x 18.5 in. W x 21 in. H
Overall Height: 32 in.
Overall Weight: 82 lbs.
Warranty: 3 years
Downloads

PPG20 Instruction Manual
REVIEWS
Pursuit 20 Portable Pellet Grill
is rated out of
5
by
19
.
Rated

5

out of

5
by
Bigjakelords
from
You will be WOWED
I love how versitial this smoker/grill is. Amazing
Date published: 2018-11-11
Rated

5

out of

5
by
Jack3
from
Perfect Size
Loving the size of the Pursuit. Small enough to collapse and take tailgating yet still holds a ton of food. We did burgers and pizza this weekend. It's worth every penny!
Date published: 2018-10-16
Rated

4

out of

5
by
Smoker Bill
from
Great Smoker, Except........
I bought this smoker to keep in my RV, it is a good sort-of portable smoker. The weight is the biggest issue with a "portable" smoker, but the overall quality of the smoker to cook makes up for the weight. The one issue I have with it is the weak and poorly designed way the folding legs are retained while up or down, the weak pushbuttons have all broken with-in a month, so now I use a small bungee cord to hold the legs while in the folded position. Otherwise, I like it a lot.
Date published: 2019-08-15
Rated

4

out of

5
by
Hogcamper
from
Great smoker
Works great but hopper should have been pitched some pellets flow better. Also a little heavy for one person to load in camper.
Date published: 2019-07-20
Rated

4

out of

5
by
Merkman
from
First Pellet Grill
I've been looking for it seems like years for a nice pellet grill and for the price and its movable quality I picked this one. Overall I like it. It does hold four racks of ribs but turning them is a hassle because of the spacing. Burgers are the same but mainly on the bottom rack. The temperature isn't all that in consistency but I'm not to worried about that since it's not hugely off. It also puts out a good amount of smoke? You will have a problem without a shelf though. I'm looking at that magnet one on Amazon to help me out. For a first pellet grill I'm happy with it. I'll eventually move up to the big dollar ones some day but for now I love the taste of the bar-b-que on this grill.
Date published: 2019-07-07
Rated

3

out of

5
by
caser10
from
Hits and misses.
Runs too hot, built in probe temp is constantly lower then other probes. The heat dispersion/ drip pan warped second use and definitely has very notable hot spots. (CC did send a replacement easily though). My other main complaint is lack of ANY accessories! We are a small family and thought this would be big enough, but very limited on space. If you have the top shelf in, it's nearly impossible to do anything on the bottom- especially the back half. It smokes a heck of a lot better than it grills. Only get if you REALLY can't afford a bigger 24" model (they are quite a bit more expensive for those 4" though!)- I feel so SOL with this.
Date published: 2020-04-06
Rated

3

out of

5
by
Chris0813
from
Disappointed
I've had the grill just under a year, and while the food is good, the quality of my unit leaves a lot to be desired. This was my first grill, and I bought it because of the portability and the Camp Chef brand name, so my expectations for quality were high. I've used the grill a lot and as I commute, the grill is on the move a lot. My biggest gripe is the paint Quality. I don't know what paint or powder coat they use on the grill but it is not durable enough for this grill. I have several spots where the paint is falling off and rust is developing on the inside and outside of the grill. mind you, I followed the initial instructions in the manual for making sure the paint was set before doing any cooking. clearly this didn't help as i am finding new areas paint is falling off every time I use the grill. The second gripe is the metal support for the auger motor. If for some reason your grill auger gets stuck on pellets ie moisture or some other reason, the flimsy metal bends, effectively stopping the auger and your cooking. It just seems like that part should have been beefier or solid from the factory. I've had to use wood shims to keep the auger motor stable enough to turn properly. The third gripe is the ash clean out slide plate. For some reason mine likes to not close properly so I have to be super careful to make sure it's closed properly before I start the grill. For those reasons I can't give the grill more than a 3 star rating. The 3 stars is solely based on the food produced, which the guys at the firehouse loved. I have yet to have a bad meal, I just wish the durability and quality would have been better. I did purchase this right when it first came out so it could have been a fluke and maybe I'm the only one with these issues. I can't recommend against the product but would hope Camp Chef takes my feedback and improves the grill as I believe them to be a good company. More than likely I will wind up repairing and painting the grill this winter.
Date published: 2019-11-14
Rated

1

out of

5
by
Rich2348
from
Horrible drainage
I've been doing a Boston butt on this thing and the grease does not drain it all . The Pan does not have enough slant on it in either direction to drain the grease and to drain it to the grease pot. So all my agrees keeps splattering up coming out the vent holes and on to my concrete. This is a terrible design. Very unhappy
Date published: 2020-03-27
Rated

1

out of

5
by
Mrknk
from
Auger seizes up
Just bought Pursuit 20 and never stays running. Auger is weak and won't pull longer pellets through. It has plugged up every single time. If I stand there and hand feed it works. Using camp chef pellets.
Date published: 2019-11-17
RELATED BLOG POSTS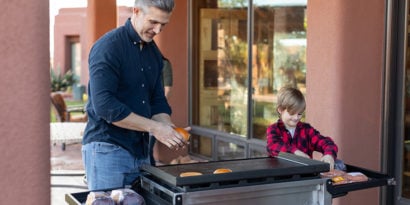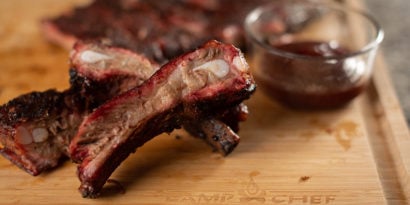 (7 Comments)