Anyone can cook deliciously smoked food with the smaller, portable design of the Pursuit® Pellet Grill. With 501 square inches of cook space and a convenient 10 pound hopper capacity—the Pursuit is prepared for wherever your next adventure takes you. Tailgate, campsite, block party, and back yard approved. Heavy-duty wheels, locking lids, and push-button folding legs will have you up and cooking in minutes.
Enjoy an extensive 160°F to 500°F temperature range fueled by premium hardwood pellets. Switch seamlessly between indirect and direct flame broil mode with our Slide and Grill Technology. Customizing your cooking has never been easier—Smoke a brisket for hours and achieve a beautiful smoke ring or quick-cook a batch of burgers and feed the family. Fit up to 24 - ¼ pound burgers or 16 - ½ pound burgers, one 12-inch pizza, 4 chickens, 4 racks of ribs and 4 tri-tips. When you're done, clean up is effortless with our patented Ash Cleanout system. Get the same reliable name and durable construction of a Camp Chef, with the flavors of a wood fire. Fuel your next adventure with the Pursuit.
Multimedia
Features
Includes 2 meat probes
Smart Smoke Technology
Slide and Grill Technology
Ash Cleanout System
Cord Management System
Grease Management System
Electronic auto-start ignition
Simple temperature selection system
160º F up to 500º F temperature range for slow smoking to grilling
Automatic auger dispenses pellets as needed for improved smoker efficiency
Bottle opener
Compact design, stores, and transports easily
Locking chamber and hopper lid for easy transport and storage
Folding legs and leg levers
Dual position rolling transport
Requires 110-volt outlet, 400 watts, 3.33 AMPS
Specifications
Upper Rack Area: 248 sq. in.
Lower Rack Area: 253 sq. in.
Total Rack Surface Area: 501 sq. in.
Chamber Capacity: 2,100 cubic in.
Hopper Capacity: 10 lbs. of pellets
Folded Dimensions: 38 in. L x 18.5 in. W x 21 in. H
Overall Height: 32 in.
Overall Weight: 82 lbs.
Warranty: 3 years
Downloads

PPG20 Instruction Manual
REVIEWS
Pursuit 20 Portable Pellet Grill
is rated out of
5
by
13
.
Rated

5

out of

5
by
Marky Mark
from
Nice unit.
I bought this a month ago and am very happy with it. I like the ash dump and the 2 temp probes. It is simple to use and takes your food to a higher level.
Date published: 2019-07-06
Rated

4

out of

5
by
Hogcamper
from
Great smoker
Works great but hopper should have been pitched some pellets flow better. Also a little heavy for one person to load in camper.
Date published: 2019-07-20
Rated

5

out of

5
by
atherts
from
Great Solid Small Pellet Grill
This is a great smaller pellet grill. It is by no means lightweight or poorly made. It is heavy, but I can move it by myself with the solid leg/wheel structure. Overall the construction is solid. Nothing feels flimsy or lightweight. Setup is fairly easy, removing all the packing and protection takes about 1/2 an hour. Getting the legs extended makes it a lot easier to setup. Make sure you read the directions about how to unlock the legs top and bottom! After it is up, it is easier to attach the handle and get everything unpacked. Attaching the handle is about the only assembly required. Everything else is already assembled. All stickers are attached with magnets and come off easily with no residue. There is plenty of room inside for 2-3 chickens in upright or lying down, a turkey or a couple of pork shoulders. The startup and process of cooking is clear from the manual and easily accessed control panel. The 10# hopper seems sufficient for 6-8 hours of slow cooking. Higher temperatures will require more monitoring of the pellet level as it burns through them faster. There isn't an easy way to empty the hopper if you want to switch pellets. I've seen small shop vacuum solutions that is probably the best way to go to clean out the hopper. You'd have to remove the top grid to do it by hand or vacuum them out. It would be nice to have an empty function like some of the larger Camp Chef grills. Cooking doesn't seem to add as strong of a smoke flavor as some of my other smokers. You may want to buy a small wood chip box that sits on the grill, and provides some more direct smoke if you like the stronger flavor. The included probes plug in easily and seem to work well to monitor the meat temperature from the control panel. The bottle openers works well! I did purchase a cover for it and that is essential for weather protection of both the electronics and metal parts.
Date published: 2019-10-01
RELATED BLOG POSTS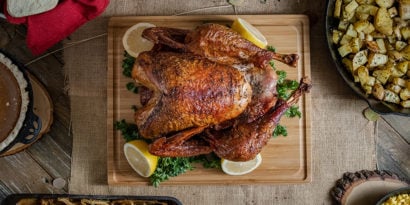 (38 Comments)