Enhance your back patio cookout with the revolutionary new SmokePro SG pellet grill featuring Slide and Grill Technology. Switch seamlessly between Indirect and Direct Flame mode to achieve two delicious flavor profiles all on one grill. Slow cook your favorite cut of beef or slide the grill knob and toss a few burgers on for some direct wood-fired grilling. The new SmokePro SG features a taller cook chamber with additional rack space as well as a large capacity hopper. The SmokePro SG comes with Camp Chef's patented Ash Cleanout System, stable temperature regulation, and dual meat probes, making it the only pellet grill you need to achieve wood-fired flavor.
Multimedia
Features
Includes 2 meat probes
Includes warming rack
Smart Smoke Technology
Pellet Hopper Cleanout/Purge
Slide and Grill Technology's Direct Flame grilling reaches 650°F
Ash Cleanout System
Cord Management System
Grease Management System
Large capacity hopper
Electronic auto-start ignition
Dual LED temperature readout: internal cooking temps and internal food temps
Simple temperature selection system
Automatic auger dispenses pellets as needed for improved smoker efficiency
Leg wire shelf not included
Specifications
Lower Rack Area: 429 sq. in.
Upper Rack Area: 382sq. in.
Total Rack Surface Area: 811 sq. in.
Side Shelf Dimensions: 16 in. x 12 in.
Chamber Capacity: 4,850 cubic in.
Hopper Capacity: 22 lbs. of pellets
Overall Height: 42 in.
Overall Weight: 150 lbs.
Warranty: 3 years
Downloads

PG24SG Instruction Manual
REVIEWS
SmokePro SG 24 Pellet Grill - Black
is rated out of
5
by
23
.
Rated

5

out of

5
by
jhv1963
from
Above all others out there
I did a lot of research. This is above and beyond the other pellet grills. Others do not compare..period. Others drip pan is a solid piece of sheet metal, Camp Chef drip pan is perforated, allowing the smoke to be evenly distributed across the cooking area, instead of being deflected by a solid drip pan. Better build than others.
Date published: 2019-11-06
Rated

5

out of

5
by
Ryanyohe
from
Glad I made the jump to pellet grilling
I must say I was skeptical of spending over 500 for a grill being a propane griller for years. I played around with some charcoal smoking but it only ticked me off and took way too long to smoke due to having issues keeping steady temps. I have been doing research since November off and on and decided that this grill will fit my needs the best and what quality of a product it truly it. I bought it today, unboxing was outstanding. Never seen a product of any type so neatly packaged and nuts and bolts so easily identified. Definitely spend a lot of extra money on their packaging, and it shows. I am handy with tools so it only took me a total of 20 minutes to assemble. Burned it off 45 minutes at 350 and cooked some chicken breasts at 250 for half hour then cranked to 300 to finish it off. Faint smoke ring on each of them when finished and had an adequate smoke flavor. Was just chicken breasts, I know, but they were definitely tasty. Cooking was a breeze, follow directions on first set up and set it and forget it used a probe so I did not have to lift the lid once. I will send another review out after 6 months usage but I was very impressed by the quality of this product. Bought a 15$ cover at Walmart for it, and fits perfectly, and used pitt boss competition pellets I picked up from lowes for 15 dollars for a 40lb bag. Great job campchef, first impressions are a lot and you nailed it. Hold up for a few years, and that searbox will purchased to add to collection!
Date published: 2019-04-02
Rated

5

out of

5
by
Bernie71
from
Excellent product and great features.
Have had this unit since last December. Have made many ribs, brisket, pulled pork and chicken. Excellent steaks smoked then seared on the searing unit. Well put together unit and easy to put together. Burned in/broke in and went to smoking. Overall excellent unit for BBQ, smoking and searing.
Date published: 2018-07-21
Rated

3

out of

5
by
Arizona Bob
from
Better grill than a smoker
First off it is well made, easy to use holds temp. well, I was just not that impressed with the amount of smoke it produced, I purchased a smoke tube witch does add more continuous smoke. I tried so far the camp chef pellets and another brand and we just prefer the taste of real wood over the pellets. I have a propane smoker and use wood chunks in it, it adds more color and taste to the meat than pellets. Very disappointing, I really like how easy this is to use, just wish it gave us better results smoking, we'l use it for grilling and go back to the propane for smoking meats.
Date published: 2019-12-16
Rated

5

out of

5
by
Sigs
from
Perfection
I sold my green mountain to get a camp chef. I have no regrets! The SG and pellet dump are 95% of why I switched.
Date published: 2019-07-08
Rated

5

out of

5
by
MikeEH
from
Smoking Machine!
This is my first pellet smoker, moving from an offset wood smoker, and I can't get over how much easier this makes smoking while at the same time adding way more controlled flavor! I'v been cooking on this for several months and can't say enough good things about it.
Date published: 2019-03-11
Rated

5

out of

5
by
Law 68
from
Easy to use
Bought this item 3 weeks ago. I've used it many times, love the fetures. The extra racks are very helpful. The cooking space is equal to my old grill, can make a lot at once.
Date published: 2018-09-02
Rated

5

out of

5
by
Marky
from
Works Great
The grill arrived in a very well designed heavy duty package that made for fairly easy assembly by one person with simple tools. The grill is heavy and the box simply unfolds and you can assemble right on the box. The grill surprised me at how well it holds temperature. Very accurate control system and the probes work great as well. Takes a little practice to get a good amount of smoke into the meats and seafoods. Stay on HIGH SMOKE for this before setting your final cooking temperature. Uses a lot less pellets than I was told and in two weekend cooks so far I have already made a 3 Lb.meatloaf, 2 racks baby back ribs, 1 Boston butt, various sausages, burgers, dogs, turkey breasts, wings, salmon, and some veggies. All came excellent, moist, and delicious with great grilled flavor. The pellets are very clean burning as I have been a charcoal griller and this is a much cleaner cooking system. Like any other grill there is some cleanup. You do have to clean the grease management plate, the grease catch bucket, the drum of ashes, and empty the fire cup ashes. But I have done this twice now and it is a snap compared to dealing with my charcoal grill. A very very good product for the backyard pit master. I am going to enjoy this for years to come.
Date published: 2019-02-06
Rated

5

out of

5
by
ChrisPier
from
Woodwind for sale!
This is exactly what I have been wanting, I love the woodwind with the sear box, but the sear box just isn't big enough to have an all in one unit. Woodwind is going up for sale!
Date published: 2018-04-19
Rated

5

out of

5
by
Grandpa
from
Great grill
We received our Camp chef smokepro yesterday. I was extremely happy with the quality of this grill. It went together with out needing a hammer, are forcing pieces together. Well done Camp chef.
Date published: 2018-03-02
Rated

4

out of

5
by
SimonHtown
from
Great smoking, sear n' grill is more grill...
Well, definitely a great little smoker. It's on the pricier side but if you can get if for at least 25% off, it's def more palatable. Great smoke flavor and wonderful ring that I haven't been able to achieve. Tried filet mignon last night and reverse sear with the sear n grill. After smoking it at high smoke for about 40 minutes, I opened it to direct grill. It took about 10 minutes to get to over 400 in about 70 degree humid weather. I got ansy because the meat had been resting so long so I tossed it on the center. Seared it in each direction for 1 minute to try to get the diamond sear marks and they turned out to be more like "impressions". Since the racks are a little raised, there's a little valley midline so the steak can't exactly rest flat. The steak kill came out delicious with the wood smoked flavor. And perfectly medium and tender like I like it. Will def repeat, but wish it was more of a "sear". Btw, I also modded the assembly. I wanted cabinets under my grill so I took the top of my old Jenn Aire grill off and placed the main portion of the camp chef on top of it. The ash cup is a bit tough to get to but well worth the trouble considering that I have an extra shelf. a little height to it, and underneath storage where I can put the propane tank if I decide to get the propane attachments. Lastly, I would say a "con" is that it needs to be hooked up to an electrical outlet and that the lid/top is not double walled and a rather thin and light lid.
Date published: 2019-11-22
Rated

5

out of

5
by
Darrinw2001
from
Has every feature I was looking for! Excellent
The SmokePro SG 24 has every feature I was looking for.. easy ash clean out, dual food probes, pellet dump out to change flavors, and the slide & grill feature was icing on the cake! I will be adding the sear box on it very soon as well! plenty of room for lots of food also. And the fuse is easy to get to! Such an awesome grill!
Date published: 2018-08-14
Rated

5

out of

5
by
Pumpkinhead123
from
Awsome geill
I bought this a month ago and made smoke ribs for the first time . Going to try a half ham on new years eve .
Date published: 2019-12-30
Rated

5

out of

5
by
Matt2020
from
Great smoker
First smoker I've had. Used it today to smoke a turkey and using the Turkey cannon came out great
Date published: 2019-11-29
RELATED BLOG POSTS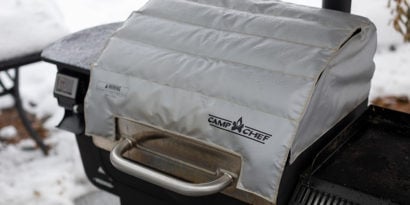 (4 Comments)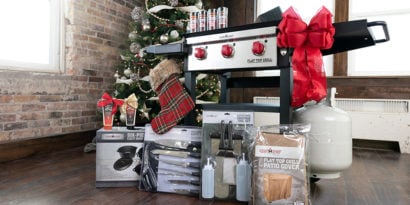 (8 Comments)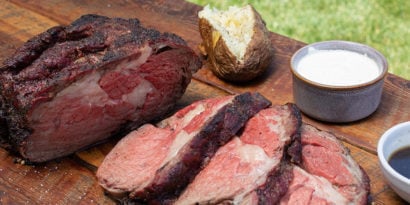 (4 Comments)