Protect your 24-inch pellet grill and smoker with this durable patio cover. Durable high-quality materials and a weather-resistant liner keep your grill safe from the elements.
Features
Durable, weather-resistant liner
Chimney and side shelf tie down
Formed to fit over shelves and smoke chimney
Fits over Sear Box and Sidekick accessories
Fitment
Fits all Camp Chef 24 in. Pellet Grills
SmokePro DLX 24 Pellet Grill, PG24
SmokePro SE 24 Pellet Grill, PG24SE
SmokePro XT 24 Pellet Grill, PG24XT
SmokePro SG 24 Pellet Grill, PG24SG
SmokePro STX 24 Pellet Grill, PG24STX
Woodwind Classic Pellet Grill, PG24WWS
Woodwind Classic Pellet Grill with Sear Box, PG24WWSS
Woodwind SG Pellet Grill with Sear Box, PG24SGWWSS1
Specifications
Fits BBQ and Pellet Grills up to 51 in. x 21.5 in.
Material: 600 Denier-coated nylon
REVIEWS
Pellet Grill Cover - 24" - Full
is rated out of
5
by
85
.
Rated

5

out of

5
by
Jjetjock
from
Great fit
My box states Camp Chef universal grill cover. Has smoke stack protrusion and fits easily over my grill with side kick and with propane cylinder attached. It has several Velcro and heavy duty click attachments on the cover but no included belt that can attach to these. Did anyone get a belt with yours? I can only awesome if you don't have a side kick or chimney on yours that these clips will reach the small belt taps on the cover. Not sure yet as to how well it will hold up to weather yet since I just received it. So far very happy.
Date published: 2019-09-06
Rated

4

out of

5
by
Norm M
from
Grill cover is not weather proof.
Cover seems to be well made & fits the 24" grill correctly. My grill sits outside during summer months & gets direct rainfall. For some reason....cover is only water resistant. I will looking for a spray on water proofer to coat cover & better protect my new Camp Chef grill.
Date published: 2019-05-20
Rated

3

out of

5
by
Dana
from
Good Quality but Could Be Better
The grill cover is sturdy and made out of a seemingly strong heavy duty material. I would rate it higher if it was custom fit for the Grill, with the Sidekick attachment. As it is, it just barely fits, and is difficult to install and remove. It seems Woodwind should have a cover for the grill and a different cover for the grill with accessories on the right side.
Date published: 2019-07-07
Rated

1

out of

5
by
kdcrowley
from
Fell apart
Mine fell apart after only one year. It became stiff and brittle, cracking everywhere.
Date published: 2019-06-29
Rated

5

out of

5
by
Chunky T
from
Nice cover
Nice quality heavy cover that fits the Woodwind with sear box attachment.
Date published: 2018-05-15
Rated

5

out of

5
by
danb1003
from
Perfect fit
I received the cover with the purchase of the grill. The cover looks great and fits like a glove. The only part I'm not crazy about is how it fits on the chimney. When you try to remove the cover, it gets caught on the cone top of the chimney. You then have to reach up underneath to force the cover around the cone. It might be inevitable though based on the design of the grill. Otherwise, it's a great cover that really compliments the grill.
Date published: 2018-08-21
Rated

3

out of

5
by
CampChefLover80
from
Doesn't Fit Sidekick!!
Very durable cover. Disappointed that it says it fits with sidekick which it does NOT! It will cover everything however you cannot velcro any of the side straps once on. Also if u have an accessory on your sidekick you will have to take it off or it does not fit! Such a great company and great cover material, just wish it actually fit my grill. Hope they make a new one just for sidekick owners!
Date published: 2019-09-14
Rated

5

out of

5
by
Yo G8R
from
Cover for SmokePro SG Pellet Grill
I recently purchased a cover from Camp Chef to protect my new SmokePro SG Pellet Grill. It appears to be made of high quality material, so I am hoping it will last for several years. The cover fits nice and snug over my grill. In fact, it is so snug that I am not sure it would still fit if I added a searing box.
Date published: 2018-08-29
Rated

4

out of

5
by
Anonymous
from
Get the Grill Cover!
The full Pellet Grill Cover does its job - it covers my Camp Chef Woodwind with the Sidekick - but it's tight getting it on, and it doesn't need to be that way. Here's a shoutout to Camp Chef to re-size the cover, and add more material, and longer and better-placed ties.
Date published: 2019-07-09
Rated

5

out of

5
by
Pumaluap
from
Fits Perfectly even with a side Sear Box!
Happy with this cover. I have a Smokepro with side sear box. The propane tank is hanging on the bracket and the cover fits perfectly.
Date published: 2019-05-10
Rated

5

out of

5
by
IAMBigB
from
Pellet Grill Cover
Thought it was a bit pricey but once I recieved it I realized it's a very high quality product!!
Date published: 2018-05-18
Rated

5

out of

5
by
paintpro
from
cover
this cover works great. keeps my smoker clean and dry
Date published: 2018-05-20
Rated

5

out of

5
by
Sculp1n
from
A Must if You Keep Your Grill Outside
So far I've been very please with the fit and finish of this cover. It fits over my grill nicely and has never once blown off. I keep my grill in about the worst spot you can imagine and it does a solid job keeping debris, water, and snow off of it. That said I used it to cover my grill while transporting it about 600 miles in the back of my truck and it tore the thing to ribbons. So it probably won't take sustained 80-90 mile per hour winds... but what would.
Date published: 2018-08-21
Rated

5

out of

5
by
TomoIBM
from
Very impressed first impressions
I just got this grill cover a few weeks ago. .It seems to be extremely well made and high quality materials. My initial impression is that this grill cover will do a great job protecting my pellet smoker here in Texas which has hot, hot, hot summers and more than a few rainy and sub freezing days in the winter. Looks nice.. fits very well, instills confidence that the grill is protected well
Date published: 2018-07-17
Rated

5

out of

5
by
small town smoker
from
great buy
we have the camp chef smoker dlx pellet grill and this fits our grill perfectly. we had another brand cover that we got as a gift but it was too large and looked super sloppy. even though this cover was nearly $70, it fits and looks MUCH better making it $$ well spent. highly recommend
Date published: 2018-07-20
Rated

5

out of

5
by
David S
from
Fantanstic Cover
I looked at a lot of Covers but this one really was worth it. I put on that day and we gat a huge rain and wind storm and the Camp Chef stayed on. The other one on my other grill came off in 3 minutes and I spent the same amount of money. It is worth it and it kept my pellets dry.
Date published: 2018-06-08
Rated

5

out of

5
by
SmokinNC
from
Fits like a.. well, a cover.
Bought the cover to replace the blanket I had covering my new Woodwind. The cover is more like a Woodwind cozy, snug in just the right places and a little chimney condom to round out the package. Looks good, does the job and not too crazy on price. The grill God should be happy.
Date published: 2018-06-29
Rated

5

out of

5
by
Mike Schultz
from
Great cover!
The Camp Chef cover for the Woodwind smoker is a great cover! It fits over everything, even the sear box and propane tank with ease and removes in a snap. It secures well for protection from wind and rain is a requirement to protect your investment. Great cover!!
Date published: 2018-06-13
Rated

5

out of

5
by
Rich70
from
Great Cooker
I bought this recently and really love it! I cooked chicken breast and thighs first, next two slabs of ribs, then steaks, and most recently a whole chicken. The temp settings have been accurate and clean-up is great. Very surprised how efficient it is.
Date published: 2018-07-24
Rated

5

out of

5
by
Crash54000
from
Got it covered
Grill cover is close fitiing without being difficult to put on or take off. While the grill isn't directly exposed to the elements. The dust and dew are not settling on the grill before the cover went on. I would definitely recomend this cover.
Date published: 2018-08-21
Rated

5

out of

5
by
Don and Sue
from
Fits well
This item is my second time purchase as the original lasted over a year in the Utah sun and now it is still kinda functional in Oregon rain. Just thought a new one was in order as protecting our smoker is a must. Thanks.
Date published: 2019-01-18
Rated

5

out of

5
by
Rick44
from
Nice Product
This is a very well made cover. I can see it lasting for many years. I do wish that the velcro straps were longer. I can barely get them to touch. Don't know if this will stay on in the wind. Otherwise, I love it.
Date published: 2018-08-07
Rated

5

out of

5
by
TonyW
from
Well made
I purchased this cover to protect my investment in my pellet grill. It was well made with good quality materials and fit well. Hopefully it will protect my grill for many years.
Date published: 2018-09-07
Rated

5

out of

5
by
Tomzk
from
Great cover
Heavy material, super sturdy. Keeps the grill dry as a bone, fits perfect. It even covers the LP tank hung off the back. Heavy winds do not blow it off.
Date published: 2018-05-26
Rated

5

out of

5
by
Smokenjacquie
from
Heavy duty
The cover is very well made and fits perfectly and extra long for additional protection. Highly recommend it to protect you investment and equipment.
Date published: 2018-05-30
Rated

5

out of

5
by
Ding
from
Fits perfect
I do not know about other smokers but this fir my shift really well. I have had allot of rain and wind. It is still there protecting my smoker
Date published: 2018-07-24
Rated

4

out of

5
by
Trav5656
from
Great looking cover!
Seems like great quality. Time will tell on color fastness. Only thing I would like is better tie down options (we get lots of wind here.
Date published: 2019-04-02
Rated

5

out of

5
by
Austin60
from
Piece of Mind
Great grill so it was a no brained that I needed to protect it. Excellent cover. Fits like a glove and easy to use. Looks nice too.
Date published: 2018-07-23
Rated

5

out of

5
by
Traingirl
from
Pellet grill and cover
Love this grill! It looks great and the best grill I've owned to date, the cover fits like a glove and doesn't budge in heavy wind!
Date published: 2018-07-13
Rated

4

out of

5
by
Jeromy
from
Great value
Fits like a champ, great high value canvas. I'm sure it will last at least 10 years. Making it very affordable for the value
Date published: 2019-01-18
RELATED BLOG POSTS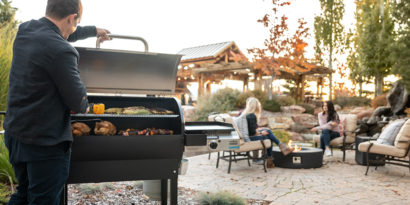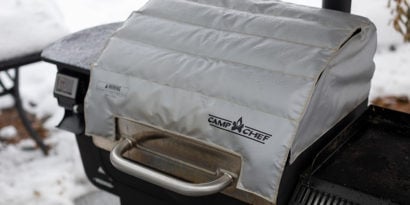 (4 Comments)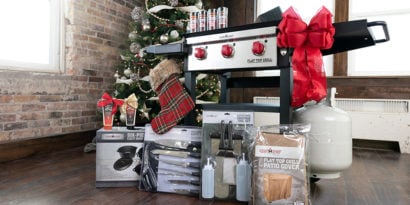 (8 Comments)